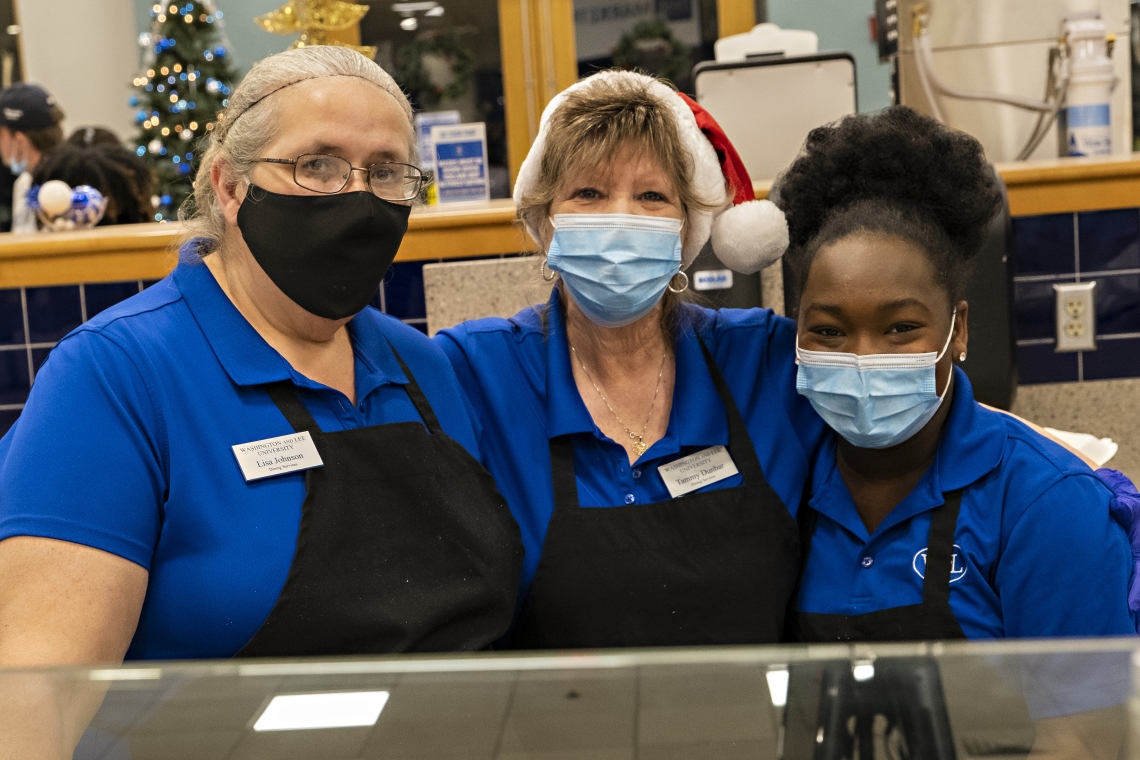 Thank You, Dining Services! In a special edition of Scene on Campus, we shine a light on our Dining Services staff and all the beautiful food they serve with love during the holiday season.
Dining Services staff keep the Washington and Lee community fueled all year long, but they devote extra energy to making the holiday season a magical time at W&L. Whether they're whipping up traditional dinner fare for the Thanksgiving and winter holiday meals, cranking out thousands of cookies and cupcakes for Winter Wonderland, or prepping an eye-popping array of breakfast foods for Midnight Breakfast and the University Brunch, their efforts are always appreciated by students, staff and faculty alike.
In a given holiday season, W&L dining venues go through 500 pounds of prime rib, 200 pounds of shrimp and 250 pounds of chicken. And for the highly anticipated Winter Wonderland dessert extravaganza each year, they use 30 gallons of ice cream, 55 pounds of sugar, 45 pounds of butter, 75 pounds of flour and 160 eggs. The one invisible ingredient that isn't seen on any of their recipes or inventory lists, however, is care. Each and every dish that comes out of the ovens and every plate of comforting food that is passed to a student contains a healthy helping of that secret ingredient.
In this special edition of Scene on Campus, the last before winter break, we shine a light on the folks who bring not only sustenance but so much joy to the entire university community.
Thank you, Dining Services, we appreciate you all so much!