The Equity Index At Bloomberg, Kiersten Salander Barnet '05 promotes workplace gender equality.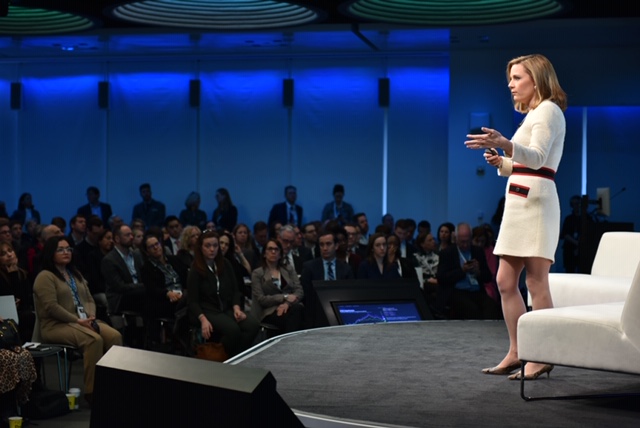 "Something really exciting is happening around women and money these days," said Kiersten Salander Barnet '05. "Women are earning or controlling more of the nation's wealth than men," and, when making investment decisions, they are concerned about a company's earnings, as well as how companies are aligning themselves with values important to women.
As global head of the Bloomberg Gender Equality Index, Barnet is in a position to help companies become more transparent about their gender equality data, which is not required in public reporting because "a lot of it is sensitive information or involves governance or risk issues," Barnet explained.
A self-described "data nerd," Barnet has worked at Bloomberg LP since October 2005, starting as an assistant. While the title wasn't as fancy as others she could have had elsewhere, she believed that working at Bloomberg would give her opportunities for advancement.
She was right. She later became deputy chief of staff to Bloomberg chair Peter T. Grauer, a job that allowed her to travel the world visiting colleagues and clients. On her first trip, she accompanied Grauer to nine Asian cities in 15 days. "I never worked so hard or slept so little," she said. Eventually, she was traveling to 20 countries a year.
"I'm a good example of going with opportunity," she said. She put graduate school on hold because she realized that "this could be my business school."
A few years ago, Barnet began working on diversity and inclusion projects for Bloomberg. She built a small team that incubated projects and then passed them on for follow-through. "Bloomberg started the Gender Equality Index as a pilot project," and when management asked her to own it, she believed she could add value to it.
For two years, the pilot program was open to financial services companies. The index brings "unprecedented transparency into gender equality in the workplace and serves as a barometer for gender equality at publicly held organizations," she explained.
The index provides investors with company information on gender equality across internal stats, employee policies, external community support/engagement, and gender-conscious product offerings. "Investors have access to standardized, comparable information, and companies have the opportunity to attract capital and widen their investor base," she said. "Inclusion in the index has become the gold seal for companies around the world to publicly demonstrate their commitment to equality and advancing women in the workplace. The GEI recognizes companies committed to transparency in gender reporting and that offer best-in-class policies and practices in support of women in the workplace."
Barnet said that any public company can report its data — as much or as little as it wants. Gender data is added to the Bloomberg terminal alongside financial data. To land on the index, which is not ranked, a company must have a market cap of at least $1 billion and have a security listed on any worldwide exchange. This year, 6,000 companies in 84 countries are eligible.
Companies are scored across 70 metrics in five categories: talent (women in leadership, retention of women and men, percent of women in revenue producing roles, percent of promotions to women), inclusive culture (parental leave, fertility benefits, child care, etc.), harassment policies, compensation, and female-friendly brand (supplier diversity, gender-conscious products and advertising).
The 2019 index included 230 companies. That number was more than double the number on the 2018 index and up from 25 the first year.
Barnet says that one way the success of the index is measured is by how much progress a company makes from year to year. The index, she says, is fortifying the business case for diversity. Just having women on a company's board is not enough. "It's also how transparent they are."
Barnet also represents Bloomberg on the World Economic Forum as strategy officer and member of the forum's gender parity steering committee. The forum is an independent, public-private partnership that brings political, business and other leaders of society together to shape positive change. She also was one of three founders of the U.S. 30% Club, a group of chairs and CEOs who are dedicated to putting more women on corporate boards. Women's membership on members' boards has risen from 21% to more than 30% last year.
Barnet had a brief stint in the advertising world after graduating from Washington and Lee. However, she soon decided advertising wasn't for her. "I needed more structure and a better cultural fit," she said. Living in New York City, she reached out to the large network of W&L grads there, and a friend put her in touch with Grauer and Bloomberg.
"I believed that at Bloomberg, I'd build good relationships; I felt there was opportunity there." When she meets with current W&L students or recent grads, she emphasizes the importance of opportunity over starting titles. "I also believe in starting at a big firm, where there is less likely to be a [career] logjam." At larger firms, she believes there are lateral moves and promotions more readily available.
Barnet channels her "nervous energy" through her work. "It was great to travel around the world in my 20s," she said. After the birth of her son and a five-month maternity leave, she returned to work "feeling balanced." Working is two-fold for her: it fulfills her personally and, through the Gender Equality Index, helps advance all women in the workplace.
More About Kiersten
Married to Alex, who works in the title insurance business, and mother to George, almost 2.
10th Reunion: Distinguished Young Alumni Award.
As a member of the W&L Williams Investment Society, "I learned how finance is applicable in the real world and about working in a male-dominated environment."