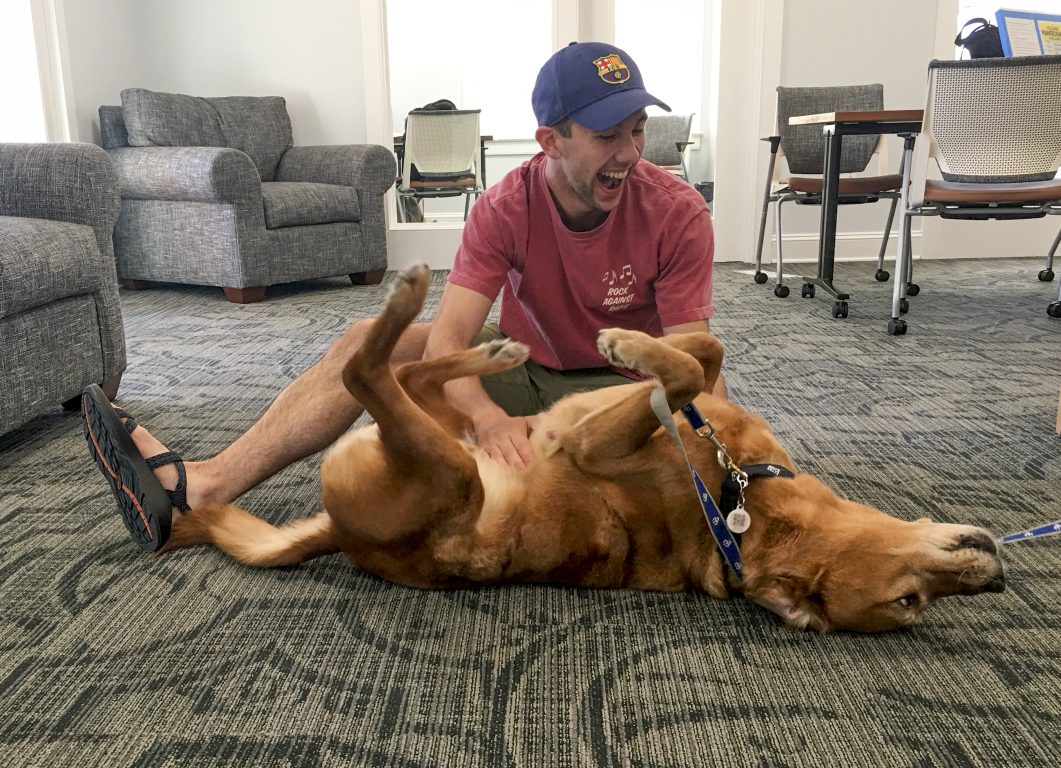 The Power of Change The W&L Village PowerDown Challenge called for students to reduce electricity consumption for a month, and they came through with energy and creativity to win a grand prize that included a therapy dog visit.
While the Washington and Lee University community was gearing up for the final stretch of the academic year, students in the third-year Village were powering down as part of a challenge sponsored by the university's Energy Education Program.
The Village PowerDown Challenge, which lasted March 9-29, called for students in participating apartments and townhouses to reduce their energy consumption as much as possible by making realistic changes to their daily routines, such as switching off unnecessary lights or cutting down the heat when the space was unoccupied. The challenge was designed to teach students that small steps can make a big difference in energy consumption—knowledge that will come in handy when they rent or own their own homes.
Apartments and townhouses in W&L's upper-division housing are already quite energy-efficient, but occupants in the winning apartment, A1, were able to cut their usage a staggering 81.4 percent during the contest. The second-place apartment, A2, reduced consumption by 66 percent, while the students in townhouse N2 burned 61.6 percent less energy, earning them the third-place recognition.
"The winning apartments saved about $100 in electricity over those that did not participate." said W&L Energy Specialist Jane Stewart. "That's not an insignificant amount of money for such a short amount of time, and as students prepare to move out on their own, it's important for them to know how energy use will impact their budget."
Throughout the challenge, contestants were able to check their position by navigating to the W&L Power Trip website, which tracks energy and water usage across campus, as well as provides conservation tips. The residents of A1, juniors Donovan Fiore, Austin Kinne, Laws Smith and Chris Cotton, did not plan to take the contest as seriously as they did, but that changed when they checked the stats on Day 1.
"We were in 17th place out of 25. The situation was dire. Tears were shed. We vowed to change our energy-heavy ways," Fiore wrote.
Fueled by a competitive drive—not to mention the mirage of the grand prize, a catered Salerno's dinner and a therapy dog visit—the guys of A1 kicked their efforts into high gear. About midway through the challenge, Fiore reported that "we resolved to live so energy-efficiently that the school would think we had ceased living in our apartment." They unplugged any unnecessary appliances, began to charge phones and laptops in common spaces, took showers in the locker room, and stopped leaving lights on at night.
When they found themselves doing homework in head lamps, taking cold showers and chatting with Cotton's parents in the dark, it occurred to the A1 team that perhaps they were taking it a bit far. But they wanted those bragging rights, pizzas and therapy dog cuddles, so they forged ahead and continued to check their standing on the website each day (in some cases, every couple of hours, Laws said). At one point, they were pleased to see that their apartment did indeed disappear from the graph entirely.
Ashley Johnson '20, who came in second place with her roommates in A2, said they were a bit surprised to take silver because they did not think they'd changed their habits much for the contest. They focused on making "thoughtful changes that were sustainable." She also pointed out with a smile that the guys next door in A1 spent some time in their apartment, where they were able to play games with the lights on.
"I don't know how much longer they could have lived like that," she said.
Like any good competition, this one developed a twist. When the winners were announced, Fiore and his roommates asked Stewart if they could share the grand prize with all of the participating students in the Village. Fiore offered to use the remaining funds in his Community Advisor budget to cover additional food costs, but the Energy Education folks were happy to foot the bill. Fiore said he was motivated to do that by the students in townhouse Q2, who came in 6th place. "Those guys were really, really committed, too."
"I honestly found it a bit moving," Stewart said. "The main reason to do a challenge is to harness a competitive spirit, but Donovan was not focused on gloating. He felt like a lot of people put a lot of work into it, and they deserved to be recognized, too."
When the big day finally came, the Village was visited by Duncan, a 7-year-old golden retriever/yellow Labrador mix who immediately rolled over to accept belly rubs. Fiore requested that a therapy dog be part of the grand prize because he did not expect to miss his family dog, a standard poodle named Hershey, as much as he did when he went away to college.
Although he and his roommates went to unsustainable extremes in their effort to win the 2019 PowerDown Challenge—and approached those efforts with a sense of humor—Fiore and other contestants said they now have a better understanding of how simple it is to apply small changes for big energy savings.
"It was so impressive – and so much fun – to see how far the winning apartment pushed themselves to conserve, but for me, what really speaks to the success of the competition is that many participants managed fantastic reductions without feeling they had gone to extremes," Stewart said. "These students saw that you can cut waste by 20 percent, 40 percent, 60 percent, through changes that felt like no big deal. That is an important lesson. And if they can do it, can't we all?"
More about the PowerDown Challenge
A Brief Explanation of PowerDown Methodology
An average kW was calculated for all Village Apartments and Townhouses respectively (they have different systems and structures so each group needs its own benchmark). PowerDown contestants are competing for lowest electricity use compared to that baseline. To smooth out discrepancies between current conditions and those that contributed to the baseline – and for fun – each contestant was given a 0.4 kW head start relative to the baseline.
Support for the Challenge
The Office of Residential Life and Dining Services were co-sponsors of the PowerDown Challenge. Res Life helped get the message out to RA/CA staff and Dining Services donated part of the prize (food flex dollars to first-place winners) and created a special "low carbon" sandwich (local, vegan ingredients) that was served at Foodside for the duration of the challenge.
Tips to Save Energy
Spend time with your thermostat! Turn your heat down/air conditioning up when you are leaving for the day and save energy without even noticing! If the weather is mild, turn your thermostat OFF and open your windows instead.
Turn off exhaust fans when you don't need them.
Wash your clothes with cold water! Did you know that 90 percent of washing machine energy goes into heating the water? By simply washing your clothes in cold water (bright colors setting) you can save almost all the energy required while helping your clothes last longer.
Wear a sweater and socks indoors instead of turning up the heat.
Take advantage of your blinds. During the day keep them open for natural light and heat and close them at night to keep the cool air out.
Set your computer to sleep mode instead of using a screensaver, this keeps your computer inactive when you're not using it.