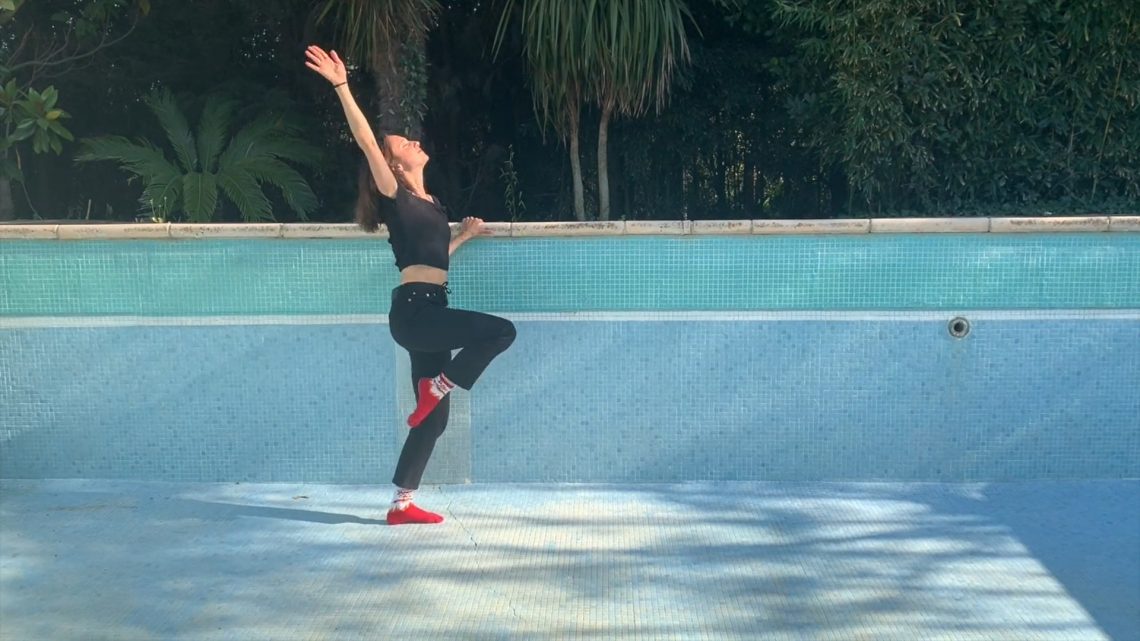 United by Dance When the 25 members of W&L's Repertory Dance Company were dispersed by COVID-19, director Jenefer Davies found a creative way for them to perform together again.
"I think the virtual projects, both the virtual collaborative project and the small group project, have helped me see a side of dance that I might not have otherwise."

~Zachary Baldridge '22
The Washington and Lee Repertory Dance Company had planned an incredible season.
An ambitious collaboration with Music Professor Terry Vosbein and the University Jazz Ensemble was going to culminate in a live performance by student dancers and musicians, featuring choreography by guest artists, 1930s jazz-era costumes and new musical compositions by both faculty and students.
Then came COVID-19, which forced the university to move classes online and the company's 25 dancers to scatter. They regrouped from the safety of home, but they wondered when they would dance as a company again with members now living in France, Austria and Costa Rica.
"The student dancers, just like everyone, were really upset and dejected and depressed about the fact that we weren't performing together," said Jenefer Davies, the dance company's artistic director and associate professor of dance/theater. "This whole move to online has been interesting and challenging for us specifically because dance is such a social event."
But last week, thanks to a combination of creativity and technology, the company did perform together. They accomplished it by choreographing a routine and recording their own parts at home via Zoom. Davies edited the clips into a four-minute video performance, "Dancing Across Boundaries."
"Making the virtual dance felt about the same as eight-count improv assignments I had received in the past, but the final product was much cooler," said dancer Zachary Baldridge '22.
Davies was inspired by a video she watched several years ago. "It was different in that this artist sent a video camera around to about 40 different dancers and choreographers with directions, and it was like a couple-year process," she said. She wanted to try that, except faster.
Davies started by creating a list of prompts. She instructed each student to start their part in a specific position and place within the camera field, then end in a specific position. The students had to create eight to 16 counts of dance. "The ending position of dancer No. 1 is the same as the beginning position of dancer No. 2," she said, "and it went like that through the list."
The class used Zoom to rehearse its dance pieces, especially transitions, and to record their pieces. Each dancer performed a routine in his or her own tiny screen square while the rest watched and provided.
Davies said the unique circumstances provided an opportunity to study dance outside the stage space. "We always create for the stage space, whether it is Keller Theatre or the performance space in New York City or even a site-specific work," she said, "and the one space we had never explored was for the camera."
The class has since worked on duets and trios, choreographing specifically for the frame of the camera. In both projects, they were challenged to create their piece of dance in an interesting space at home. A few dancers' pieces in "Across Boundaries" even featured canine cameos.
"I think the virtual projects, both the virtual collaborative project and the small group project, have helped me see a side of dance that I might not have otherwise," Baldridge said. "Doing the projects got me thinking about elements of choreography beyond a stage and audience. These elements are less mainstream, but still intriguing. I'm happy with the new perspective and fresh ideas I have been able to develop."
Davies said part of her goal in assigning the projects was to teach her students that even though they are separated physically, that doesn't mean they are separated in spirit.
"It's meaningful for them to quote-unquote perform together," she said. "They become so close that they're like family. We spend so much time together, so this distance is really affecting them. I think this mitigates the loneliness a little."
Watch the W&L Repertory Dance Company's "Dancing Across Boundaries" on Vimeo.
Also check out their project, "Choreography for the Camera."