W&L Admissions and Financial Aid Announces Office Changes Department welcomes new members and announces several promotions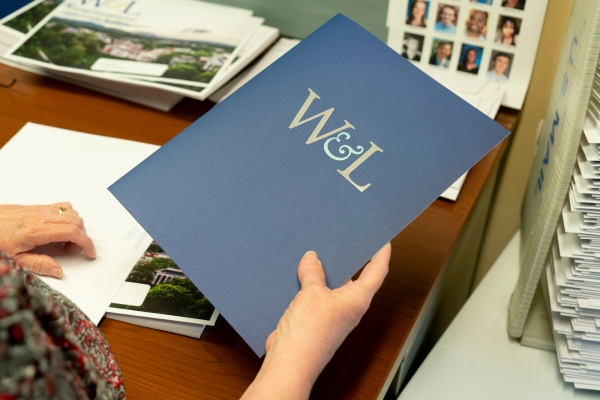 The Washington and Lee University Office of Admissions and Financial Aid has announced several changes to its staffing and office structure for the 2022-23 school year.
A pair of notable changes are related to the office's senior leadership, headlined by the addition of Courtney Penn '92, who will hold the title of senior associate dean for recruitment and engagement. Jonathan Webster has been promoted to senior associate dean for marketing and assessment. Webster and Penn join Jim Kaster, director of financial aid, and Elizabeth Knapp, director of the Johnson Scholarship program, as members of the senior leadership team reporting to Sally Stone Richmond, vice president for admissions and financial aid.
In his role, Penn will lead the university's first-year and transfer recruitment efforts, manage strategic partnerships on and off campus, including QuestBridge and community-based organizations. Grace Loughhead, promoted to associate dean of admission, continues to lead the Johnson Scholarship selection, as well as overseeing campus events.  Additionally, Sarah Erickson returns to full-time status as associate director of admissions and will oversee the daily campus visitation program.
Webster's role will focus on the ever-growing areas of admissions marketing and communications, operations and assessment. His assessment duties relate to the application evaluation process and reporting responsibilities. Webster's work will be supported by Eric Owsley '01, who joins the organization as the director of admissions marketing, and Adam Gross, recently promoted to director of admissions operations.
Amanda Harlow serves as the Gilliam House receptionist following Scotty Ashworth's recent retirement. Leslie Sparling '22 and Judy Park '22 have been appointed as the department's newest admission counselors, while Haley Culbertson '22 has been named as the program coordinator for the Johnson Program.
Finally, in September, the office will say goodbye to Ellen Austin after 25 years of service.  Ellen's successor as administrative assistant will be forthcoming.
A complete view of the staffing structure for the Office of Admissions and Financial Aid is available here.
Admissions will be back on the road this fall after a Covid-induced travel hiatus. For information related to recruiting territories, please view the interactive map detailing each admission officer's geographic territories.
For additional information related to Washington and Lee admissions and financial aid, simply visit the admissions and financial aid website.