W&L Celebrates Women's History Month The campus community will recognize women's achievements with various events throughout the month of March.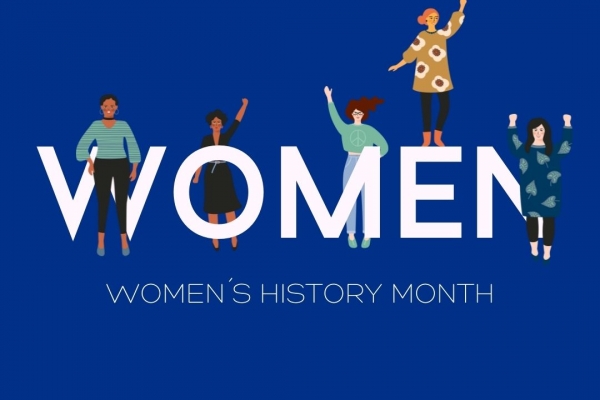 Washington and Lee University will honor Women's History Month in March with a month-long commemoration and celebration of women's achievements.
The Museums at W&L and the W&L Chanoyu Tea Society present a women's and girls' day tea on March 4 at the Watson Galleries. Sweets and matcha tea will be served, and the event will feature a selection of women-crafted tea bowls from the Hal and Barbra Higginbotham Collection. Free tickets may be reserved at calendly.com/mwlu/womensdaytea2023. There will be three, 30-minute sessions at 1 p.m., 1:45 p.m. and 2:30 p.m., and seats are limited to 20 per session.
Join the Museums at W&L for "Women in the World," a series of short, informal lectures held in the Watson Galleries each Monday in March and the first Monday in April. The series is inspired by two exhibitions currently on view, "Mother Clay: The Pottery of Three Pueblo Women" and "Born of Fire: Contemporary Japanese Women Ceramic Artists." The Museums will provide a light lunch and refreshments. The lectures are free to attend and open to the public, but reservations are required:
W&L's Gender Action Group will be hosting "Women's Week" from March 6-10, with events held each day celebrating Women's History Month and International Women's Day on March 8. Events include:
Faculty Panel on Erased Women's History | March 6 at 5:30 p.m., Hillel 101
Women's History Trivia | March 7 at 7 p.m., Office of Inclusion and Engagement Event Space, Elrod Commons 216
International Women's Day March | March 8, outside Elrod Commons
Mudd Center CareLab Event with Celine Leboeuf | March 9 at 4 p.m., Hillel 101
Feminist FUDG | March 10, Arts, Recreation, and Culture House
The Women's, Gender, and Sexuality Studies Program at W&L, in collaboration with the university's history department, will host a dinner event, "What does feminism from below look and act like?" on March 8 at 6 p.m. in the Center for Global Learning atrium. The event will feature guest speaker Lorena Mansilla, who will discuss working-class feminism in Argentina. Mansilla has been an activist for more than 20 years and has long been involved in the unemployed workers movement in Argentina, which develops anti-poverty and feminist strategies to aid and empower marginalized communities. She is currently a member of the Frente de Organizaciones de Lucha (Front of Organizations in Struggle) and plays a key role in shaping a class-conscious gender discourse. Reserve your spot for the dinner and presentation by emailing Cassady Sapp (csapp@wlu.edu).
The Women's, Gender, and Sexuality Studies Program will also partner with the Roger Mudd Center for Ethics to host Céline Leboeuf as the next speaker in the Mudd Center's "Beneficence: Practicing an Ethics of Care" series. Leboeuf is an associate professor of philosophy at Florida International University and will present a public lecture titled "How Can We Embody Self-Care? Lessons from the Body Positive Movement" on March 9 at 4 p.m. in Hillel 101. Leboeuf's research lies at the intersection of the philosophy of race, feminist philosophy and phenomenology. Her work addresses the question of what it is like to be embodied in a social world and focuses on gendered and racialized experiences.
Check back for more information about upcoming Women's History Month events hosted by W&L's academic departments and student organizations here.