W&L Dance Professor Publishes New Book Jenefer Davies authored "The Art of Dance Composition: Writing the Body," an introduction to modern dance composition.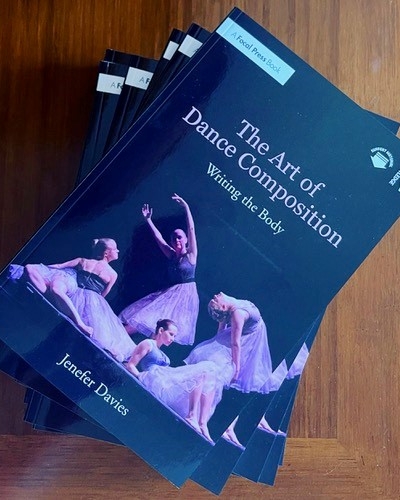 Jenefer Davies, chair of the Department of Theater, Dance, and Film Studies at Washington and Lee University and artistic director of the W&L Repertory Dance Company, recently published a book titled "The Art of Dance Composition: Writing the Body."
The book, published by Routledge Press, introduces modern dance composition, demystifying the creative process and providing clear and structured approaches to designing and defining movement. Designed to appeal to aspiring choreographers, the book is filled with practical advice and includes access to performance videos that demonstrate the concepts illustrated within the text.
Davies's research interests live at the junction of teaching and scholarship, and the creative relationship between teacher and student is at the center of "The Art of Dance Composition." The book manifests Davies's nearly two decades of teaching and creating work with students at W&L, and the photographs and videos accompanying the text feature W&L student dancers.
"The Art of Dance Composition" introduces the concepts of creative authentic movement, the processes for gathering and ordering compositional elements, and the ways in which theme, story and design relate to bodies moving through space. It approaches the practice and composition of dance from various angles, including using inspiration from visual art, found objects and chance methodology, and digital tools such as video and video editing software, digital mapping and motion capture. The book also includes flowcharts that provide a framework for making dance, equipping readers with a clear roadmap for creating their own work.
"I'm very thankful for all the support I was given to create this book," Davies said. "The Lenfest Sabbatical Endowment, the Class of 1956 Provost's Faculty Development Endowment and the Museums at W&L all contributed to my creation of this pedagogical approach to navigating the creation of art, as did my colleagues, Kevin Remington and Dave Pfaff, and the brilliant W&L dancers who adorn its pages."
Davies received her bachelor's degree from Hollins College and her master of fine arts in choreography and dance from George Washington University. Her choreography has been commissioned by dance, opera and theatre companies, and has toured throughout the United States as well as Spain, Greece and Scotland. She is also the author of "Aerial Dance: A Guide to Dance with Rope and Harness" (2018).
If you know any W&L faculty who would be great profile subjects, tell us about them! Nominate them for a web profile.