W&L Extends Admissions Offers to the Class of 2027 With the final round of application decisions released on March 24, W&L's newest class begins to take shape.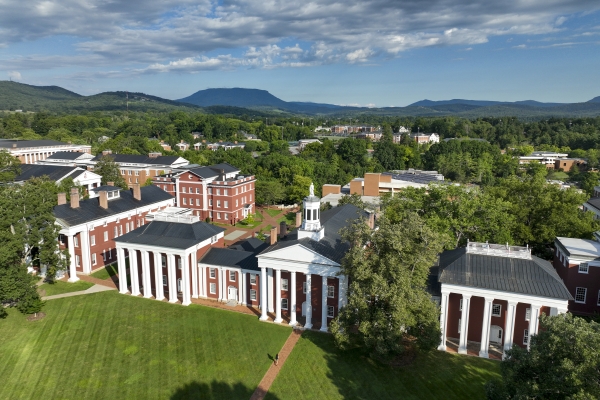 Excitement is in the air at Washington and Lee University! The final round of application decisions was released on Friday, March 24 at 8 p.m. Including enrolling students admitted during Early Decision I and II, those enrolling after taking a gap year, and those who were matched through the QuestBridge National College Match Program, W&L is proud to offer admission to a total of 1,189 students to join the Class of 2027.
While the responses of admitted students are not due until May 1, we can already see the promise of the incoming class begin to take shape. The Class of 2027 is a diverse and vibrant group of students, and their collective profile speaks to W&L's appeal as a national liberal arts college with a proven record of graduating talented, impactful leaders.
Recruiting the Class of 2027
W&L has a mission-driven and personalized application evaluation process, and the admissions staff engages in a holistic, thorough and multistep assessment to discern each applicant's academic successes, personal accomplishments and potential contributions to W&L.
"I'm proud of the way we read applications — or really, the way we get to know applicants," said Sally Richmond, vice president for admissions and financial aid. "We recruit and enroll students who are seeking a college community that engages in immersive learning, exercises integrity in decision-making, and celebrates diverse perspectives. We seek those character strengths in our applicants, and I am pleased to report that we see them — in abundance — in this class."
A range of thought, backgrounds and experiences is central to sustaining a community of smart, ambitious students who have the ability to make an immediate and positive impact on campus and in the years to come. The admissions team actively seeks individuals who will contribute to W&L's vibrant community and benefit from the distinct and personalized education the university offers.
"We know W&L provides an intensely personal educational experience, and our admissions process has to reflect that," said Courtney Penn '92, senior associate dean of admissions for recruitment and engagement.
Part of this process includes connecting with schools and community organizations to share more about W&L and to reach as many prospective applicants as possible. W&L's admissions office has also expanded several of its outreach initiatives, including high school visits, regional admissions programs, fly-in programs, virtual and in-person interviews, panel discussions, and campus events that demonstrate the value and appeal of a W&L education. The university also works with 330 representatives from the Alumni Admissions Program, who meet students around the world, answer questions about W&L, and find out more about what drives each student.
"We go to great lengths to meet students and introduce them to the distinguishing features of our school. Our partnerships with community-based organizations and high school counselors help us identify students who will thrive in this type of environment," Penn said. "It's a ton of effort, but so worth it to get to have real conversations with applicants and their families."
Admitted Students at a Glance
Washington and Lee is proud of the engaged, thoughtful and ambitious group of students we invited to join the Class of 2027. Here's a quick look at who they are:
48 U.S. states, the District of Columbia, and 36 other countries are represented.
872 distinct high schools are represented in this year's admitted class.
58% attend public or charter high schools; 25% attend an independent high school; 11% attend a religiously affiliated institution.
31% of admitted students identify as students of color.
20% come from underrepresented backgrounds.
14% will be first-generation college students.
25 distinct languages, including English, are spoken at home.
20 students were matched through QuestBridge.
77 applicants are Johnson Scholarship winners.
Congratulations again to all the admitted students! W&L looks forward to welcoming you to one of two Admitted Students Days, held on March 31 and April 24 this year, which are a great opportunity to connect with faculty, staff and current students, get an introduction to the classroom experience and more. See you on campus!