W&L Hosts Third Black Future Leaders Experience Conference on Feb. 5. The theme for this year's Black FLEX conference is Global Cooperation.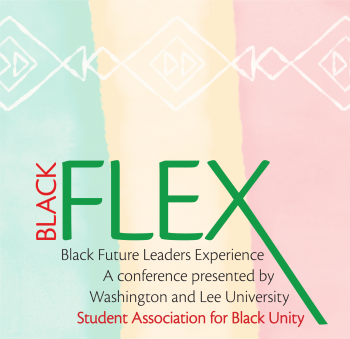 Washington and Lee University is hosting its third annual Black Future Leaders Experience Conference (Black FLEX) on Feb. 5.
The theme for this year's conference is Global Cooperation.
"The Black FLEX conference is an entirely student-run leadership conference that requires careful planning and organization," said Esther Assenso '22. "I'm extremely excited to see the work of the students in the Black FLEX Planning Committee come into fruition to bring Black W&L students' insight into professional and personal development. Additionally, this is the first time since the pandemic that we've been able to convene Black FLEX in person, and I can see everyone's bright smiling faces."
Events will include a global show-and-tell, bringing students together to share their cultures through interactive ways. Participants are encouraged to bring a cultural item of value to share with the group.
The session "Building Your Personal Brand: Black Professionals" covers professional etiquette and attire to communication skills and networking that young Black students have to build upon to not just to succeed but excel in an increasingly global workplace. This workshop will provide students with an overview of important ideas such as communication, networking, branding, and more and give a foundation to continue building these necessary skills moving forward.
The keynote speaker for this year's conference is Tolu Olubunmi '02, a political strategist and social entrepreneur. Olubunmi will give her address at 1 p.m. in Stackhouse Theater.
Olubunmi, a native of Nigeria who holds a degree in chemical engineering from W&L, is one of the nation's leading activists on behalf of immigrants and refugees. She has devoted her career to establishing and leading several nonprofit organizations and campaigns focused on issues such as migration, education, economic inclusion, climate change and youth engagement.
In 2010, Olubunmi founded Ada Consulting, which managed the communications strategy for a coalition of national immigrants' rights, education, labor and civil rights organizations to advance the Dream Act. She is also the founder of Lions Write, which focuses on building social impact campaigns through the sharing of immigrant stories such as her own. The name of that initiative came from an African proverb, "Until the lions learn to write, all the stories will glorify the hunter."
Olubunmi has also run the United Nations' global climate action campaign, ActNow, and she sits on the U.S. board of directors for the International Organization for Migration. She co-founded Immigrant Heritage Month, has helped to draft and execute U.S. immigration policies, and in 2015 was named as one of 15 Women Changing the World and an Outstanding Woman Entrepreneur by the World Economic Forum. She has been honored for her work by the Anti-Defamation League, and her story has been shared many times on national and international media outlets.
Learn more about the conference and see the full schedule on the W&L website here.
This leadership conference is hosted by the Student Association for Black Unity at Washington and Lee University.