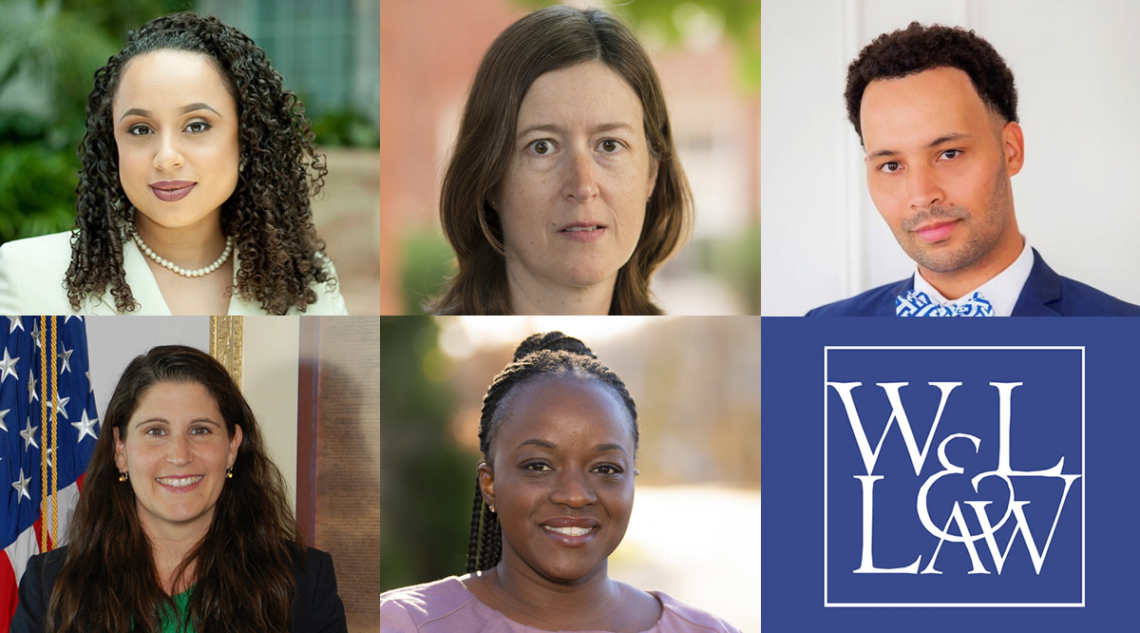 W&L Law Faculty Recognized for Excellence in Teaching and Scholarship
W&L Law Dean Brant Hellwig has announced the annual awards that recognize faculty members for their accomplishments as teachers and scholars.
Teaching Awards
Professors Brandon Hasbrouck and Mona Houck received the John W. Elrod Law Alumni Fellowship for teaching.
Hasbrouck, a 2011 graduate of the Law School, joined the faculty two years ago. He teaches courses in Statutory Interpretation, Criminal Law, and Critical Race Theory.
In his announcement, Hellwig said, "Brandon has shined as an instructor, bringing a unique combination of expertise, enthusiasm for the material, and passion for understanding to his classroom sessions and beyond.  His courses are already the stuff of legend among the student body, and our colleagues on his support committee have provided glowing reviews of his teaching effectiveness."
Hasbrouck's course in Critical Race Theory this spring proved transformational for many. Students in their comments on the course consistently note the care Hasbrouck took to create a safe environment for students to share their thoughts, regardless of viewpoint, and learn from one another. Through his Statutory Interpretation Practicum course, Hasbrouck leads students in understanding the range of statutory interpretation methods by employing contemporary examples.  He then works with students in honing their statutory interpretation skills through a range of advocacy exercises.
Houck joined W&L two years ago with the launch of a revamped legal writing program, and Hellwig noted that she has excelled in that role.
"Mona has a deep knowledge and understanding of legal writing, and she communicates that expertise in an interactive way that her students consistently enjoy," said Hellwig. "She is also available to her students outside of the classroom, supporting their writing processes with thoughtful feedback and moral support. Mona's students quite literally shower her with praise in their reviews of her class, commenting both on her exceptional abilities as a teacher and writer as well as recognizing her tremendous efforts inside and outside of the classroom."
In addition to legal writing, Houck teaches a course on Mass Media Law, enhanced by her insights as a former journalist, through which she challenges students to examine their core beliefs about free expression and its role in a free society.
Scholarship Awards
Brandon Hasbrouck and Cary Martin Shelby received the Ethan Allen Faculty Fellowship for scholarship. With this award, Hasbrouck becomes the first faculty member to receive the teaching and scholarship honors in the same year.
Hasbrouck published his first article since entering legal academia, "Saving Justice: Why Sentencing Errors Fall Within the Savings Clause, 28 U.S.C. § 2255(e)," in the Georgetown Law Journal. The article examines whether an individual can invoke the Savings Clause to seek post-conviction relief for sentencing errors attributable to a retroactive decision of statutory interpretation that was foreclosed at the time the sentence was originally imposed. He contends that such relief should be available based on the statutory text, its structure and purpose, and constitutional grounds.
More recently, Hasbrouck accepted an offer to publish his essay "Abolishing Racist Policing with the Thirteenth Amendment" in the UCLA Law Review. This essay builds on his novel theory first advanced in Slate that the Thirteenth Amendment can serve as a source of broad federal authority to abolish racist policing on the basis that modern policing practices are born out of white supremacy, and therefore constitute a badge of slavery. Finally, Hasbrouck has completed a draft of another article in the criminal procedure realm, "The Just Prosecutor," for which he has received several offers of publication.
Shelby has recently completed an article entitled "Profiting from Our Pain: Privileged Access to Social Impact Investing" in which she examines how the public/private divide under federal securities laws reduces the net social benefits that can be generated by social impact investing. The article details how retail investors are restricted from accessing many of these investment vehicles due to concerns over investor protection. The article also explains how social impact funds are able to operate outside of the public realm, limiting transparency that could foster a better assessment of their social utility.
After shedding light on these deficiencies, Shelby proposes a new series of "Social Impact Exemptions" that would appear under the Securities Act of 1933 and the Investment Company Act of 1940. Through this ambitious article, Shelby builds on a body of prior scholarship exploring the public/private divide in federal securities laws. Shelby recently accepted an offer of publication with the California Law Review.
Experiential Education Fellowships
In 2009, Jessine Monaghan '79L, established an endowed fund to support the experiential curriculum of the Law School. The primary objective of the fund is to provide grant support for the development of new experiential courses.  More broadly, the fellowship supports innovation and excellence in our experiential curriculum.
Carliss Chatman and Allison Weiss each received the Jessine A. Monaghan Fellowship for experiential education.
Chatman made substantial contributions to the transactional component of the Law School's experiential program last year. In just her first full year on the faculty, she served as the lead faculty member for the Business Immersion course. In connection with that role, Chatman redesigned the course so that students would gain exposure to the evolution of a small business – taking a company from general partnership, to an LLC, to a corporation, and then through a reverse-triangular merger with another company. Additionally, Chatman prepared a course manual for the benefit of each small-section instructor and streamlined the administration of the course.
In addition to her contributions to the Business Immersion program, Chatman designed a new practicum course on Mergers and Acquisitions. The course employs various modules to simulate the life of a practicing attorney in this field, focusing on initial project development, drafting key transactional documents, researching and advising clients on key issues that arise in the transaction, and addressing post-closing dispute resolution.
Weiss, who also teaches legal writing, developed a Rights of Prisoners Practicum in which she teaches students about legal issues implicated in prison administration and prison reform efforts while engaging students in simulated law practice. Weiss incorporates actors most affected by these prison law issues into her class so students have the opportunity to hear from lawyers experienced in prison litigation, a federal judge, and incarcerated and formerly incarcerated people.
Weiss provides students with the unique experience of collaborating directly with correctional facilities to provide information to incarcerated persons about re-entry. Although aspects of the course could not be implemented due to public health restrictions at prison facilities, Weiss has created an impressive platform for future offerings of this innovative course.
If you know a W&L faculty member who has done great, accolade-worthy things, tell us about them! Nominate them for an accolade.