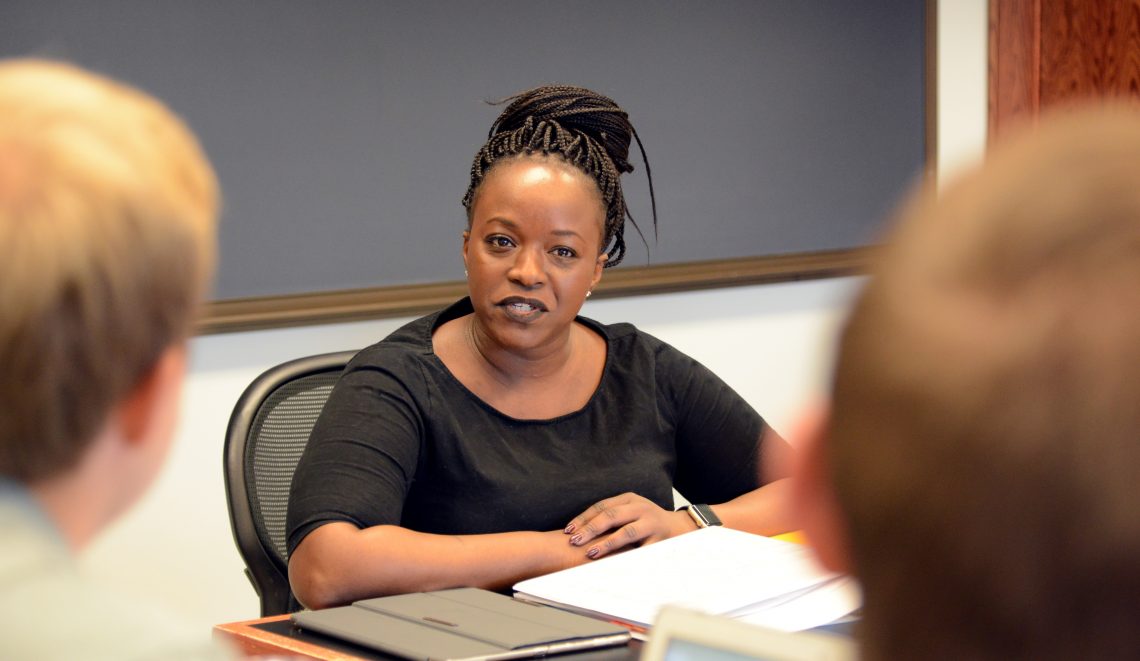 W&L Law Professor Publishes Children's Book on Corporate Personhood How are people like companies? Prof. Carliss Chatman explains in her new children's book, "Companies are People Too."
Prof. Carliss Chatman, who specializes in corporate and commercial law, joined W&L Law in 2018. Her teaching and scholarship is influenced largely by 11 years of legal practice in complex commercial litigation, mass tort litigation and the representation of small and start-up businesses in the United States and the Kingdom of Saudi Arabia. As a result, her scholarship is intersectional with a focus on issues at the heart of commercial litigation: the interplay of business entities, government and natural persons.
Prof. Chatman's current research and writing projects are varied and include two business law casebooks, an article examining the use of slavery in commercial law simulations, and a book chapter that reimagines the Citizens United opinion using the framework of critical race feminism. Add to that her just released children's book "Companies are People Too," in which she endeavors to explain to kids and adults alike how corporations function. Illustrated by Winsome Reid, the book is available for purchase on Amazon.
Below, Prof. Chatman explains her motivation for writing the book and what she hopes readers will take away from the story.
Where did you get the idea for the book?
I was inspired to write the book by one of my friends who asked me to explain what I do like I would explain it to a five-year-old. He said "you keep talking about corporate governance and personhood, and I have no idea what you mean." So I told him I would throw together a PowerPoint for him, and that's actually where the text of the book comes from.
What topics do you address in the book?
The book addresses the fundamental notion of personhood and how it is what enables companies to do business in the world just like human beings.  Specifically, I give some everyday examples of what personhood allows a business to do—like having employees, signing contracts, and suing or being sued.
To what extent does the Citizens United case inform notions of corporate personhood, and how does that interact with the topics you cover?
Citizens United creates the need for the book, for children and their parents too.  Many are under the misconception that corporate personhood starts with Citizens United, when in fact it's a hundreds year old concept—going back to the Romans.  The opinion alters the rights of corporate persons, but it does not create personhood.  I have gotten comments from parents, before they read the book, that it is in support of Citizens United, but that's simply not the case.  To me it exposes a knowledge gap that needs to be addressed.  We all do business with companies and do not think twice about the idea that our paycheck or receipt doesn't have the name of a human being on it.
The illustrations in the book showcase a great deal of diversity. Can you explain that?
After I found the illustrator, Winsome Reid, on Instagram, I told her I wanted the illustrations to be as inclusive as possible. We have LGTBQ people, and a Black family.  There are some Black cultural representations like the hair salon and the church.  I also wanted to normalize the idea of Black people being business owners. So we have a Black man going to work and signing a lease with a company.  We are also concerned about not reinforcing negative stereotypes, so we made sure the person going to jail is not Black.  The illustrations look like the world I grew up in, and I think it's important for other Black children to see themselves and their lives on the page.
What do you hope readers will take away from the book?
A children's book is a great way to deliver the information in a way that is accessible to readers of all levels.  I hope that for the young readers it can spark an interest in business and entrepreneurship.  For the older readers, I hope to contribute to business literacy.
If you know any W&L faculty who would be great profile subjects, tell us about them! Nominate them for a web profile.