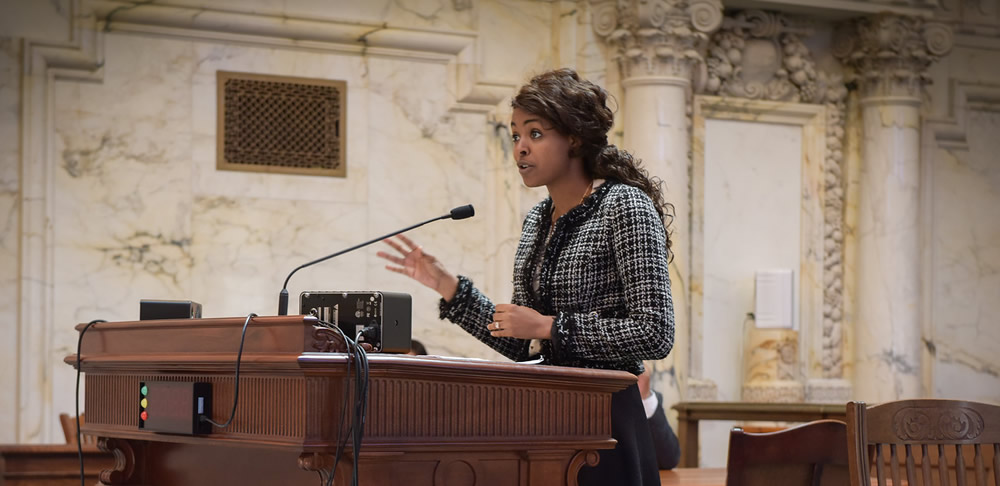 W&L Law Students Win National Uvaldo Herrera Moot Court Competition for Second Straight Year
The Washington and Lee School of Law team of Joseph Isenberg '19L and Danielle Phillips '19L was named National Champion at the Uvaldo Herrera National Moot Court Competition conducted by the Hispanic National Bar Association. This is the second year in a row that a team from W&L has been named National Champion of the event.
The team, members of the school's Latin American Law Students Association (LALSA), competed against teams from 30 other law schools. In addition to their overall victory, Phillips was named best oral advocate in the competition.
"Of course it is extremely gratifying that our school won the nationwide competition, for a second year in a row no less," said Dean Brant Hellwig. "But I am most pleased with the dedication Danielle and Joseph demonstrated in preparing for the competition and the skill they displayed throughout the event. What a tremendous credit to them and to our school overall."
The problem for competition was modeled after the Masterpiece Cakeshop case that was argued earlier this year before the U.S. Supreme Court. The competition took place at the Hilton in San Francisco and the judges of the final round included a federal district court judge and two judges for the U.S. Court of Appeals for the Ninth Circuit.
In winning the competition, the students brought home a $13,000 scholarship award for the school for the team win and an additional $3000 for capturing the best oral advocate award.