W&L Outcomes: Cole McPheeters '22 By his sophomore year at W&L, McPheeters knew he wanted to go into investment banking after graduation. Today, he works as an investment banking analyst in Houlihan Lokey's Industrials group in New York City.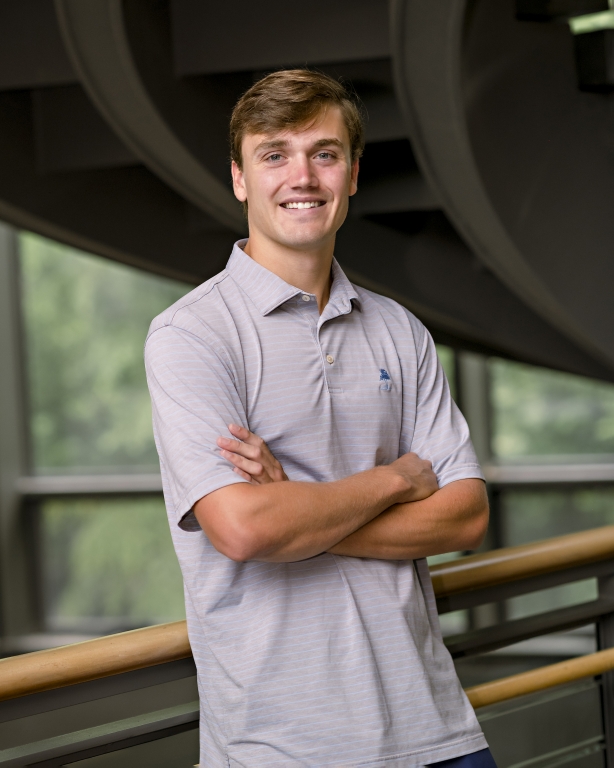 Hometown: Vestavia Hills, Alabama
Post-Grad Plans: Investment Banking Analyst at Houlihan Lokey in New York
Industry: Banking and Finance
Areas of Study: Accounting, Economics
"There is no one-size-fits-all when it comes to a career, so I encourage all W&L undergraduates to start thinking about a post-graduate path that meshes well with their unique attributes, skill sets and passions."
~ Cole McPheeters '22
Q: What have you been doing since graduation?
I am working as an investment banking analyst in Houlihan Lokey's Industrials group in New York City.
Q: How did your career plans evolve over the course of your time at W&L? 
As I entered college, I lacked a clear vision as to what my post-graduate career would entail. In the latter years of high school, I participated in mock trial and an organization called "We the People," which essentially involved debates over how the conceptual underpinnings of the U.S. Constitution have interacted with American civics. With this in mind, a career in law has always had some appeal. However, as my time as a first-year at W&L progressed, my interests became increasingly business-oriented – diving into how different political, economic and social developments impacted markets.
By sophomore year, I was reading financial news and keeping up with markets daily, which prompted my interest in the Williams Investment Society (WIS). Upon eventual admission into WIS, I grew fond of using my analytical and critical thinking skills to develop detailed investment suggestions or recommendations for the society. However, WIS resembled more of an equity research role. I figured out that I sought a more dynamic work environment where I could tangibly work through all aspects of a transaction, be a part of a close-knit team and witness the product of the team's work upon seeing a deal close. Thus, during my sophomore year, I determined that investment banking – and more specifically, investment banking at Houlihan Lokey – was the ideal place to begin my career.
Q: What internships or other summer experiences did you partake in and how did those experiences shape you and your career plans? 
After my first year at W&L, I worked as a waiter at Klingler's European Bakery and Cafe, a small German restaurant in my hometown of Vestavia Hills, Alabama. While I cannot say that this experience materially altered my career plans, I can say that it was a genuinely transformative experience. There was a very diverse clientele at Klingler's that I was able to interact with. For someone who is naturally a bit introverted, my time as a waiter equipped me with the ability to interact with a wide array of people. I was set to partake in the Williams School-sponsored London Internship Program in the summer of 2020, but it was unfortunately canceled due to COVID.
Last summer, I interned with Houlihan Lokey (HL) in New York, where I will begin full-time come July 2022. The summer of 2021 was a lively time for M&A markets, so my 10 weeks were generally fast paced. I am very fortunate to have stayed busy last summer. My experiences allowed me to become more efficient in managing my time, which I hope will carry over well as I begin my post-graduate career. I know that I still have a lot of work to do, but I am very thankful for the life skills and mentorship I acquired as an intern last summer.
Q: How did the Office of Career and Professional Development support you and which resources did you find most helpful? 
Once I determined that I wanted to pursue a postgraduate career in finance, the CPD office did a phenomenal job of informing me of all new recruiting developments. The office sent out comprehensive emails that outlined all upcoming deadlines, pieces of advice and forward-looking next steps as I went through my recruiting process.
Additionally, I am very thankful for all of the upperclassmen Career Fellows when I was a sophomore going through the recruiting process. They provided helpful guidance in crafting a strong resume and preparing me for interviews. Like so many other aspects of W&L, the Career Fellows are genuinely unique to the University. They are a resource that students should not overlook.
Q: What did you study here and what are some skills or learnings you will take from your academic experience into the professional world?
I was an accounting and economics double major at W&L. As a numbers-oriented person, accounting has always appealed to me. However, one of the best takeaways from majoring in accounting stems from being able to contextualize and interpret the broader significance of a specific number. Many consider accounting to be very black and white, but the W&L accounting curriculum allows a student to collect seemingly disparate numbers and create a more cohesive narrative as to what those numbers actually signify. In this sense, I believe the W&L Accounting Department sets itself apart from a more standard accounting curriculum, fostering longer-term retention of material that many find not particularly intuitive.
On the other hand, economics is a field deeply rooted in theory and intuition. It is less rooted in memorization and recall and centers more around logically reasoning your way through different scenarios. Though both are Williams School majors, accounting and economics require very different methods of thinking, and I think both forms will prove useful as I begin my time in corporate finance.
 Q: What career-related advice would you give to next year's graduating class? 
As with everything in life, finding your optimal job and career path involves balance and a deep understanding of yourself. For those still searching for their first full-time job or internship that may lead to their first full-time job, understand that you will have to be proactive and steadfast to lock down a job that is best for you. Finding your ideal job involves a lot of self-analysis, preparation and conversations with those already in your desired profession. Be ready to work very hard, but do not let the potential stress of finding a job implicate your closing months as a W&L student. Perhaps most importantly, be flexible. I know some undergraduate seniors clearly understand what their desired career progression will look like. That is not the case for me. Think critically about what drives you; from there, consider what career paths may foster the most significant degree of personal fulfillment. The odds are that you will spend a great deal of time at your job, so make sure that you invest your time in a profession and environment that suits you well. There is no one-size-fits-all when it comes to a career, so I encourage all W&L undergraduates to start thinking about a post-graduate path that meshes well with their unique attributes, skill sets and passions.
Read more about other W&L Outcomes here.
If you know any W&L alumni who would be great profile subjects, tell us about them! Nominate them for a web profile.