W&L to Host Free Screening of the Ghana Spring Term Films The premiere event will be followed by a student-led discussion about their experiences and the creative journey in producing the films.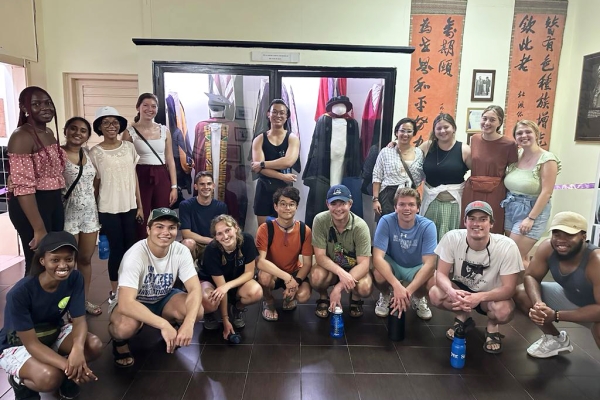 Washington and Lee University will host a special premiere and fundraising event titled "Empowering Human Rights Through the Lens: Films of Ghana by W&L Students" at the Keller Theatre/Lenfest Center on Friday, Oct. 6 at 5 p.m. The screenings are open to the public and include light refreshments.
Attendees will view two thought-provoking short films meticulously crafted by W&L students as part of the Spring Term course "Creating Field Documentary on Human Rights in Ghana" taught by Stephanie Sandberg, assistant professor of theater. Sandberg's class hosted 18 W&L students in Ghana last spring, examining human rights, culture and social justice issues. They primarily focused on human rights associated with the local fishing trade and the rights of women who perform basket weaving.
A significant aspect of the class was working with two non-governmental organizations (NGOs) that perform humanitarian work in these areas; the students then produced a film about each organization. The first film covers Coastbridge Ghana, an organization committed to developing rural fishing communities through education, health and economic empowerment projects. The second documentary details the work of the Advocacy and Social Inclusion for Girl's Education (ASIGE), which strives to break the cycle of poverty by empowering rural women to use sustainable skills for their livelihood.
Each film is approximately 10 minutes long, and attendees will receive a unique peek behind the scenes as the students take the stage to discuss their creative journey. The students will share the inspirations that fueled their storytelling, the challenges they navigated and the rewarding moments that made it all worthwhile.
"Documentary filmmaking in the field is one of the best ways I know to teach students about cross-cultural engagement, human rights and the importance of global community," said Sandberg. "We are living in a time when these issues are more pressing than ever before, and the university must be compelled to give students the opportunities to learn about the issues that face us and how we might combine our efforts to solve problems."
The connection between the students and the NGOs continues through support of the two organizations' missions. Both Coastbridge and ASIGE prioritize education, a cause that resonated with the W&L students. As a result, they are raising funds to subsidize higher education for several Ghanaian youth interested in pursuing secondary education. A donation of $50 or more receives a gift of a beautifully decorated, hand-crafted Ghanaian basket. Please visit https://account.venmo.com/u/ASIGEUSA for more information about how you can support the cause.