W&L's Sociology and Anthropology Department Presents 2023 Lecture Series The series, which highlights the range of post-graduate opportunities, features department alumni and kicks off Jan. 24.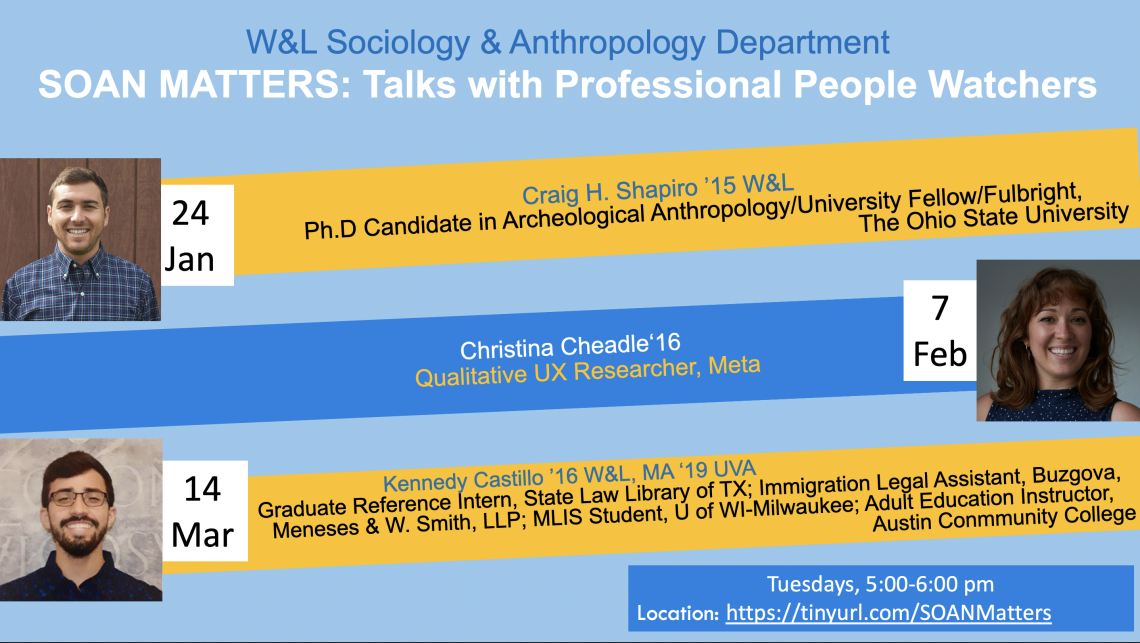 Starting this month, Washington and Lee University's Sociology and Anthropology Department (SOAN) continues its SOAN Matters series, which spotlights alumni and the role their sociology and anthropology major plays in their post-graduate life.
In this year's series, titled "Professional People Watching in the Real World," each speaker will discuss how they understand sociological or anthropological processes to affect their interactions and relationships at work, as well as how the skills they learned as undergraduates apply to their current positions.
The series aims to give current SOAN students advice about marketing their degrees and make them aware of the opportunities available to them.
"The hope is to have speakers across a variety of fields to help students create connections and understand the practical utility of sociology and anthropology in daily life no matter what field or career they go into," said Lynn Chin, professor of sociology.
The first talk of the semester will take place Tuesday, Jan. 24 at 5 p.m. with Craig Shapiro '15, a doctoral candidate in archaeological anthropology, university fellow and Fulbright recipient at The Ohio State University. The event will be held via Zoom and can be accessed here.
Future talks in the series will also be held via Zoom and can be accessed at tinyurl.com/SOANMatters.
Feb. 7 at 5 p.m. | Christina Meadle '16: qualitative researcher at Meta
March 14 at 5 p.m. | Kennedy Castillo '16: graduate reference intern, State Law Library of Texas; immigration legal assistant, Buzgova, Meneses, & W. Smith, LLP; MLIS Student, University of Wisconsin, Milwaukee; and adult education instructor, Austin Community College
Learn more about SOAN here.