'A Gentleman and a Gentle Man' Life held great potential for James Gadiel '00, who perished in the 9/11 attack on the World Trade Center.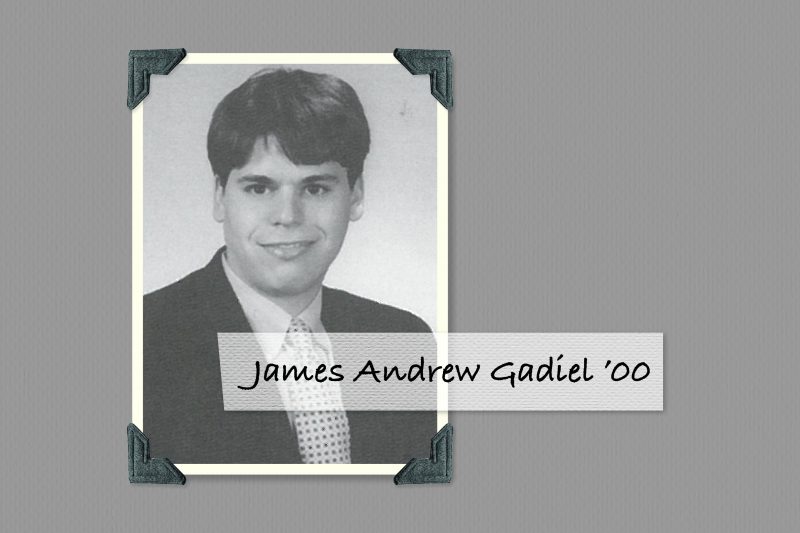 For James Gadiel '00, the future was boundless.
At just 23, Gadiel had already graduated from Washington and Lee University and had landed a job as an assistant trader for the bond brokerage firm of Cantor Fitzgerald in New York City. But when he reported for work on the 103rd floor of Tower One, World Trade Center, on the morning of Sept. 11, 2001, all of those possibilities vanished.
A native of Kent, Connecticut, Gadiel attended Housatonic Valley Regional High School in Falls Village before enrolling at W&L, where he was an economics major.
"I remember James as a quiet but engaged student. He helped his classmates in working on problems during class and on homework, and was eager to pitch in," said economics professor Linda Hooks. "He easily worked across multiple small groups and had a friendly, smiling approach to each person, which made him well-liked by his classmates. He was very interested in money and banking, and he had a bright future ahead."
Gadiel, known as "Jamie" to some family and friends, was also a member of Sigma Nu fraternity at W&L. His pledge brother and close friend, Hugh Farrish '00, said Gadiel was "always someone people wanted to be around due to his charisma, sense of humor and just plain likeability. He was an honorable man and all around good person who made the lives of those around him better."
Farrish said that while it's hard to settle on his fondest memory of Gadiel, it's probably the day they went fishing together in Lexington.
"One memory that sticks out is fishing on one of the little lakes near Lexington, where we were able to rent a boat. It strikes me because it was stereotypically James. No one else wanted to go through the hassle, but he was always up for doing something fun, and we had a great day catching bluegill and catfish out there," Farrish said.
In a memorial posted on the Sigma Nu national website in 2013, Gadiel's fraternity brother, Doug Hesney, described his friend as "a kindhearted, interesting and intelligent young man" and a "valued fraternity brother, a good guy, and a friend." Hesney had last seen Gadiel at his apartment just two days before the terrorist attacks. That Sunday, they gathered with other Sigma Nu members to watch football and made plans to go to a Mets game together.
"Looking back on that day 12 years hence, I'm struck by the enormity of the loss of James in ways I don't think I could've imagined when I was 25," Hesney wrote in the memorial. "The Lambda chapter alums who gathered that weekend, unknowingly seeing James for the last time, have moved on with their lives. Like me, many have gone on to marry and have children, built careers, and hopefully hold to the values of love, honor and truth that were instilled to us by Sigma Nu. All of that potential that James had, was snuffed out in an instant — which makes the loss even more tragic as time goes on."
The Legacy.com obituary for Gadiel, reprinted from The New York Times, describes him as a sensitive person, the "solicitous middle child" to his siblings, and a young man who always stood up for the smallest kid in his class. It also noted that although he came across as subdued, he "unleashed a dry, rip-snorting humor and a stubborn delight in debate" with his friends. Although Gadiel was politically conservative, the piece says, he made friends with liberals and conservatives alike, always believing that "most differences could be set aside during a Saturday afternoon, watching a game together, hot dog in one hand, beer in the other."
Farrish agreed: "I can remember having various spats over the years with almost all my friends, but not with James. No one ever had any issues with James."
Since his death, Gadiel has been memorialized in a number of ways. He and Robert Schlegel '85, another W&L alumnus killed in the terrorist attacks, are named on a brass plaque located in the chapel parking lot at W&L. He is also listed on Panel N-31 of the National September 11 Memorial in New York City.
Five years after the attacks, Gadiel's hometown also erected a memorial to him, which is located near the entrance to Kent Town Hall. It is a large granite stone with a brass plaque that reads: ""In Memoriam. To the 2,997 people killed by Islamist Extremists on Sept. 11, 2001. Among those murdered at the World Trade Center in New York City was lifelong Kent resident James Gadiel, 23, a Gentleman and a Gentle Man."