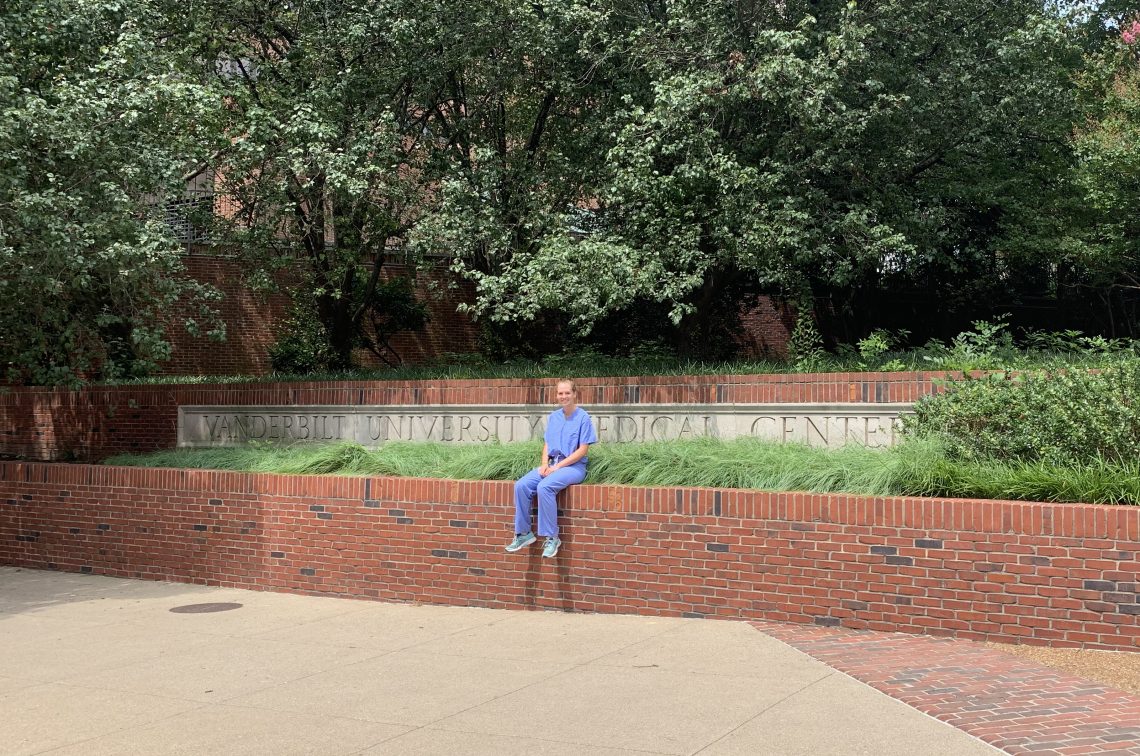 A Goal in Mind Working with ICU patients at Vanderbilt University Medical Center through the Allen Grant has reaffirmed neuroscience major Laney Smith's desire to become a surgeon.
Laney Smith '20
Hometown: Birmingham, Alabama
Major: Neuroscience
What factors led you to choose W&L?
I knew I wanted a small school where I could play soccer while also being academically challenged. Being able to have this balance between athletics and academics was an important part of my decision. I remember coming to a soccer camp at W&L the summer before my junior year of high school and talking to current players. I was impressed with the variety of majors and extracurricular activities the players were involved in while playing soccer.
Also, I was drawn to the small class sizes and the community of W&L. I knew that I wanted to develop meaningful relationships with professors and other students. I wanted to be in a classroom setting that was not primarily lecture-based but would allow me to be engaged through discussions and hands-on learning. At W&L, you are constantly surrounded by intellectually stimulating individuals, and I am very grateful for the opportunity to be a part of that community.
What made you decide on your major/minor?
Coming into college I knew I wanted to be pre-med. During my first semester, I took Dr. Fiona Watson's Communication of Animals intro to biology course and was immediately hooked on neuroscience. The next semester I took intro to neuroscience, and the decision was easy from there. I love that the neuroscience major is interdisciplinary in that it combines chemistry, biology and psychology. The neuroscience major allowed me the freedom to choose the area that most interested me and take courses that aligned with those interests.
Also, the neuroscience major requires undergraduates to conduct research with a faculty member. I was excited to have the opportunity to work directly with a professor and gain valuable hard skills that I could ultimately use beyond my undergraduate career. I currently work in Dr. Helen I'Anson's snacking and obesity lab. This coming fall will be my fourth semester working with the lab.
You were chosen for the Allen Research Grant. What is that and how did it feel to be selected?
The Allen Grant is a fund established by Dr. and Mrs. G. Ashley Allen that provides funds to W&L STEM majors to conduct research either on or off campus during the summer. After submitting a summer research proposal, two undergraduate students are chosen by the Department of Chemistry and Biochemistry. I was honored and quite excited to be selected for the Allen Grant. I admire several of the faculty members that were involved in the selection process, and it is very meaningful to be chosen by them for this grant.
What work are you doing this summer as a result of that grant?
This summer, I am working as a research coordinator at the Critical Illness, Brain Dysfunction, and Survivorship (CIBS) Center at Vanderbilt University Medical Center in Nashville, Tennessee. The center is one of the main groups in the world that conducts clinical research to improve the care and outcomes for critically ill patients with ICU-acquired brain diseases.
More specifically, the group studies Intensive Care Unit Delirium (ICU-delirium), a form of acute brain dysfunction that is common during critical illness and is associated with long-term cognitive impairments. A primary goal of the lab is to understand ICU-delirium and how to prevent this confusion in the hospital to ultimately better long-term cognitive function after discharge from the hospital.
Right now, the lab is conducting two longitudinal cohort studies. On a daily basis, I talk to patients and families and enroll them in the two ongoing studies. Once they are enrolled, I collect pre-hospital assessments to gain a better idea of a patient's cognitive functions before hospital enrollment. After enrollment in the study, I assess patients for delirium over the course of their stay in the ICU.
What is the most rewarding part about the work?
The most rewarding part of the work is the ability to talk to patients and see them improve over their stay in the ICU. Most patients, when we enroll them, are very sick and ultimately stay in the ICU for a long period of time. It is very rewarding to check in with patients every day and slowly see their progress toward recovery.
Once a patient is discharged, our lab remains in contact with them for up to a year to evaluate their long-term cognitive abilities. It is incredible to hear about how patients are doing after a critical illness. Also, each week the lab has an ICU support group for individuals who were a part of the study. I have had the opportunity to sit in on some of the sessions and it is very powerful to hear their stories.
How has your work this summer impacted your career goals?
I have always wanted to go to medical school and become a surgeon, but I was unsure whether I wanted to incorporate research into my medical career. The CIBS Center encouraged and excited me to pursue clinical neuroscience research and assured me that there is a niche for this research in any area of surgery I ultimately choose. The center is made up of a variety of different doctors from a broad spectrum of specialties, and working with these diverse individuals will allow me to further develop skills in clinical assessments and data analysis, and to learn more about ICU-delirium as well as help the center generate more answers regarding future prevention and intervention.
Has anyone on campus served as a mentor to you?
Yes, several faculty members have been instrumental in my time at W&L. Dr. Matt Tuchler and Dr. Helen I'Anson are two individuals that have been great mentors and support systems. I had Dr. Tuchler for intro to chemistry my first semester at W&L, and he has remained someone that I rely on for guidance. Dr. I'Anson is my academic advisor and my research mentor. I greatly look up to Dr. I'Anson and value her advice and opinion. Throughout my time in her lab, she has helped me grow as a student and pushed me out of my comfort zone.
What would you say to a student who is deciding whether to apply to or attend W&L?
I would tell them that going to W&L was the best decision I ever made. W&L has a seemingly unlimited amount of resources and funding to allow students to pursue their passion. The faculty want to help you and value you as a student and as a person. I remember asking a professor about how to get funding for my research this summer. Within a day, she had already given me some concrete options and said if that didn't work out, I could come back and she would try again. The faculty are so dedicated to students, and overall it creates this trusting and dynamic community. I would also tell them that you will be constantly surrounded by peers that will support and push you to be a better student and person. W&L has given me such an incredible group of friends, and that is definitely a product of the community W&L creates.
If you know any W&L students who would be great profile subjects, tell us about them! Nominate them for a web profile.
More About Laney
Where are you from?
Birmingham, Alabama
What is your personal motto?
It all works out in the end, if it hasn't worked out it's not the end
What's the best place to eat in Lexington?
Blue Sky
What do you order?
Blue Sky grilled cheese with turkey
 If you could recommend one film or book to everyone, what would it be?
"The Noticer" by Andy Andrews
Favorite W&L event?
Young Alumni Weekend
What's something most people don't know about you?
I am terrified of snakes.
Favorite class?
Attention with Dr. Wythe Whiting
Favorite W&L memory?
Winning ODACs my freshmen year
What are your post-grad plans?
I am planning on working for a year and then going to medical school.