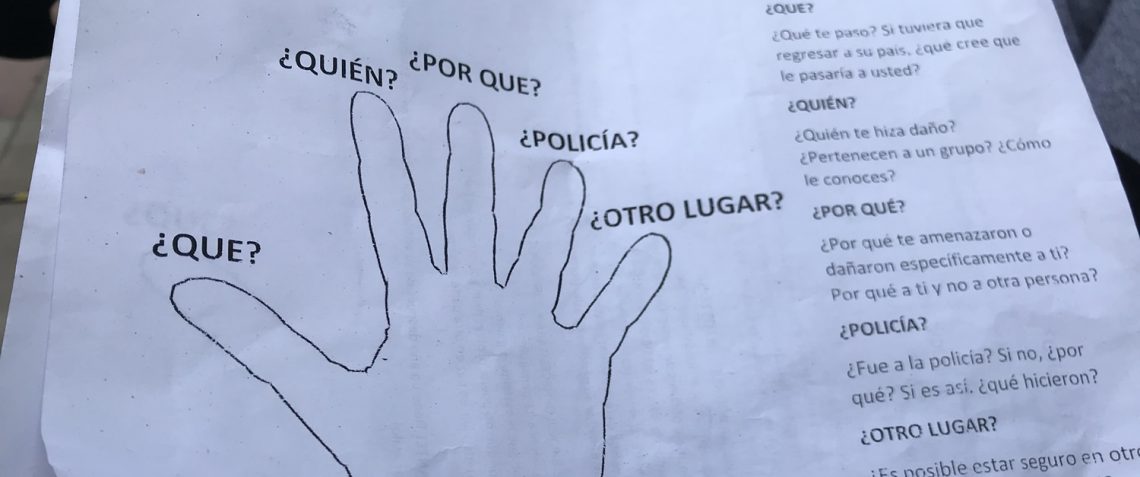 Al Otro Lado W&L law students provide legal assistance at the border.
The list, "La Lista," is kept in a notebook in Tijuana. On it are the names of thousands of people, many from violence-ridden countries in Central America but also from as far away as Africa and the Middle East. Each day, U.S. authorities release a number, sometimes as low as 10. The numbers indicate how many people from the list will get a chance to apply for asylum in the U.S. that day.
Washington and Lee law student Marissa Baer worked with people both high and low on the list, and with some who didn't even know there was list on which to put their names. She was part of a team of W&L law students, led by professors Johanna Bond and David Baluarte, who recently traveled to Tijuana to provide legal and humanitarian assistance with the asylum process as an extension of the work undertaken by the Immigrant Rights Clinic.
"Our work mainly involved meeting with asylum seekers to make sure they were aware of their rights under U.S. law and to prepare them for when they were called for their interview. We wanted to help them understand the asylum process and make sure they made their strongest case," said Baer. "It was great work, but also frustrating knowing some people with really powerful claims for asylum would be waiting for so long to get their chance."
Another student on the trip, Danielle Phillips, described it as "by far the most powerful experience I have had while here at W&L." About 10 days after returning from Tijuana, she heard from one of the migrants she had spoken with in Mexico. The woman, an asylum seeker from El Salvador, happily reported to Phillips that she had successfully completed the first stage of the asylum process. Phillips is now assisting her to find an attorney who can help her pursue her asylum claim.
With U.S. immigration authorities providing only a number each day, management of the process has largely fallen to the immigrants themselves, who formed a committee to administer the list. Even as asylum grants had slowed to a trickle, the list swelled in late November with the arrival of several migrant caravans, much publicized in the run-up to the U.S. midterm elections.
Baluarte, who directs Immigrant Rights Clinic, says the process now in place at the border likely violates U.S. legal obligations to protect refugees, and definitely puts the lives of some vulnerable migrants at risk.
"The U.S. government is preventing people from exercising their statutory right to seek asylum, and there are documented cases of Border Patrol agents forcing people back to the Mexico side of the border to wait on 'the list' in clear violation of the law," said Baluarte.
Baluarte says the Mexican federal government, which has only recently begun to provide aid to refugees at the border, doesn't want to manage the list either, so it is left to the immigrant committee to contact people when it is time for their asylum interview.
"It is a first-come, first-served process, with no due process or transparency," said Baluarte. "We spoke to some people in immediate danger of being killed, and asking them to wait months in that state of insecurity is a moral outrage."
With no large humanitarian aid groups yet operating, Bond described the scene in Tijuana as a human rights crisis in the making.
"People are living in dire circumstances at the border," she said. "There is a vast need not only in terms of information about the asylum process but also for basic material needs like food, shelter, water and clothing."
"Our students were phenomenal," Bond added. "They entered an intense and chaotic situation and rose to the occasion, providing both humanitarian aid and much-needed information about the asylum process, often giving impromptu know-your-rights presentations. It is the kind of experience that changes how you think about the power of law."
Bond says she first had the idea to bring students to conduct pro bono work in Tijuana after seeing media coverage of both the migrant caravans and the family separation occurring at the border. Together, Bond and Baluarte planned the trip, coordinated with a local NGO operating in Tijuana and a group of volunteers from Charlottesville, and selected interested students.
At the same time, Bond and Baluarte organized a local fundraiser, and members of the Lexington community raised about $6,000. Some of that money went to purchase much-needed supplies such as tarps and protein sources for the migrant camp, while some was used to support the partner organization, Al Otro Lada, or "The Other Side."
Along with Baer and Phillips, students who participated in the trip were Karen Vallejos-Corrales, Sarah Brettin, Erick Resek and Morgan Richter. Baer had spent her 1L summer in Washington, D.C., with a nonprofit organization working on immigration matters for those already in the U.S. She was eager to see the situation on the other side of the border, and the trip to Tijuana has solidified her plans to pursue immigration work for her legal career.
In the short term, however, the refugees in Tijuana remain her focus, and she plans to return, potentially as early as March, to continue to provide assistance, legal or otherwise.
"It was an amazing experience, but we were only able to help a small fraction of the people there," said Baer. "They will need help down there for many months to come."