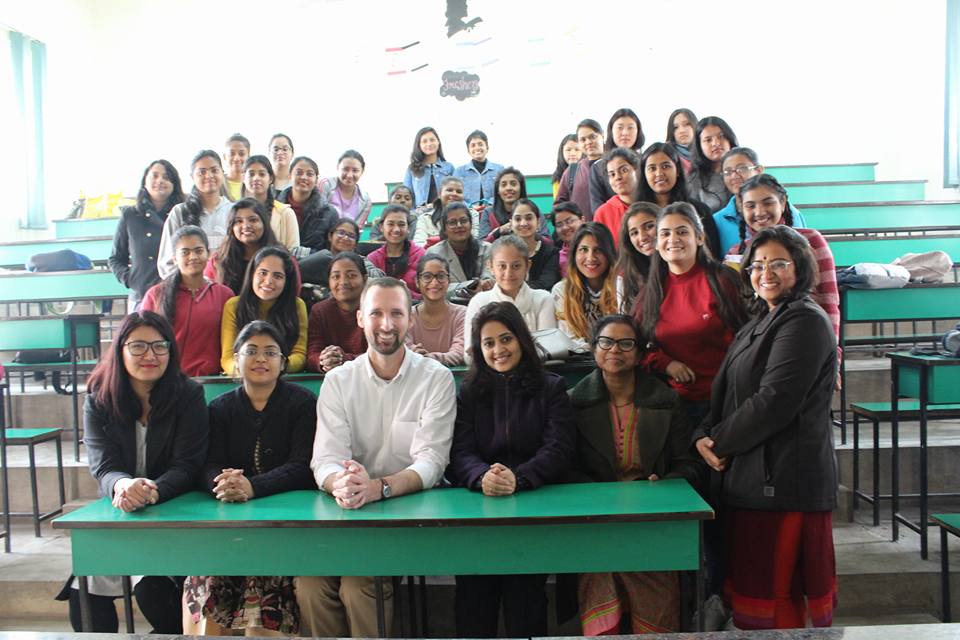 Ancient Text, Modern Strife Professor Stuart Gray examines the Mahabharata with fresh eyes.
"The Mahabharata is not just an ancient text; it's very much a live one, with serious implications in the political thought and lives of modern-day Indians."

~ Professor Stuart Gray
"Think of the Mahabharata like the Old Testament, New Testament and Homer's 'The Iliad' rolled into one," explained Stuart Gray, assistant professor of politics and a scholar of the 2,000-year old text and Indian political theory. Not only is the Mahabharata massive —  it contains almost 100,000 couplets — it's complex, layered and full of fascinating tales and morals.
But it's not "just an ancient text," he added; it's very much a live one, with serious implications in the political thought and lives of modern-day Indians. Like the Bible, certain sections have been co-opted by political parties to promote their interests or justify policies. In the case of the Mahabharata, which is perceived by some as patriarchal and masculinist, it's been a political tool of the Indian right — those who advocate Hindu supremacy, Indian nationalism and preserving the caste system, for example.
Gray's work seeks to examine the controversial, sometimes polarizing, tome from a fresh and more nuanced perspective. "The text is understudied and misunderstood by many, particularly in the fields of political theory and philosophy," he explained. This is the message he brought with him this past winter on a lecture series in Delhi on older sacred texts, the Vedas, and the Mahabharata, where it was received with a mixture of appreciation, skepticism and sometimes fear — but always a willingness to listen.
"I knew it would be intense," Gray said of his lecture experience, "but maybe not so intense." He recalled lecturing at a left-leaning Jawaharlal Nehru University. "One young woman took me aside after and said, 'I wanted to say some positive things [about your lecture] but I knew I would be marked on campus and possibly put myself in a position of significant social reprieve or stigma.' "
During the same trip, Gray made a last-minute visit to Daulat Ram Women's College at Delhi University, where he participated in a round table on the text. "That was my favorite experience," he recalled. "The Mahabharata can be viewed as a very patriarchal text, so I was very interested in what these young women thought." He was not disappointed: "Their comments came from a deeply personal place — they put into flesh what I had been studying in a much dryer, analytical and scholarly way."
Gray explained the origin of the challenging climate. "In the early 20th century, post-Independence, Indian nationalists were trying to prove that 'Hey, we have a great political-philosophical tradition too, just like the Greeks and the West,' and they used these texts to highlight content that supported their nationalist views. So most of the existing scholarly work on the Mahabharata in political theory and history of political thought, which was written during this time, is shot through with these political intentions. There is a lot of ground-clearing to do."
In addition to his second book project on the Mahabharata (the trip served as an opportunity for research, in part), Gray is working to create a network of political theorists and other scholars in India and around the world that share his interest in the Mahabharata's political thought. "Because of the historical motivations and existing work in Indian political theory, there is really nothing like that right now," he said.
In Gray's class this semester, Intro to Political Philosophy, as well as a Spring Term class on the Mahabharata, students are able to explore some of these fascinating materials and themes. Look for them in his first book, "A Defense of Rule: Origins of Political Thought in Greece and India" (Oxford University Press, 2017), as well as his forthcoming chapter, "History, the Hindu Right, and Subversion of Brahmanical-Hindu Political Thought," in "The Oxford Handbook of Comparative Political Theory."
If you know any W&L faculty who would be great profile subjects, tell us about them! Nominate them for a web profile.