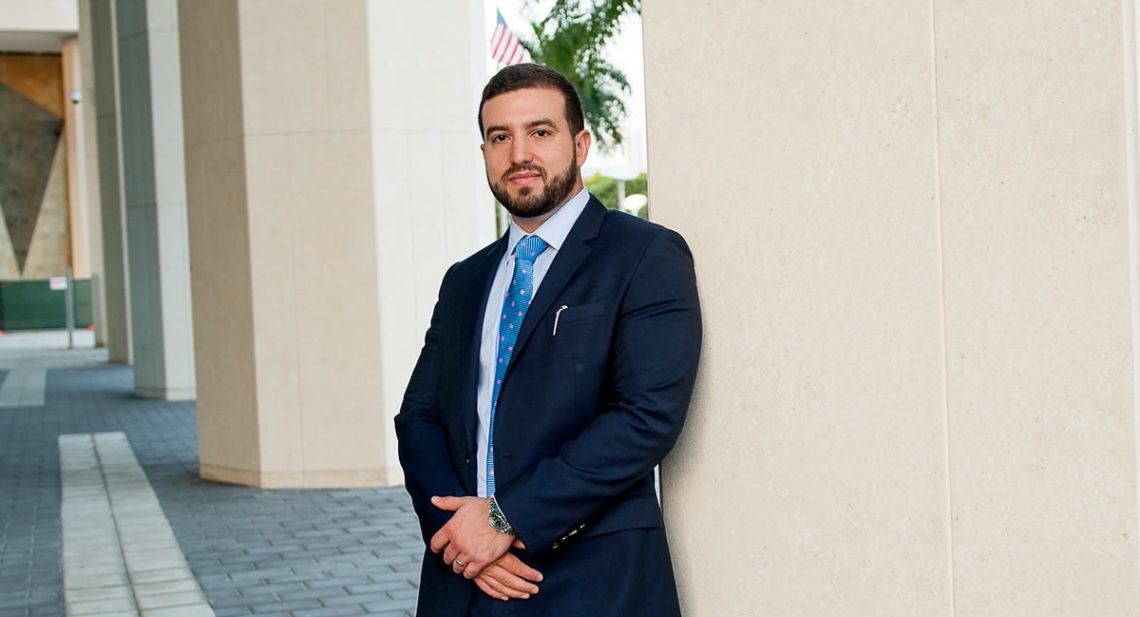 And May It Please the Court Mario Urizar '11L takes an immigration case before the U.S. Supreme Court Dec. 9.
When a lawyer has a case accepted for review by the United States Supreme Court, the clerk sends out a booklet about how lawyers should conduct themselves before the court.
"It has some funny things in it, such as 'Don't correct the justices and always answer questions first before saying anything else," says Mario Urizar '11L, who is arguing a case for the first time before the nation's highest court Dec. 9.
Presenting a case before the Supreme Court is no laughing matter, however, and Urizar understands the gravity of what he is about to do. "It's another level of accomplishment. For a moment I have their attention. That's the ultimate for an attorney."
Urizar is counsel of record for Pedro Pablo Guerrero-Lasprilla, who was deported to Colombia in 1998 after receiving a felony drug conviction. Guerrero-Lasprilla wants to come back to the U.S. to be with his brother and sister, both U.S. citizens. A 2014 decision by the Board of Immigration Appeals allowed him to request that his case be reopened; however, he didn't file within 90 days, as required. In fact, he didn't file until 2016.
Guerrero-Lasprilla contacted Urizar, who had successfully helped a man from Chile return to the United States after being deported.
"You have to start with the lowest court – in this case the Immigration Court," said Urizar. That court and the Board of Immigration Appeals each denied his request, ruling that "equitable tolling" – a legal doctrine that interrupts the running of a statute of limitations if the person can show the delay was not his fault and that he has been diligent in his efforts – did not apply. The immigration courts held that Guerrero-Lasprilla could have applied for equitable tolling earlier than he had, but Urizar argued otherwise, that legal precedent prevented earlier action.
Urizar then took the case to the 5th Circuit Court of Appeals, which ruled they were without jurisdiction to review the claim because they are only able to review legal or constitutional questions, and review of equitable tolling is always a factual question – not a legal one. Urizar argued the federal court was within its jurisdiction given that "the facts were not in dispute." Urizar said they were asking the court "to look at the law as applied to undisputed facts, a legal question. The Fifth Circuit's decision was incorrect," said Urizar.
Urizar filed for a certiorari with the Supreme Court in December 2018, asking the court to review the 5th Circuit's decision. This petition was granted in June 2019. "We requested certiorari stating that Guerrero-Lasprilla was asking the federal court to review a legal question, and at worst, he presented mixed questions," Urizar said. "Mixed questions involve the application of law to undisputed facts, essentially a reviewable legal question."
One of Urizar's law partners has a similar case, and the Supreme Court has combined the two cases in its review. The second client was deported under a different law, but "both bring up different views of the argument. Regardless, both are purely legal questions. This is the only way back for our clients."
Life for Urizar changed quickly once his case was accepted by the high court. "After it was accepted, we started getting lots of phone calls and emails from firms all over the country. They wanted the honor of providing their expertise on the case."
They decided to work with Paul Hughes, co-chair of the Supreme Court and Appellate Practice Group at McDermott Will & Emery in Washington, D. C. "He has argued before the Supreme Court many times," said Urizar. The original petition was entirely the work of Urizar and his partner; however, from this point on, Hughes "is helping with everything. He has assembled an impressive team to help us on this case."
The entire process has been a learning experience, Urizar said. "Less than 1 percent of cases go forward after the distribution stage." His proceeded to a second conference and was accepted from there. "Once accepted, we had to prepare for argument – flesh out the briefing."
Born in California, Urizar was raised in Miami. His parents were immigrants from Nicaragua and Guatemala, who each became U.S. citizens. He graduated from Florida International University with a degree in international business.
He had applied and been accepted by some law schools, but a representative from Washington and Lee invited him to campus for an interview. "No other law school did that," he said. Although he was "shocked" by the difference between Lexington and his hometown, he decided W&L was a place that he could "bury myself in study." He thought it was "inviting, and really cool. Just different from what I have experienced coming from large cities."
He returned to Miami after law school, working for a firm that primarily garnisheed wages for Bank of America. He soon realized this wasn't for him and found a job on South Beach with a firm that was doing immigration law. "I was falling in love with it," he remembers.
After a stint at another firm working on appeals, he and a friend opened their own immigration law firm, Prada Urizar PLLC, "in a small office with one window." They have grown to three partners, 10 employees and a much larger office space. "We love what we do. It's stressful, but I wouldn't change it."
Immigration law is all about changing peoples' lives. "It gives you a purpose – helping someone keep a family member in the United States," said Urizar. "It's horrible to see someone deported."
Now married with children 2 years old and 6 weeks, Urizar saw how hard his divorced mother worked to care for four children. "She was a bank teller and a real estate agent. She worked hard and did very well in raising us."
Urizar feels proud to be where he is now. He wishes his mother could see him before the Supreme Court, but unfortunately, she passed away recently. "My parents came here for a reason. It would be terrible for me to not recognize that. I want to prove it wasn't done in vain."
If you know any W&L alumni who would be great profile subjects, tell us about them! Nominate them for a web profile.