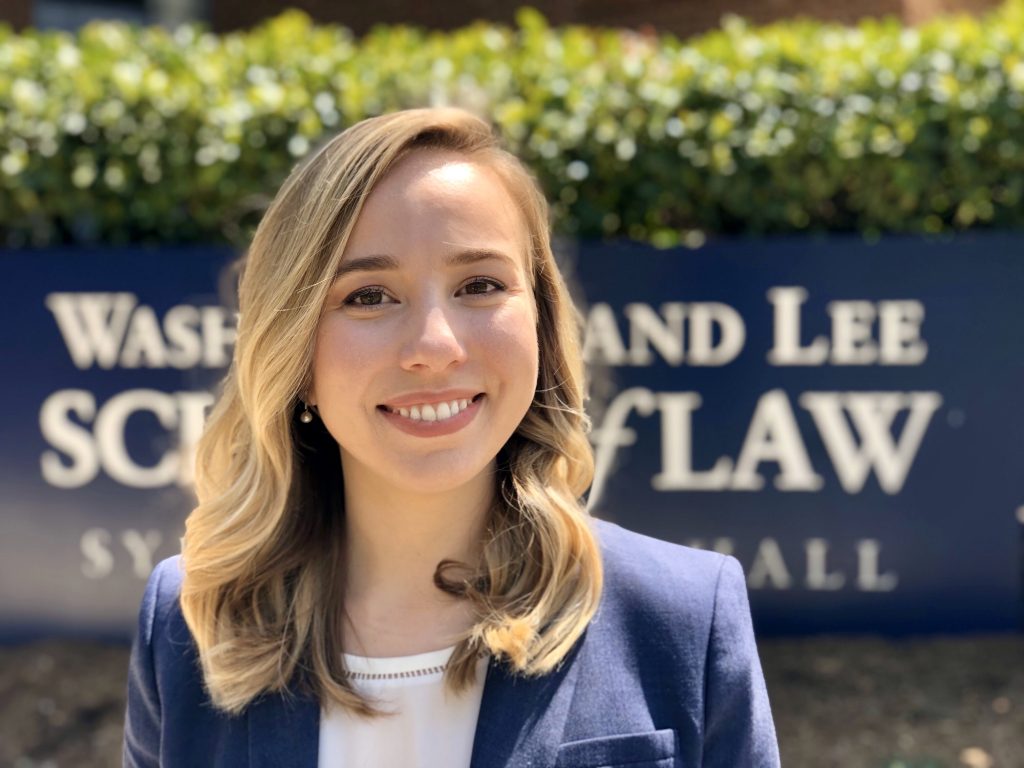 Career Paths: Kat Phillips '20L
Kat Phillips graduated from the College of William and Mary with a degree in Art History and Sociology in 2014. Before law school, Kat interned at StoryCorps in Brooklyn, NY and worked at a midsize litigation firm in Washington, DC. During her time at W&L, Kat has been a Burks Scholar, a Lead Articles Editor for the Washington and Lee Law Review, and a student attorney with Washington and Lee's Immigrant Rights Clinic.
Where will you be working after graduation and in what practice area?
After graduation, I will be serving a two-year judicial law clerkship with the Board of Immigration Appeals (BIA) in Falls Church, Virginia through the Department of Justice Honors Program. The BIA hears appeals from decisions by immigration judges and is the highest administrative body for interpreting and applying U.S. immigration law.
Did you know coming into law school that you wanted to clerk? 
Many associates at the firm where I worked before law school talked about the advantages of clerking. I knew coming into law school that I wanted a public service career involving litigation and that clerkships offered great litigation experience. But I didn't know the variety of clerkship opportunities available to me, including administrative clerkships in specialized areas like immigration.
Was there anything in your law school or summer job experience that confirmed this career choice?
During my 2L year, I represented individuals in removal proceedings in Arlington Immigration Court through W&L's Immigrant Rights Clinic. The Clinic transformed my understanding of the immigration system and gave me insight into the challenges faced by immigration law practitioners. I was moved by the relationships I built with my clients and found that I enjoyed the continually evolving, interdisciplinary nature of immigration law. I followed my interest to a summer position with the DOJ's Office of Immigration Litigation, Appellate Section, where I drafted motions and briefs on behalf of the government at the federal appellate level. As someone who values seeing both sides of an argument, gaining an understanding of both the immigration practitioner's perspective and the government's perspective confirmed my choice to pursue an adjudicative role.
What classes do you think are helpful to prepare for this job?  
Because administrative law clerkships are focused on specialized subject matter areas (like immigration, labor and employment, and intellectual property), taking classes, practicums, and clinics in those areas will help you prepare to practice. Administrative law is also essential.
Can you describe the job search process? 
I decided to apply to the DOJ Honors Program because my 2L summer mentor told me it was a great springboard for both government and immigration careers. Applicants preference their desired components and are eliminated through a series of rounds before finalists are selected and offers extended. I applied to clerk for Immigration Courts through the Office of the Chief Immigration Judge (OCIJ) and for the BIA. Although the process seemed daunting, Dean Baluarte—who was the director of the Immigrant Rights Clinic during my time there—put me in touch with W&L alumni who were current Immigration Court and BIA clerks. They served as mentors and gave me advice about how to compile a successful application. I received interviews and offers from both OCIJ and BIA but chose the BIA because of my interest in appellate work. I received tremendous support from W&L OCS, faculty, and alumni through my job search process.
What are you most looking forward to about this job?
I am looking forward to the dual challenge of doing appellate work in a specialized area of law, but most importantly I am excited to begin what will hopefully be a rewarding public service career.