First Year in the Dean's Office A Q&A with Law Dean Melanie Wilson
In the most recent issue of Discovery, our law alumni newsletter, Dean Melanie Wilson reflected on her first year in the Dean's Office and what she is excited about in the year to come.
What has been the most surprising thing about your first year? 
There have been a number of pleasant surprises. Perhaps two surprises stand out among the others. The first is the absolute beauty of the area. There are so many mountains in view; everything is so green; and Woods Creek and walking trails are just down the hill from the law school. Second, and the most welcome surprise, is the incredibly high level of commitment and loyalty the law alumni have for this law school and for the current students and recent graduates. I had heard so many positive comments about the alumni before I arrived, but they have exceeded my expectations in every way. W&L Law alumni call us when they hear of job opportunities for students. They make calls and write letters to admitted students, emphasizing why this is a special place to study law and to spend three years. They invest in us financially. They show up for special events on campus and respond to calls for help. I am so gratified to lead a law school where the alumni are so proud of their degrees and invest their time, energy, and passion in the graduates who are following the same path.
What was your experience like teaching this past year?
I taught criminal law this spring to approximately half of the 1L class. I loved it. Our students are outstanding. I appreciated the opportunity to get to know them in the classroom context. Over the course of the year, I have been meeting for breakfast or lunch with various student groups, including members of the American Constitution Society, Asian Pacific American Law Students Association, Black Law Students Association, Christian Legal Society, Federalist Society, First Generation Student Union, J. Reuben Clark Society, Jewish Law Students Association, Latin American Law Students Association, OutLaw, Middle Eastern and South Asian Law Students Association, and Women Law Students Organization, among others. I have also held school-wide "ask the dean" sessions and attended numerous events, competitions, and symposia. I formed a small, dean's student advisory group, and meet with them periodically. But, the classroom experience was different. Every Monday and Wednesday, I was reminded of why I enjoy my leadership role at the law school. My criminal law students were wickedly smart, engaged, and thoughtful. They debated each other and me, supporting their arguments with statutory interpretation principles, policy, and legal precedent. They were always well prepared, and they engaged with each other diplomatically and civilly. Our future is bright. These students inspire me, and give me so much hope and optimism for our future.
What do you see as the law school's biggest challenge?
There are several. With the continuing help and support of the University and our alumni, we are well-positioned to weather whatever challenges we face. At a minimum, succeeding in an ever-changing law school environment will require that we stay mindful and proactive about managing student debt, changing technology, and in the short term—hiring talented faculty who will invest in our students and our community.
For a law school of our caliber, we are an incredible value. In fact, in 2022, Bankrate.com ranked our law school the best value private law school in the country based on our low debt to high income ratio. Even so, a law school education at a quality law school like ours is a serious financial investment. We need to continue to grow our scholarship pool to keep graduate debt manageable and to ensure that our graduates can pursue their dream job, including those in public interest or non-profit positions.
As with every organization, we need to keep up with changes in our area of expertise. For us, that means offering courses and teaching our students to use new modes of legal research and analysis, as technology changes in the legal profession. We are constantly evaluating our course offerings to ensure that we prepare our students to "think like lawyers" and also to leave law school with all of the practical skills necessary to represent actual clients in an ever-changing world.
Finally, due to the retirement of many of our longest serving professors over the last decade, we have a number of open faculty positions. This presents a wonderful opportunity to add to our already outstanding and talented faculty over the next few years. Many law schools are in a similar position, and competition for the best teacher-scholars is fierce. Nevertheless, we believe that we offer something special and unique in our community that will help us succeed on the hiring front.
What are the top things you want to accomplish in the coming year?
I want to continue to build excellence in all that we do at the law school. This excellence will manifest in a number of ways. For instance, this year's entering 1L class was the most highly credentialed in over a decade. My goal is to attract a class that is even stronger this coming year. I also want to continue to see our students find fulfilling employment upon graduation. Recent graduates have been highly successful in this regard. Ninety-seven percent of the Class of 2022 is already employed, about 20 percent in judicial clerkships. I am excited to build a comprehensive academic support program that will not only continue to support our graduates as they take and pass their bar exams in jurisdictions across the country, but will also ensure that every student is supported from day one through commencement. We just hired our first director of academic excellence this year. I look forward to adding to personnel in our advancement office and our career strategy team over the next year.
If you could convey one message to Law Alumni, what would it be?
I want to convey my thanks for the warm and enthusiastic welcome the alumni have extended to me, and for their incredible engagement and support of the entire law school community. The alumni are a huge driver behind our success. Thank you for your kindness and encouragement. I look forward to meeting many more of you this year. Please come see us in Lexington.
Personal Notes
Favorite thing about living in Lexington?
It's an easy walk to almost everything. I often walk to work along Woods Creek. I can walk downtown from home or work in less than 20 minutes. I walk to the post office and to vote.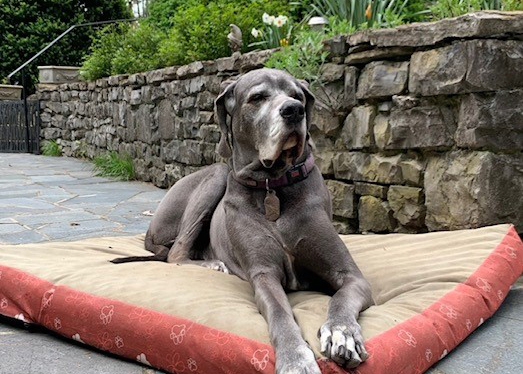 Names and types of pets?
Choden, who is 10 years old, is my blue Great Dane. She's 106 pounds. Leaper, a brindle English Mastiff who weighs about 160 pounds, is 9 years old. The newest addition to the family is Parker, an 8-month-old, 8-pound black cat, adopted from the Rockbridge SPCA. Parker already rules the dogs.
Book on your beside table?
Southern Living Garden Book next to a paper copy of the Lexington News-Gazette and a Gilbert Law Summaries Criminal Procedure book that I need to update before the end of June.
Favorite hike in or around Lexington?
I love the Chessie Trail because of the cows, and the view of the Maury River on the back campus trails of Washington and Lee.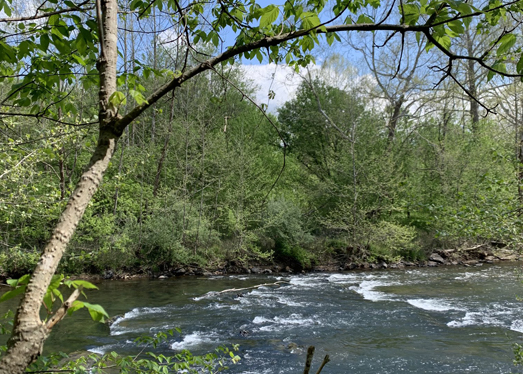 Follow Dean Wilson on Twitter, @mdwilson_law, for updates and great nature photos like the one above!