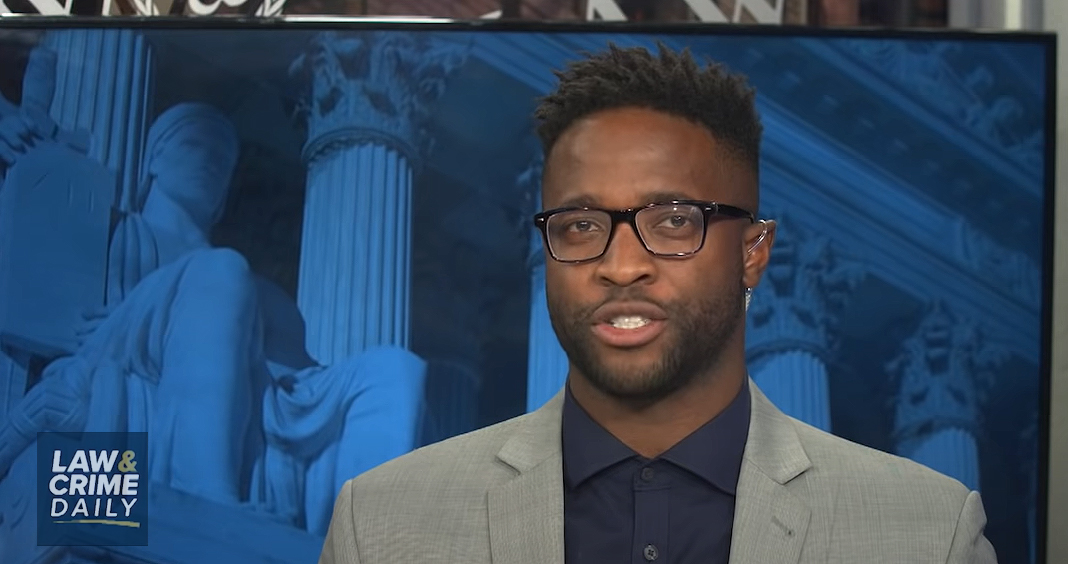 From Courtroom to Camera, Advocacy Fuels Brian Buckmire's Drive for Justice A public defender with the Legal Aid Society of New York City, Buckmire '14L is also the host of "Law & Crime Daily," a nationally syndicated program described as ESPN's 'SportsCenter' for courtroom drama.
Brian Buckmire '14L was waiting for a client's case to be called in a Brooklyn courtroom one day and was simply passing the time talking with a fellow attorney when, out of the blue, she asked if he'd like to be on TV.
That was early in 2019. Buckmire had been working as a public defender with The Legal Aid Society of New York City for four years and had just been named the youngest attorney on its Homicide Defense Task Force.
"I'd developed a friendship with a private defense attorney who was one of the hosts on the Law and Crime Network," Buckmire said. "We were talking one day, and she told me she'd seen me in court and thought I'd be good on TV. I told her she was crazy, but that I'd try it. I get to go on TV? Well, sure. But I knew she'd made a mistake."
No, she hadn't. Before long Buckmire was making regular appearances on both the Law and Crime Network and several ABC news shows. He was a guest analyst but soon became a regular contributor with a range of assignments — from reporting on the Harvey Weinstein rape trial from outside the State Supreme Court in Manhattan to hosting "Justice & Peace," which premiered in the aftermath of the George Floyd case.
Then, in November 2020, Buckmire was named lead host of "Law & Crime Daily," a nationally syndicated, 30-minute daily program he describes as "ESPN's 'SportsCenter' for courtroom drama."
This is not how Buckmire imagined his career unfolding.
"I was a of the mindset — you're a public defender. You're on the front lines and if you don't have dirt and blood and mud on your face at the end of the day, then you're not really a public defender," he said. "My wife opened my eyes when she told me, 'What you do is advocacy. You tell people what's going on in the court so you and others can change what's happening. If someone is going to give you a bigger platform to do that, why not take it?'"
Two years into the TV gig and Buckmire often feels like a backup quarterback who's been thrust into a starting role.
"I thought TV looked easy. Walking and talking? I mean we all do this," he said. "Being on the other side, I tip my hat to anybody who does this coherently. 'Law & Crime Daily' is scripted and requires me to have a casual conversation but in, like, 45 seconds and with specific words. Blending my personality in a very rigid structure is the most difficult thing for me."
Buckmire sometimes thinks of himself as a 1L who gets to sit around a table, even virtually, with all these "bad-ass lawyers" or forensic experts and ask them questions. "Blows my mind," he said.
Probably Buckmire's most YouTube-able moment came in a June 2020 'Justice & Peace' episode about Elijah McClain, the 23-year-old Black man who died after being placed in a chokehold by police in Colorado. Buckmire tearfully related a conversation with his 20-year-old brother: "He came to me and said, 'Brian, you're my older brother. You're a lawyer. You're on these TV shows. How do I not become a hashtag?' And I don't even have the answers for him. So it becomes a situation that is like you can't even say, 'Do this, and do this, and you'll be okay.' Because you watch this, and there's no answer."
Buckmire continues to relish the dirt, blood and mud as a public defender. He's gained six acquittals in six jury trials, including one for attempted murder, and has won several bench trials.
"You usher clients through this process and have a real effect on people's lives that I didn't see in other areas of the law," he said. "Of the cases I've done so far, what's most impactful is helping a drug addict get off this substance that he doesn't really want to be on because it's ruining his life. You just hope you're not going to see that person again."
Buckmire grew up in Toronto, Canada to West Indian parents: his mother Jamaican, his father Grenadian. He'd hoped for a professional soccer career and had tryouts but ultimately played on scholarship at Queens College, where he was an all-conference defender. After one year at law school at Hofstra, Buckmire transferred to W&L.
"W&L was an amazing experience because of the people — faculty, students, staff," he said. "Everyone helped me feel at home from the start. I think they noticed I really wanted to be there and that I intended to work hard. I'm the first in my family to get a four-year degree and the first to get a graduate degree."
At W&L, he co-coached the Moot Court team and the Black Law Students Association Moot Court Team. He was also a student attorney in the Community Legal Practice Center.
After internships with Nassau County Legal Aid Society on Long Island, Buckmire aimed for the NYC Legal Aid Society, specifically Brooklyn, where he often works with West Indian immigrants and, as necessary, can converse in Jamaican patois or in French.
"I've found advocacy to be better where clients think 'Hey, you look like me. You just have a suit, and you're going to help me,'" he said.
Buckmire treats his clients the way he treated his soccer teammates and views his court trials like matches.
"With teammates, you develop a sense that you would bleed for that person. If you'll bleed for your client that way, then getting only 10 hours sleep in a week as you prepare for a case is nothing special, particularly if you have the law and the facts on your side," he said. "The adversarial system reminds me of what I lost in not being a soccer player anymore. Preparing for a trial reminds me of training for a tournament — it's that same competition that was bread into me."
If you know any W&L alumni who would be great profile subjects, tell us about them! Nominate them for a web profile.