Jeremy Franklin '04: Always Hungry for New Music

Jeremy Franklin has spent his life after college invested in his passion for music as the general manager of WLUR, W&L's campus radio station.

By Adit Ahmed '19
@wluLex

Before iTunes and Spotify, the main ways to listen to new music involved a CD or FM radio. College radio has historically been on the forefront of discovering new music, helping to break the likes of Pixies, R.E.M. and Arcade Fire.

Growing up, Jeremy Franklin '04 did not have great access to ways of finding fresh new music. Gravitating between the likes of Tom Petty, Pink Floyd and Five Iron Frenzy, he said that these phases were less profound times of music listening for him.

"I grew up in a small town, there was not a college station that we could pick up, and I had never heard of indie rock bands at the time," Franklin said. "I like to say that I was blissfully ignorant of what I should've been listening to back then."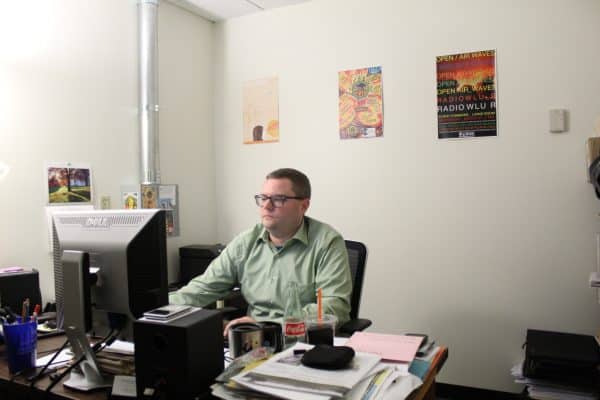 Nowadays, Franklin's job finds him listening to new music almost every single day. While artists like St. Vincent, The National and Waxahatchee have all released new albums this year, Franklin has been following those artists since their early days of breaking through college radio. Rarely devoid of new music, Franklin often finds himself listening to new artists who may be the "next big thing."
Jeremy Franklin has spent his life after college invested in his passion for music as the general manager of WLUR, W&L's campus radio station.
Franklin is a 2004 graduate of W&L who has been involved with WLUR since his time as a student. His official title is General Manager of WLUR and Sports Broadcasting. As a student, he was sports director and assistant general manager of the station, as well as sports editor of The Ring-Tum Phi.
His first foray into radio came during his sophomore year. The radio play-by-play announcer at the time, Doug Chase, brought Franklin on as a guest for the halftime show of a W&L basketball game. From there, his involvement only grew, doing color and play-by-play commentary for basketball and baseball games.
After becoming more involved on the sports front while at WLUR, Franklin began hosting his own music show on WLUR during his senior year. Franklin points to bands like Death Cab for Cutie, The Shins and Belle & Sebastian as his first major exposures to the music that he listens to now. He said that having to host a music show every week furthered his interest in finding new artists to listen to.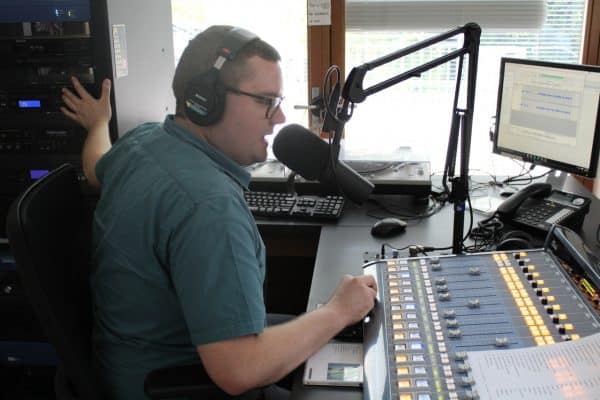 "Once I got more involved with the radio station I got exposed to a lot of music that I did not know existed," he said. "Personally, the fact that I had become a big music fan, actively going to concerts and festivals and buying records, that all kind of sprung from that. Just doing a weekly show where you're trying to play different artists, listening to different music all the time, I think everything just blossomed out from there."
In his current role as general manager of WLUR, Franklin reviews new albums that are sent into the station, working with two student music directors and a staff of students to listen through new music that is sent in and place them in rotation at the station.
Given the amount of new music that he listens to, Franklin said that his taste has not only evolved to include less accessible artists like Flying Lotus and Caribou, but he has also found it harder to find fresh music that excites him like the ones he found through his first few years in college radio, though he said that he continues to find rock albums that excite him in new ways.
"'MY WOMAN,' the Angel Olsen record: that is my favorite album of the current decade," he said. "I had very high expectations for it too because I thought her last record, 'Burn Your Fire for No Witness,' was tremendous. I think it was my number two or number three album from 2014, and so to listen to something that you were expecting to be good and then just be floored, and to continue to be floored every time you hear it, that's why I think so highly of that record."