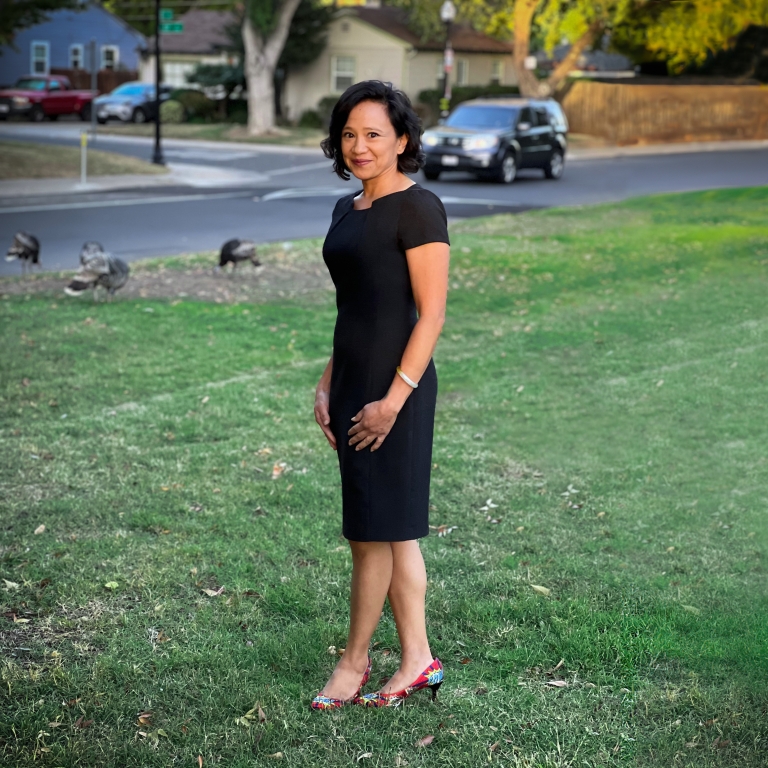 Lives of Consequence: Allyship in Action Alexis Yee-Garcia '01 leads the way in generating greater diversity, equality and engagement in Big Law firms.
In the fall of 1997, Alexis Yee-Garcia '01 answered the phone in her room in Graham-Lees to hear an anonymous caller — using an exaggerated, cartoonish Asian accent — tell her to go work at Hunan Garden, Lexington's lone Chinese restaurant at the time.
"The caller made some allusion to karate, too," Yee-Garcia said. "I remember being so surprised that I actually laughed when I hung up the phone because it was so bizarre."
Yee-Garcia figured her "super weird" name in the campus directory made her an easy target for a racist prank call. Her mother is Chinese; her father is Mexican. Hence, the hyphenated last name. "People often assume it's my married name," she said. "Photographically, I read a bit more Asian. I like to say I'm ethnically ambiguous."
EYE-OPENER
Born and raised in Sacramento, California, Yee-Garcia wanted to go somewhere completely different for college. She chose W&L because of its size, the not-too-cold weather and its charm- ing campus. Another plus: "I'm a big fan of ritual and traditions."
She knew the campus lacked diversity, especially compared with her experience growing up in California, but the prank call was still an eye-opener and caused her to reassess where she was. In response, Yee-Garcia threw herself into every campus activity she could find. "I'm funda- mentally a joiner," she said. "I majored in extracurricular activi- ties." (In fact, her major was journalism and mass communications.)
A FOCUS ON DEI
Fast forward 20 years and Yee-Garcia credits her W&L experience with shaping her philosophy on issues of diversity, equity and inclusion, which is critical to her work as director of attorney engagement at Kirkland & Ellis in San Francisco. "To put yourself in a position that is not always comfortable requires a degree of personal fortitude," she said. "It might have been easier if I'd gone somewhere else. But I don't regret having gone to W&L. In many ways the experience made me who I am today."
Yee-Garcia stayed at W&L as an admissions counselor for two years after graduation, followed by a year in residential life at St. Lawrence University. Then she went to Vanderbilt where she directed campus-wide diversity and service programming, including high-liability programs that put her in contact with Vanderbilt's attorneys. "I'd never thought about law school, even a tiny bit, until I started work- ing with the lawyers at Vandy," she said.
After graduating from the University of Pennsylvania Carey Law School, she spent five years as a securities litigator in San Francisco before shifting gears to become diversity director for two major law firms. In September 2022 she began her current position in which she supports recruitment, retention, training and develop- ment of Kirkland's associates from all backgrounds. She also facilitates the diversity, equity and inclusion programs for two of the firm's offices.
BETTER RESULTS
"Big Law is always looking for ways to increase the diversity of our ranks. The demographics have been heavily majority," said Yee-Garcia. "It's not uncommon to hear from a minority lawyer who shows up in a courtroom and is assumed to be the stenographer or the client or otherwise not belonging in the place as a lawyer."
However, she noted that studies have concluded that diverse teams get better results. Moreover, law firms serve increasingly diverse clients who want to see themselves reflected in their service providers. In her previous roles and in her current position, Yee-Garcia creates programming aimed at making a firm's environment work for everyone.
"Improving our understanding of each other and the way we interact with one another doesn't stop," she said. "It's ongoing for everyone, myself included."
MORE ABOUT ALEXIS
COMMUNITY ENGAGEMENT
Yee-Garcia served as co-chair and treasurer for Children's Community Center in San Francisco.
TALKING POINTS
Listen to her discussion about diversity and inclusion in the legal profession on the Law School Toolbox's podcast at go.wlu.edu/yee-garcia-podcast.
RECOMMENDED READING
"The Inclusion Dividend" by Mason Donovan and Mark Kaplan and "Smarter Collaboration: A New Approach to Breaking Down Barriers and Transforming Work" by Heidi Gardner and Ivan Matviak