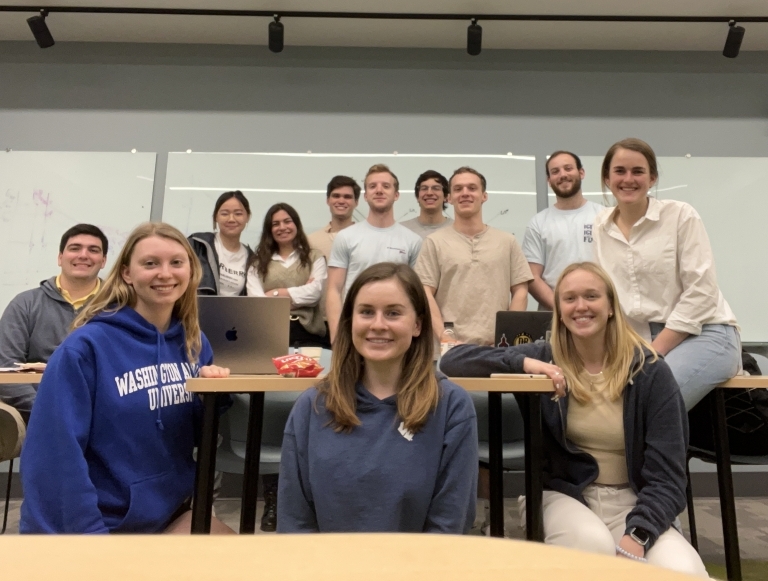 New International Finance Peer Tutors Program Enhances Learning Experience for Students Launched this year, the ECON 271 Peer Tutors program is a weekly drop-in option for students looking for a deeper understanding of course material through interactions with their peers.
Launched this year, the ECON 271: International Finance Peer Tutors program is a weekly drop-in option for students looking for a deeper understanding of course material through interactions with their peers. Peer tutors are comprised of students who have successfully completed both ECON 211: Macroeconomic Theory and ECON 310: Advanced Topics in Microeconomic and Macroeconomic Theory and are looking to help other economics students do the same.
These sessions were heavily facilitated by the Houston H. Harte Center for Teaching and Learning.
With the help of Dr. Adam Scales, assistant director of academic resources, and Dr. Paul Handstedt, director of the Harte Center, Professor Martin Davies sought to work out a tutoring arrangement that encourages and nurtures the peer effects of learning, without replacing or substituting for regular classroom meetings or available office hours.
Davies separated his ECON 271 class into three levels of students: those who have had the most previous experience with the material, a group of students who have only taken ECON 211, and those who have only taken an introductory economics course (ECON 100).
After a few introductory sessions, three peer tutors ran a weekly one-hour session for the two student groups with the least amount of experience with the course material. The peer tutors were free to design their own approach to delivering the course material. In support of this process, tutors were meeting regularly with Dr. Scales to enhance their approach toward peer learning while developing their skills and competencies as tutors.
Tutors were also diligent in their collaboration with Professor Davies: "We would meet with Professor Davies after class on Tuesdays and he would tell us what topics we should cover and what class exercises we should do with the students, and then Jeremiah, Chaz, and I would talk about how we wanted to approach it that week," said Anne Riter '22, one of the peer tutors.
"We typically took turns 'leading' the session, but we took a collaborative approach and worked together on nearly everything. We would all walk around while students worked on whiteboards and help where needed, and sometimes even help each other explain the topics."
The students in the ECON 100 and 211 groups weren't the only ones to benefit from the experience. Peer tutors noted that teaching the material has led to new insights and understanding for them, too.
"Because we were teaching the material alongside learning it, I had to study harder and more intensely than I usually do for classes," said Riter. "I felt like I had a really good grasp of the material by the time tests rolled around since I had to not only learn it to understand but I had to learn it to teach other people who didn't understand."
Students in ECON 271 who regularly attended these sessions expressed enthusiasm about the value of the experience.
"It was great to collaborate with the Harte Center on this program which clearly boosted the levels of understanding of all three of the student groups who participated in it," said Professor Martin Davies.
Student Perspectives
"The Peer Tutor sessions were not only helpful in completing homework and studying for exams, but also for gaining a more robust understanding of the material. Hearing how other students thought about the questions at hand enhanced my ability to approach the material more confidently. Sometimes when the peer tutors finished answering any questions that we had, we would talk about scenarios that hadn't been assigned by Professor Davies and use our knowledge from class to discuss them. The supplemental sessions truly enhance my experience with the material and class."
~ Mary Wilson Grist '22
"Studying with the Econ-271 peer tutors was a great way to deepen my understanding of the course material, especially when it came time to prepare for the final exam. Fellow students often have their own tips and tricks for how to answer certain questions, so it was helpful to collaborate with them and review the material from a slightly different perspective."
~ Kate Groninger '22
"Attending the weekly peer tutoring sessions helped me to better understand the material we discussed in class within that week. It was a great opportunity for me to ask questions and discuss the class exercises with the tutors. I extremely liked how I was able to think through many problems with other students in the group and with Anne, Jeremiah, and Chaz. The sessions were also helpful in preparation for the midterm and the final exam, it was a great way to revise all the material we learned in class and to bring it together in a clear and concise way."
~ Eman Muamar '24
Questions about the ECON 271 Peer Tutoring program should be directed to Martin Davies, associate professor of economics.