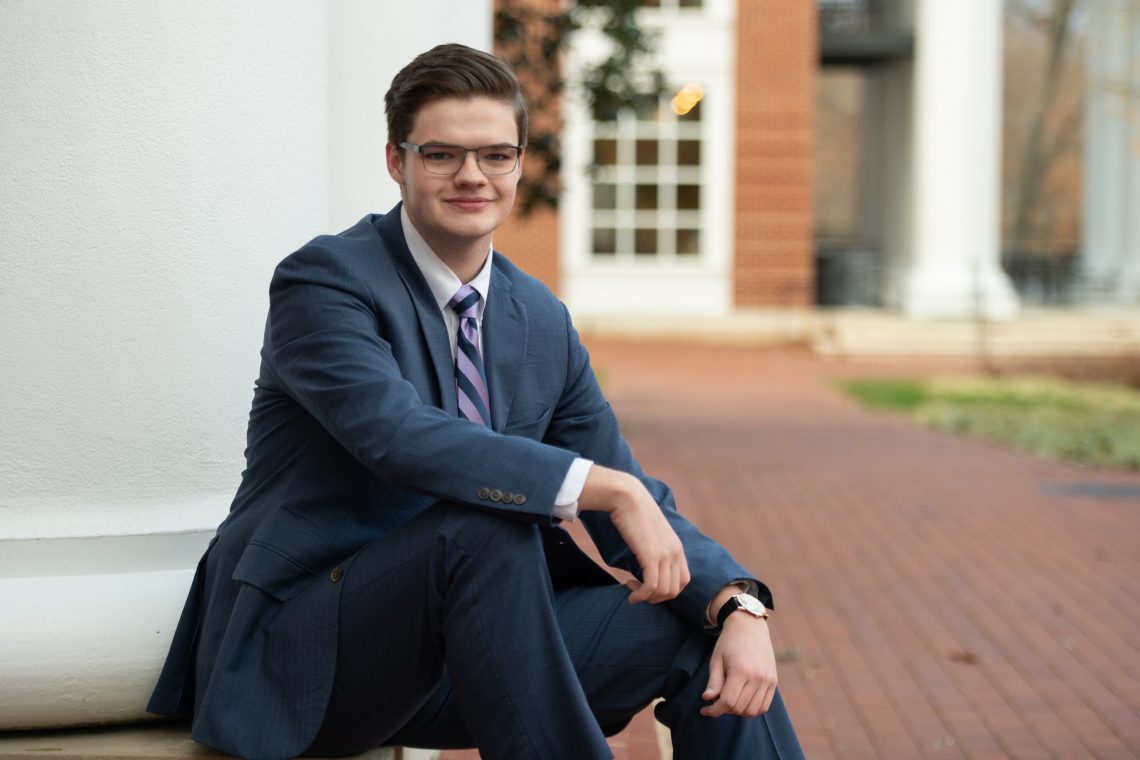 'No Small Task' Luke Basham '20 parlays a passion for politics into the challenging role of Democratic Party analyst for Mock Con 2020.
"…I am fully confident that, with our holistic research methods and exceptional team, we will ultimately make the correct prediction."

~ Luke Basham '20
Hometown: Wise, Virginia
Major: Politics and History
Q: Why are you interested in politics?
I've had a keen interest in politics for as long as I can recall. Perhaps I have my grandmother to thank for that; she regularly let me accompany her to Rep. Rick Boucher's office in the rural, Appalachian town of Big Stone Gap, Virginia, where she spent her entire career as a staff assistant.
I served as a U.S. Senate page during fall 2014, which cemented my interests in parliamentary procedure, electoral behavior, constituency service and the inner workings of the legislative branch. After my fellow pages and I forfeited tickets to the Army/Navy game in order to work on the Senate floor during a marathon legislative session, I knew that I wanted to become a scholar of Congress, and I've since tailored my undergraduate experience to best prepare for graduate level studies.
During my sophomore year, I worked as a intern for Senator Tim Kaine as part of the Washington Term Program, and I returned to the office later in the summer. Presently, I am writing an honors thesis on the U.S. Senate maiden speech tradition and applying to Ph.D. programs in political science. The time I've spent at Washington and Lee interning, writing my thesis, working as Democratic Party analyst of Mock Con, and serving as a research assistant to Professor Brian Alexander has reinforced the academic career path which I envisioned some six years ago.
Q: What does your role in Mock Con entail?
As Democratic Party analyst, I serve on the Steering Committee of the organization and as a leader within the Political Department. A member of the National Team, I work alongside John Harashinski, the political chair, and Kyle Perel, the national political analyst; we follow trends, identify research points and lead our team's predictive process. We collaborate with the regional chairs in order to reconcile our national approach with the local approach that our state chairs and their respective research teams employ. As Mock Con's resident expert on the Democratic Party, I'm specifically tasked with learning DNC rules, policies and procedures, such as delegate allocation and proportionment, to ensure that we emulate the Democratic National Convention in Milwaukee as accurately as possible. I also assist the Platform Team in their review process in order to ensure the platform that we put forward accurately represents the present ideology of the Democratic Party.
Q: Can you say more about what you do to ensure that Mock Con emulates the Democratic National Convention as closely as possible and maintains its prediction accuracy?
In my role as Democratic Party analyst, I have spent the last year familiarizing myself with the party's nominating process. Recently, I compiled an extensive document which outlines: how each of the 57 delegations— 50 states, Washington D.C., five territories and Democrats Abroad— proportion and allocate their district and statewide delegates; past results from the 2008 and 2016 Democratic primaries; prior turnout rates; and external, state-specific considerations. I've spoken with each of the 57 state chairs over the last month, deconstructing delegate proportionality to ensure that they understand some of the intricacies of the process within their respective states. I've also begun researching the rules of the Democratic National Convention in order to emulate its structure as accurately as possible.
As part of the National Team, I take a "30,000-foot view" of the nationwide primary which accompanies the local approach employed by the regional and state chairs, as well as the data approach employed by our Metadata Team. We meet for several hours a week with the regional chairs to discuss recent developments, review polling data, and outline potential paths to victory for the candidates. We hold predictive meetings every Monday, utilizing our so-called "tenth man rule" in order to eliminate biases and avoid the development of an echo chamber during our deliberations.
Q: How do you ensure accuracy with each delegation's research and with the prediction as a whole? Is it stressful to get the prediction "right"?
We ensure accuracy partly by thoroughly examining and deliberating upon the research reports we task our state chairs with drafting. When we disagree with one another regarding the validity of a given report's methods and conclusions, we debate among ourselves per the tenth man rule referenced above. We also conduct research of our own to either corroborate or contradict the findings of any given state report, which proves valuable in either case.
Admittedly, it is somewhat stressful to attempt to get the prediction right. Maintaining Mock Con's legacy of accuracy during the largest primary in the history of either party is no small task. However, I am fully confident that, with our holistic research methods and exceptional team, we will ultimately make the correct prediction.
Q: Have recent events in Washington, including impeachment proceedings, affected your work in any way?
Recent events in Washington affect our work insofar as they affect the Democratic primary race. As the issue of impeachment dominates political conversation, we may see particular candidates rise and fall due to their position and/or involvement therein. However, there is not a clear, tangible way in which those events affect our work. Our principle job is to follow the primary race and get the prediction right, irrespective of outside noise. In fact, the position of the top three candidates has remained relatively stable since the present impeachment inquiry was announced.
Q: How has your academic work at W&L helped you in this role, and has the Mock Con experience impacted your future plans?
My experience working for Mock Con has impacted my future plans insofar as it has bolstered my research skills, augmented my interest in politics, and provided me with an opportunity to participate as a member of a unit of contrasting personalities all in pursuit of one shared goal. As a prospective academic, each of these contributions will prove invaluable.
Q: What has been the most exciting part of the entire Mock Con experience for you?
The most exciting part of the Mock Con experience for me has undoubtedly been the predictive process. When fellow students ask why I devote so much time to my research on behalf of the organization, I often tell them I would be doing the same things if I weren't participating in Mock Con. I followed the Democratic Primary in 2016 every step of the way, and as a member of the Political Team, I can entertain those same interests this cycle, but as part of a broader mission rather than independently and aimlessly. In this respect, Mock Con has provided me with the perfect outlet to engage my longstanding enthrallment with primary politics.
Learn more about Mock Con 2020 on the official Mock Con website. Read more profiles of the 2020 Mock Con team here.
If you know any W&L students who would be great profile subjects, tell us about them! Nominate them for a web profile.