ODK Holds Spring Initiation For W&L Honorees W&L President Emeritus Kenneth Ruscio addressed new members of ODK during their spring induction ceremony.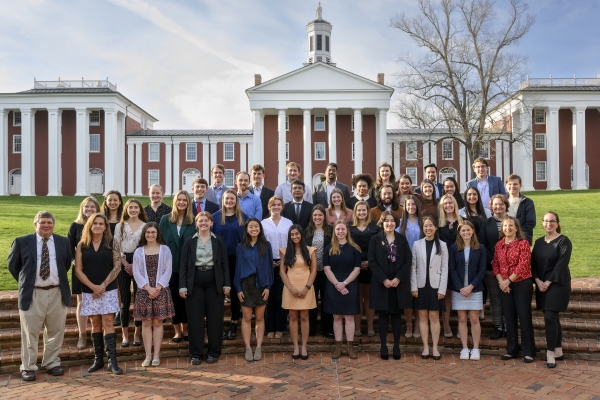 Washington and Lee University's Alpha Circle of Omicron Delta Kappa (ODK), the national leadership honor society, welcomed 50 new members during its spring induction ceremony on March 16.
Kenneth Ruscio '76, W&L president emeritus, delivered the keynote address. Ruscio was president of W&L from 2006-2016 and served as ODK's national president from 2002-2006.
Ruscio opened his address, titled "Leadership's Forgotten Virtues," by remarking on the historic relationship between ODK and W&L, and how both the organization and the university stand for a particular kind of leadership marked by integrity, trust and dedication to serving others. He then set out to "make a case for humility," which he considers a central, but often forgotten, virtue of leadership. Using his own career in leadership as a framework, he spoke to the Alpha Circle's newest class of leaders about the importance of remaining humble in the pursuit of leadership, and he urged them to consider their responsibility to others as they prepare to enter the world as engaged citizens.
For Ruscio, using good judgment in leadership means surrounding yourself with smart and competent people. There is humility in acknowledging that you cannot do it all yourself and that you will not always get everything right. "Finding yourself the smartest person in the room is not a time to celebrate — it's a time to panic," Ruscio said. He asked the inductees to consider the profundity of George Washington's farewell address where, in announcing his retirement from public life, Washington apologized for his mistakes and asked the American people to forgive him for any errors committed during his leadership. This kind of humility — taking accountability for your actions and recognizing that your successes would not be possible without the help of others — is an essential virtue for good leadership.
Ruscio also discussed how practicing humility in leadership includes acknowledging the place you occupy within the "long view" of history. To be a member of ODK means to understand that you are part of a long story, inheriting both the mistakes and the goodness of our forbearers. Humble leadership, Ruscio explained, requires a dependence on others and a recognition that your decisions matter.
"Our inheritance makes us humble, but we are humbled even more by the duty it imposes upon us," Ruscio said. He explained that when leading with humility, we must consider where we've been and what we collectively owe the next generation. It is not enough to show gratitude for those who came before, we must also fulfill our obligation to those who will come after.
Ruscio closed his remarks by asking the inductees to consider the current state of American democracy and the need for humility in what is considered an "age of arrogance." The democratic system is imperfect, but solving the problems that arise is a collective task — not the responsibility of a single person. Fortunately, Ruscio continued, there is an inherent alignment between humble leadership and W&L's mission and values. Ruscio expressed confidence in the type of leader that ODK and W&L produce, adding that he firmly believes in the university's capacity to create competent leaders who embrace humility.
"I leave you with a plea, or maybe a hope," Ruscio said. "In this age of arrogance, let a little humility into your lives … Think of it as the leadership superpower that unlocks so many other essential aspects of leadership … perhaps most importantly, the fortitude to have the courage of your convictions and the willingness to listen and learn from others."
Following a resounding round of applause, the ceremony continued with the induction of four honorary and 46 student initiates into ODK, representing leaders from across campus and the greater Lexington community.
The honorary initiates are:
Elizabeth Outland Branner
Branner oversees fundraising and alumni relations at W&L's School of Law as assistant dean for Law School Advancement. Branner joined the W&L faculty in 1999 as an assistant director in the newly-created Office of Law School Relations and has held her current role since 2008. In the Rockbridge community, Branner has served on the boards of Main Street Lexington, Meals for Shut-Ins, the Rockbridge Area YMCA and Yellow Brick Road, as well as on several committees at Grace Episcopal Church. She will join the board of Kendal at Lexington in May 2023. A native of Norfolk, Virginia, Branner lives in Lexington with her husband, Wade, who recently retired after 39 years as associate athletic director for media relations at the Virginia Military Institute, and they have two children, Harrison and Margaret. Branner earned her bachelor's degree in English and German from Wake Forest University and her graduate degree in business from William & Mary. Prior to coming to W&L, she was the marketing coordinator for a medical publisher, district manager for PepsiCo Fountain Distribution, a college admissions officer, marketing coordinator for a fundraising consultant and director of the Annual Fund at Mary Baldwin University.
Alessandra Del Conte Dickovick
Del Conte Dickovick is the associate director of Community-Based Learning at W&L. An active member of the community, she has served on various committees and boards of organizations that seek to improve local health, education and social justice outcomes, including Lexington City Public Schools, the Rockbridge Area Community Services Board, the Rockbridge Area Prevention Coalition, Live Healthy Rockbridge, the ALS Association and the NAACP. She loves to meditate and spend time with her two teenage daughters, Carolina and Gabriela. Dickovick earned her bachelor's degree in international affairs from Smith College and her master's degree in public health from Princeton University. Prior to W&L, she served as an AmeriCorps VISTA member and volunteered extensively in the local schools. She also had the opportunity to work and intern around the world in both the private sector and with international organizations, and has lived in numerous countries such as Brazil, India, South Africa and Switzerland.
Lisa Greer
Greer is a professor of earth and environmental geoscience at W&L. Her teaching interests include climate change, sustainability, history and evolution of the earth, sedimentology and paleoclimatology, as well as a variety of Spring Term field courses in the American Southwest and Belize. Since 2011, Greer has been researching the resilience and decline of the endangered Caribbean coral Acropora cervicornis and has collaborated with over 60 undergraduate students in field and laboratory research. On campus, she serves on the President's Advisory Committee, co-chairs the University Sustainability Committee, and is a core faculty member for the Environmental Studies Program. She has also participated in campus master planning; the Science, Society, and the Arts conference; and outdoor classroom design, and has served as faculty representative to the Board of Trustees. Greer earned her bachelor's degree in geology from Colorado College and her doctorate in marine geology and geophysics from the University of Miami, Rosenstiel School of Marine and Atmospheric Science. Prior to joining W&L's faculty in 2003, she taught in the Department of Geosciences at Pennsylvania State University.
George Huger
Huger is the head chef and owner of the Southern Inn, located on North Main Street in Lexington. He purchased the restaurant in 1998 with his wife, Sue Ann, and they transformed the restaurant into an elegant, contemporary dining establishment while maintaining its historical charm. The Southern Inn has stood the test of time, and under Huger's leadership, it continues to be a local favorite for dinners, celebrations and gatherings. Huger is an active member of the Lexington community, having served on the board of several local organizations, including the Lexington Downtown Development Association, Lexington Rockbridge Tourism Board, Lime Kiln theater and the Freedom Food Festival. He believes in the importance of giving back to and supporting the local community. Under his ownership, the Southern Inn hosts a summer series of "Guest Bartender" events that allow local nonprofits to raise money for their organizations. Huger is a Lexington native and attended Randolph-Macon College before furthering his education at the Baltimore Culinary Institute.
Thirty-six undergraduate students from the Class of 2023 and 2024 were also tapped into ODK:
Class of 2023
• Tyler Bernard
• Sarah Clark
• Taylor Colaizzi
• Meg Graham
• Brianna Hatch
• Benji Hess
• Hayley Huber
• Joanne Ko
• Maria Luzaran
• Wren Markley
• Sharon Mendieta Ramirez
• Lily Mott
• Avalon Pernell
• Logan Robinson
• Natalie Spangler
• Peyton Tysinger
• Flora Worthington
• Catherine Xia
Class of 2024
• Olivia Berntson
• Anna Bosking
• Amanda Dolberg
• Foster Harris V
• Kaylin Jury
• Jessica Kishbaugh
• Diwesh Kumar
• Spencer Merrell
• Elise Molinaro
• Aislinn Niimi
• Molly Pennisi
• Emma Poole
• Adele Roulston
• Diya Shreenath
• Emma Smith
• Margaret Thompson
• Angela Tu
• Katie Yurechko
Ten law school students from the Class of 2024 were also tapped into ODK:
• Tom Boss
• Morgan Brody
• Sydney Brun-Ozuna
• Haley Carter
• Simon Ciccarillo
• Dominique Cravins
• Chloe Dupre
• Jalen Frantal
• Kaitlyn Hyun
• Ian Joseph
ODK also awarded the Rupert Latture Award and James G. Leyburn Award at the 2023 induction ceremony.
The Rupert Latture Award recognizes a sophomore who has demonstrated outstanding leadership potential. This year, the award was presented to Kiera Stankewich '25. Stankewich is majoring in neuroscience and double minoring in poverty and human capability studies, and environmental studies; she is also on the pre-med track. On campus, she is a peer counselor on the Steering Committee, a Bonner Scholar, weekly Community Table host and part of W&L's Campus Kitchen leadership team. She plays clarinet in the Wind Ensemble and serves in leadership roles for groups including WLUnite, SEAL and Amnesty International. Stankewich is also involved with Catholic Campus Ministry.
The James G. Leyburn Award, given to a university or local organization that demonstrates outstanding community service, was presented to the Blue Ridge Mile Clinic (BRMC). BRMC, in collaboration with Drive-To-Work (DTW), aims to support clients in navigating the steps required to obtain or reinstate a driver's license, learn about and attempt to address the systematic and personal challenges of the processes, and gain an understanding of the district court and DMV practices. BRMC is dedicated to educating the campus community. It hosts documentaries and campus speakers related to criminal justice reform and topics associated with re-entry, and it plans to engage in Virginia policy work related to driver licensing laws. As part of the Shepherd Program at W&L, BRMC is led by a team of 10 undergraduate students and a leadership cabinet of four student advocates. In addition to hands-on experience with clients, students receive attorney oversight and training from Sara Wilson, president of DTW, and the Shepherd Program offers program insight and course instruction. Student advocates may also receive training through a one-credit Fall Term course and receive EXP credit for clinic shifts and case management.
Omicron Delta Kappa was founded in 1914 at W&L by 15 student and faculty leaders. The founders formulated the idea that leadership of exceptional quality and versatility in college should be recognized, that representatives in all phases of college life should cooperate in worthwhile endeavors, and that outstanding students, faculty and administrators should meet on the basis of mutual interest, understanding and helpfulness. Omicron Delta Kappa was the first college honor society of a national scope to honor meritorious leadership and service in extracurricular activities, and to encourage the development of general campus citizenship.