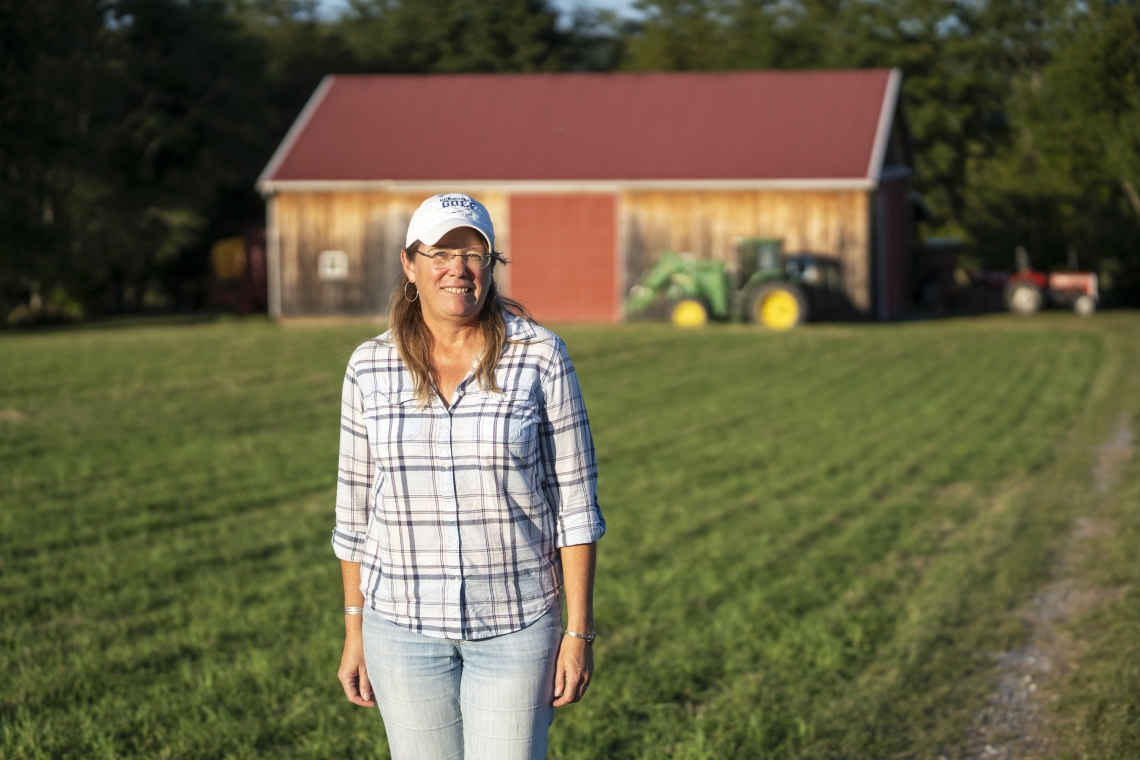 Office Hours with Rebecca Harris As well as operating her own farm, Professor Harris teaches American politics, public policy and food policy.
Typical Day
If you followed me around on a typical day, you might see me hovering in an office with my agronomist to pick out seed or plan a fertilizer program while we catch up on industry gossip from his winter meetings.
Or you might catch me in my professor clothes sharing a laugh and having a 20-minute conversation with the warehouse guys at the local co-op where I buy feed and medicine for the cows on my way home. I could be standing in a Tractor Supply parking lot leaning on the bed of my pickup truck with my farm comrades complaining about theweather.
You might overhear me on the phone with my grain merchandiser, asking about her health and the grain bids that day. Need to know something farm related or need to hire somebody? Just ask the gang at the diner. Have a political or legal question? Ask the professor.
Flex Time
I know how to drive a tractor-trailer and a combine (I have a class-A CDL), as well as run the hay baler, calibrate my equip- ment, and precision plant no-till wheat, corn or soybeans. My husband and I built every barn on our property, and I can repair fences and all our farm machinery.
Farming also requires flexing my brain — I poured over the three-volume, 10-inch thick manual for the combine and am always reading the latest scientific literature regarding crops and conservation practices. I have to be able to troubleshoot unexpected issues.
Voting With Your Fork
Food has always been a kitchen-table issue for many American families on many levels, whether that be food security, food safety or nutrition.
Some years ago, as a farmer-professor, I worried that partisan politics might get in the way of good food policy, and I have used my earlier scholarship, "Party Food" (Common Ground Publishing, 2021), to investigate Democrats, Republicans and farming.
Who are the heroes and who are the villains?
Democrats have supported generous social welfare policies as a means to help citizens — and farm subsidies are histori- cally social welfare policy. Republicans, on the other hand, prefer market solutions and see farm subsidies as an artificial, expensive and inefficient way to allocate scarce resources. That said, Republicans are very sensitive to the business needs of the farmer, particularly for risk management and regulatory relief.
I sense a sea change in conventional political thinking about American agriculture, which is the subject of my next book, "Barnstorming." My intent is to catalogue conventional and progressive (revolutionary!) values and beliefs in American farm policy.
In the Classroom
I teach a class on public policy and environmental policy, and then a Spring Term class on food policy. In both of those classes I might referenceShenandoah farm practice or examples from farmers I know to discuss the larger framework of why a particular policy isn't succeeding. Are certainenvironmental regulations impacting smaller farmers who can't afford a consul- tant to keep them in compliance compared to a larger farm?
One of my goals for my students is to help them understand how what government agencies do translates to what happens on the ground — how it impacts the lives of individual. I have also calibrated my teaching in the Williams School to make sure future professionals possess some level of policy literacy about food production in a large, industrialized nation like ours.