Opening New Doors Catherine Savoca '19 explored the real estate development industry this summer as a sales and marketing intern in Lisbon, Portugal.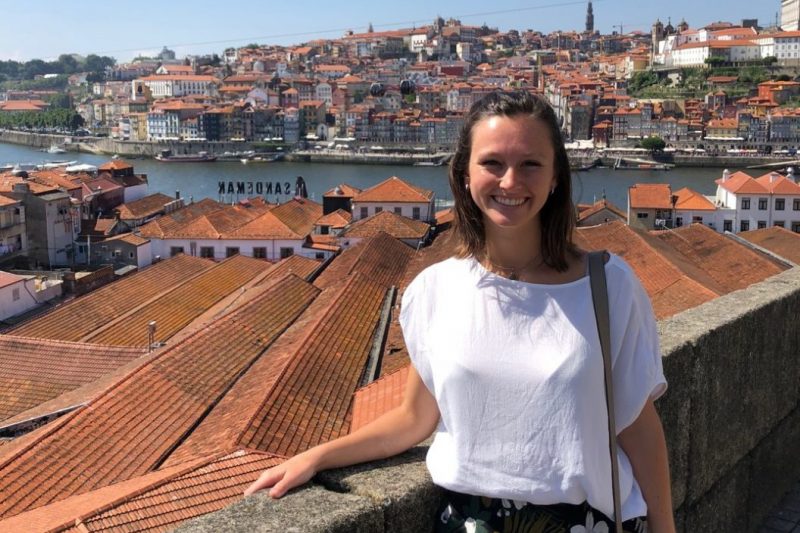 "Coming here alone and working a normal job enabled me to experience the culture in a way that I wouldn't have as simply a student abroad in an American program."

— Catherine Savoca '19
Hometown: Columbia, South Carolina
Major: Strategic Communication
Minor: French and Environmental Studies
You interned with Reformosa this summer for 10 weeks as a sales and marketing intern. Please tell us more about your role.
I was a sales and marketing intern at Reformosa, a luxury real estate development company in Lisbon, Portugal. I supported sales by meeting directly with brokers/consultants/architects to match the product to the market demand. I also developed marketing strategies and worked directly with real estate promoters to promote upcoming projects.
How did you find this internship?
Over Winter Term, I studied in Aix en Provence, France, where I took classes toward my French minor at IAU College. While there, I made a connection who informed me of internship opportunities with Reformosa. From there, I applied.
What was the most interesting knowledge you picked up while doing this work?
I had no prior real estate experience coming in so there was a lot to learn. Through working for a mid-size company, sitting around a table with architects, engineers, project managers and sales people, I acquired a wealth of knowledge about what it takes to build, promote and sell a development. I particularly enjoyed learning how marketing goes hand-in-hand in the design of a development. Because our company markets to both international and local clients, it was interesting to see how the needs of different cultures affect the layout of a building or an apartment.
What was it like working in a different country?

Absolutely amazing. Every day, I thought about what a mistake it would have been not to go there. Not only did I enjoy the work that I was doing, but I loved the people that I worked with. I felt immediately accepted and respected as one of the staff. While the staff primarily communicated in English (it's an American-Chinese owned company), there were many situations in which they broke out into Portuguese, both in the office or in meetings. In meetings with Portuguese partners and companies, there was a bit of code-switching, so oftentimes, someone would have to translate whatever it was that I missed. There were many times when Google Translate was my best friend when referring to Portuguese documents for certain tasks.
Aside from my role, going there alone and working a normal job enabled me to experience the culture in a way that I wouldn't have as simply a student abroad in an American program. It put me in a position where I was forced to seek out friends and activities on my own, unlike more structured programs that are intended to give you those opportunities.
How did this experience relate to your larger professional or personal goals?
I believe this experience presented a lot of opportunities to me. I was still very interested in pursuing a career in marketing and communications. Working with a specialized company, I was able to gain a strong grasp on a niche part of the real estate industry while also using my prior knowledge and skills. Now that I have had this unique experience, I am also interested in real estate-related careers, specifically development. It has opened new doors for me as far as careers go.
How did W&L prepare you for this experience?
The skills you learn in the Journalism and Mass Communications Department are incredibly practical and adaptable to any situation. Marketing and communications go hand-in-hand, so I felt prepared to support communications-related campaigns, whether that included writing copy for a brochure or preparing a marketing strategy. As a strategic communicator, I had to communicate effectively and efficiently with many different types of people—brokers, consultants, architects, real estate promoters, and target audiences—and W&L helped me prepare for just that.
If you know any W&L students who would be great profile subjects, tell us about them! Nominate them for a web profile.
More About Catherine
What extracurricular activities do you do?
I am a sustainability intern, an ESOL tutor, a member of the Grace Episcopal Church Refugee Working Group, and a member of the publicity committee on GAB.
Along with my younger sister, who attends U.Va., I also run a nonprofit organization in Lexington called What A Racket. We founded the organization in 2013 in our hometown and brought our new chapter to Lexington. The goal of the program is to introduce children to the sport of tennis, inspire the same passion we have for the sport, and educate them about nutrition and fitness.
Why did you choose your major?
It's actually very simple. I love to write, I love to think creatively, and I love the challenge of thinking critically through writing and creativity. I also enjoy working with others and meeting new people, all of which is inherent to the communications program.
Has anyone on campus inspired you?

As my French professor, Professor Stephen McCormick inspired me to pursue my minor in French and thus, go abroad to France for the semester. Without him, I never would have come across this amazing opportunity.
Favorite place to eat in Lexington? What do you order?
Sweet Treats. I share an order of the classic breakfast—eggs, sausage, toast, potatoes—and an order of the buttermilk pancakes. I am also a fan of their extensive magazine collection.
What one film/book do you recommend to everyone?
"A Thousand Splendid Suns," a novel by Khaled Hosseini
Favorite W&L event:
Parents' Weekend