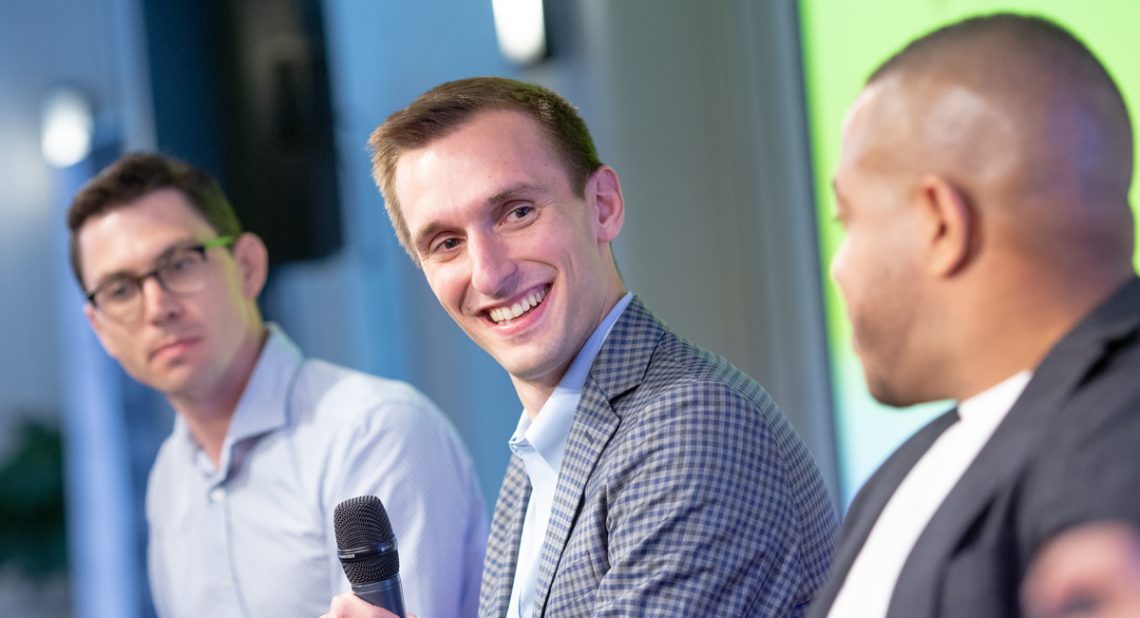 Opportunity Alabama Alex Flachsbart, '15L, traded corporate law for the opportunity to revitalize impoverished areas of Alabama.
Alex Flachsbart '15L, always intended to be a traditional corporate attorney, but when he accidentally "stumbled" upon information while doing research for a client, the course of his career took a dramatic change.
Flachsbart was looking for new grant programs or tax packages for a client of his firm, Balch & Bingham LLP, in Birmingham, Alabama, when he discovered a section of the 2017 tax reform legislation that created Opportunity Zones in each state.
He learned that Alabama has 158 such Opportunity Zones, designated by the governor and based on a defined area's poverty rate. "I began thinking about how this new incentive could transform how economic development works in rural communities," Flachsbart recalled. His thinking wasn't a stretch, because as a lawyer, he specialized in tax credit and economic development-related work, with clients ranging from real estate developers and major utilities to local governments and nonprofit hospital systems.
Eventually, with the financial assistance of his largest client and the firm's blessing, he founded Opportunity Alabama (OPAL) in 2018 and went to work as its CEO. The nonprofit organization is "dedicated to driving capital into our distressed communities," he said. Opportunity Zones exist in both rural areas and major cities, and OPAL works in each.
"Task one was figuring out how different stakeholder groups would use the incentive," he said. "There is no instruction manual, so we had to build it ourselves."
Since opening the doors of OPAL in September 2018, Flachsbart has had a busy first year. OPAL focuses on four primary groups: community, investors, projects and partners.
"We have a comprehensive strategy to turn Alabama into a national epicenter for Opportunity Zone-driven investment, and, in the process, lay the groundwork to ignite place-based economic development revolution across the state," he says.
To do that, OPAL has set as its goals to educate stakeholders on what Opportunity Zones are and how investments can be structured to work for projects and communities; source project and capital pipelines; promote communities (and the projects that could make the biggest difference for those communities) to potential investors; connect projects to capital, capital to projects, and key institutional supporters to both groups to ensure that deals get done; and track performance of projects within communities to determine whether the program is having its intended effects.
Alabama's Opportunity Zones have an average poverty rate of 34 percent and a median family income of $30,043, said Flachsbart. "Everything starts with community," Flachsbart says. He has held 70 listening and educational sessions throughout the state's Opportunity Zones and already completed several high-impact projects.
In the small town of Heflin, for instance, OPAL facilitated the opening of a $12 million senior care facility in a former high school building. The town was changed "in one swoop," said Flachsbart. "It was immediate, visceral, momentum building."
In Opelika, OPAL helped upgrade commercial and industrial space that then could be marketed to businesses, and in a project that brought in Stillman College as a partner, OPAL connected a national Opportunity Fund to an HBCU in order to construct a new teaching hotel adjacent to Stillman's campus. "The result led to an academic program in hospitality management and meeting space for alumni groups," said Flachsbart.
"From agriculture to broadband to mixed-use to operating companies," OPAL is creating jobs for Alabamians and bringing investment to distressed areas of the state. The organization has identified more than 200 projects across the state, and is actively marketing "more than $1 billion in potentially shovel-ready projects" to local and national investors.
When looking at projects, Flachsbart asks "does it make sense and where are the investors?"
With so many Opportunity Zones and potential projects, investors, partners and communities to keep track of, Flachsbart says no day is typical. "Each of our four constituent groups has different needs." He has 11 projects ready and waiting for investors, and he wants to attract more local investors to projects in their areas.
Flachsbart works with OPAL's three employees, who, he says "specialize in connecting projects to capital, surveying communities to gauge the impact of projects, and working on special projects, like building white papers and instruction guides for different ecosystem participants."
A native of Northern California, Flachsbart traveled more than 2,000 miles from home to enroll in the University of Alabama's Honors College. "My parents were so impressed with the Honors College recruitment materials that they bought me a plane ticket," he said. When he went to check out the university, he also was impressed. "I could get an Ivy League-quality education but get a fundamental chance to make a difference as an 18-year-old kid in the process"
He had similar thoughts about attending Washington and Lee School of Law. Besides the scholarships he received, he found "great, sharp people and a family atmosphere from day one." An outstanding student, he was a Maria Leonard Scholar and was elected to Order of the Coif.
Flachsbart's wife, Elizabeth, has been with him since undergraduate days. Upon graduating, they worked for Teach for America for two years in Alabama, getting married during the summer between the two school years. "We were among the first group for Teach for America in Alabama," he said. They worked in a rural, impoverished area of the state.
Elizabeth is also a W&L Law School graduate, and until Flachsbart left to form OPAL, they both worked for the same law firm in Birmingham. The couple has an 18-month-old daughter.
Outside of his job leading OPAL, Flachsbart serves as a board member of Main Street Alabama, an organization dedicated to downtown revitalization as an economic development driver, and is a member of the Public Affairs Research Council of Alabama's Roundtable.
With a hectic schedule of phone calls, meetings and educating communities and stakeholders about OPAL, Flachsbart says the only day-to-day consistency is managing existing projects and looking ahead to what's next. "I have one eye always looking to what's ahead, and I'm thinking of creative ways to revitalize communities."
If you know any W&L alumni who would be great profile subjects, tell us about them! Nominate them for a web profile.