Overcoming Tourette Syndrome Larry Barber '71, an award-winning Hollywood writer and producer, uses his talents to publish a book on Tourette Syndrome.
"We all have limitations — hidden or not. Some are emotional. People with disabilities are often shunned by society. If they were better understood, they would be seen as paragons of strength."
Larry Barber '71 always felt drawn to language and even compelled to write. Now retired after 20 years as an award-winning writer and producer for Hollywood films and television shows, Barber turned to a different kind of writing — compiling the stories of fellow Tourette Syndrome sufferers.
That book was a long time coming for Barber. A journalism major, he spent 10 years writing brochures, speeches and articles for an insurance company and later a public relations firm. But he always felt the urge to do more with his writing.
His dream was to write scripts for television and film. Joining forces with his brother, Paul, who had graduated from the University of California at Irvine with an MFA degree in theater, Barber took on the challenge. The brothers wrote a script on spec for "Cagney & Lacey," a popular police drama starring Sharon Gless and Tyne Daly as female New York City detectives.
"At that time, TV shows would accept freelance scripts," Barber said. Still, it was hard work for the brothers to teach themselves script writing, and even more challenging to get someone to actually read it. However, their script was one of just a few accepted and produced for broadcast that year.
That fortuitous break led to more scripts for "Cagney & Lacey." Eventually, the pair wrote for many other hit shows, including "X-Files," "Nash Bridges," "The Commish," "Seven Days," "Profiler," "21 Jump Street," "Beverly Hills 90210" and others. Barber wrote and produced Gene Rodenberry's "Andromeda," which was among the highest-rated television shows in syndication. For five years, he wrote films for Warner Brothers — "none of which were produced, but not uncommon in the business," he noted. Those scripts included a lot of political material — the rise and fall of J. Edgar Hoover, the Black Panthers, Cesar Chavez. He considers himself fortunate to write scripts for Francis Coppola, Oliver Stone, Michael Mann and Quincy Jones.
"I loved working in Hollywood," said Barber, who now lives with his wife, also a writer, in the seaside community of Ventura, California, which he prefers to the gridlock of Los Angeles.
Two episodes of "21 Jump Street," about the civil war in El Salvador, including the U.S. involvement and the refugee crisis, earned him an Imagen Award, given for positive portrayal of Latinos in the media. Public service announcements at the end of each show, narrated by Peter Gabriel and Bono, inspired 4,000 people to join Amnesty International. Those two shows were especially significant to Barber, who is of Guatemalan descent and fluent in Spanish.
Three years ago, Barber and his fellow "X-Files" writers won a Writer's Guild Award for one of the 101 Best Written TV Series.
Although he likes writing drama, especially "cop shows," he has been fascinated with science fiction since he was a boy. "I read good literature, but always have a sci-fi book at my side," he laughed.
Becoming a producer was "a natural progression for a staff writer," he said. "Gaining more experience leads to more responsibility." As a producer, he was more involved in casting, post-production, working on-set, working with special effects and supervising the writing staff. "It was wonderful to solve problems and challenges."
Born in New York City, Barber grew up in Mexico, Puerto Rico and Costa Rica, where he was living at the time he enrolled at W&L. He still visits his Guatemalan family often. "I have a foot in both worlds," he said. "I love the culture and the people of Latin America."
Coming from Costa Rica to W&L, which was the alma mater of his high school English teacher, was like coming to a foreign country for Barber. "It was not easy to assimilate." Self-described as shy, he didn't join a fraternity, cutting off much in the way of social life for him. "I took comfort in my classes, the professors and the beauty of the campus," he said. He also worked on-air and behind the scenes for the campus radio station.
He remembers Professor Dabney Stuart, who taught English. "He was a poet and was very kind. I liked the way he taught."
As well as writing, another large part of Barber's life has been his 40-years-practice of Buddhism. He recently spent 2 1/2 years studying at Zen Center of Los Angeles, which helped him face his own battle with Tourette's. "I like the idea of interconnectedness of all things," he said. "In Zen, one's ego is an illusion based on your belief of yourself." Thinking back to his days when his Tourette's was more severe, he said that belief in oneself can be distorted or wrong — children often take cues from the outside world to form their self-image. "I learned to be compassionate to myself," he said.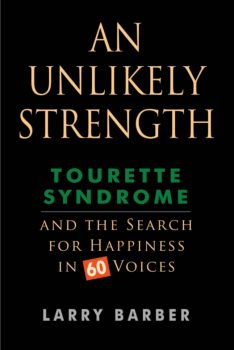 From there, Barber developed the idea of his book as a way to give a voice to fellow Touretters. Last year, he self-published a book on Amazon titled "An Unlikely Strength: Tourette Syndrome and the Search for Happiness in 60 Voices." Starting with his own struggles with the syndrome, a disease characterized by involuntary tics and vocalizations, he collected the stories of 60 others who have Tourette's. Barber's symptoms mostly receded by age 13, but he continues to have mild symptoms. He hopes his book, which includes many resources, will help people understand the struggle that Tourette's places on the lives of those who are afflicted.
He interviewed people from all walks of life — an airline pilot, musicians, dancers, a physicist, a firefighter, a pro wrestler — and allows their voices to shine through. He discovered they were filled with strength, courage, sadness, but most of all, were striving to find happiness. "Despite their disability, they found a way to lead constructive lives," he said in the chapter about his own journey. "Through those conversations, taught by their honesty and generosity, I was learning about myself."
He added, "We all have limitations — hidden or not. Some are emotional. People with disabilities are often shunned by society. If they were better understood, they would be seen as paragons of strength.
"It's how we live within our own hearts that matters," he concluded. "As Touretters, as humans, we stand in need of alms of our own kindness."