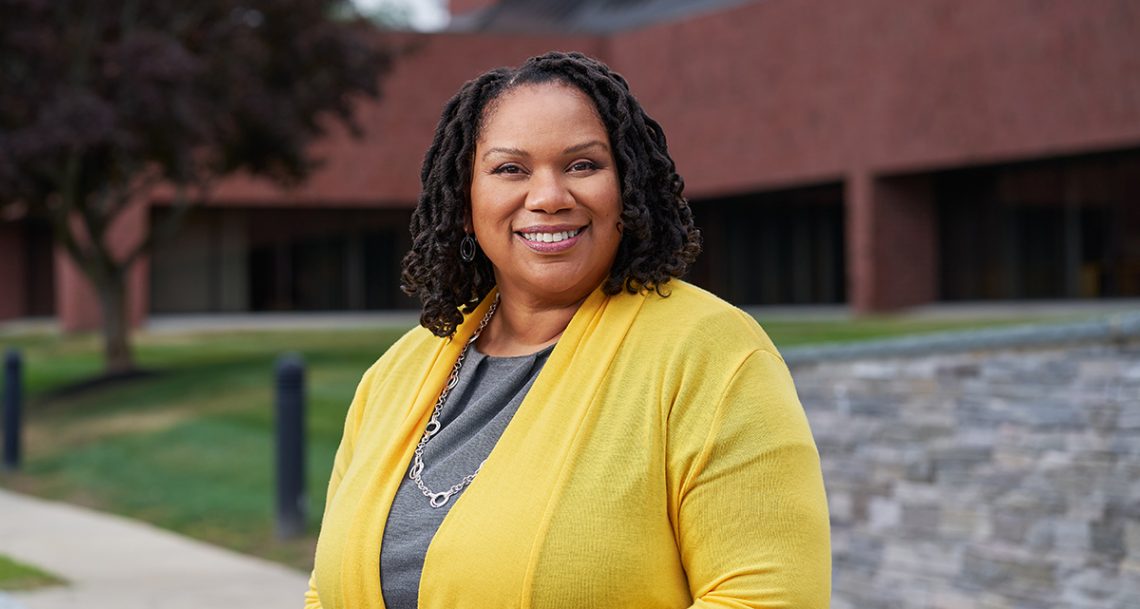 Personal Experience Leads Tina Beamon '97L to Success in the Pharmaceutical Industry
When Tina Clark Beamon '97L entered W&L Law, she thought she wanted to be a health care lawyer. She imagined being an activist, helping to fight for insurance coverage for underserved populations.
Now, as Vice President and Chief Compliance Officer for a pharmaceutical company, Beamon has discovered there are other ways to use her legal background to promote the greater good.
"Some people wouldn't think working in the pharmaceutical industry really does promote the greater good," she concedes. "I would say it absolutely does because in my role as chief compliance officer I help make sure that our company makes strong ethical decisions that put the best interest of patients first. That spark in my younger self that wanted to solve health care disparities is actually getting to play out in terms of my career."
Beamon can't point to a single course at W&L that influenced her career trajectory, but she remembers the numerous opportunities she had to discuss issues in small groups with classmates as being invaluable. "I found the collision of ideas in those settings to be really exciting," she said. "Those experiences not only enhanced my understanding of the law but also helped me learn problem solving and how to think through complex issues."
After W&L, Beamon spent a year clerking with the circuit court in Manassas, Virginia. Then she and her husband, Jonathan Beamon '98L, returned home to Connecticut where they had been undergraduates at UConn and where both sets of parents lived. They settled into their lives and respective careers — Tina as an associate with Wiggin & Dana and Neubert, Pepe & Monteith; Jonathan as an attorney with the City of Hartford.
Then, in 2002, their son, Kyle, was born with sickle beta thalassemia, a rare form of sickle cell disease, and everything changed.
"With the course of sickle cell patients and certainly with sickle beta thalassemia, a baby is going to be in and out of the hospital a lot," says Beamon. "I knew that was not going to be conducive to a standard trajectory in the law firm environment."
"My priority was being unapologetically mom. In that moment, I had to be there for my son."
Over the next several years Beamon stepped away from the law firm track and took a series short-term positions with the flexibility she needed to focus on Kyle's health. Those positions may have been detours, but they weren't necessarily dead ends.
"Even in those moments in your career where you feel you're taking twists and turns that you had not counted on," Beamon says, "you need to use every bit of that experience — your strengths, your education, even your life challenges — because all of it helps you lead with compassion and to be more results-driven, no matter what your industry is."
By the time Kyle was five, Beamon was heading down a different kind of track, this time in the pharmaceutical industry. After a dozen years with two drug companies, she was named Vice President and Chief Compliance Officer for Massachusetts-based Karyopharm in 2019, just as the company was launching its first commercial product — Xpovio (selinexor), a drug for adult patients with relapsed or refractory multiple myeloma.
She was charged with creating the Karyopharm's first comprehensive compliance program, and she also joined the team of scientists and medical officers charged with developing the critical language for Xpovio's labeling and promotional materials. That language, which is submitted to the FDA for a final stamp approval, must be truthful and not misleading.
At every step of the way, Beamon has been guided by lessons she learned from caring for Kyle.
"In helping to solve issues related to the reputations of the pharmaceutical companies with which I've worked, I've often called upon my experience as a caregiver of a patient with a chronic illness," she says. "I've been on the other side. Having that focus of keeping the interests of the patients first and protecting the organization's ability to continue to bring innovative therapies to patients is where everything starts for me."
In a recent profile of Beamon in Modern Counsel magazine, Dr. Michael Kauffman, Karyopharm's CEO, praised her as "someone with a heart for patients…"
Meanwhile, the Beamons had reason to celebrate this fall when Kyle went off to college.
If you know any W&L alumni who would be great profile subjects, tell us about them! Nominate them for a web profile.