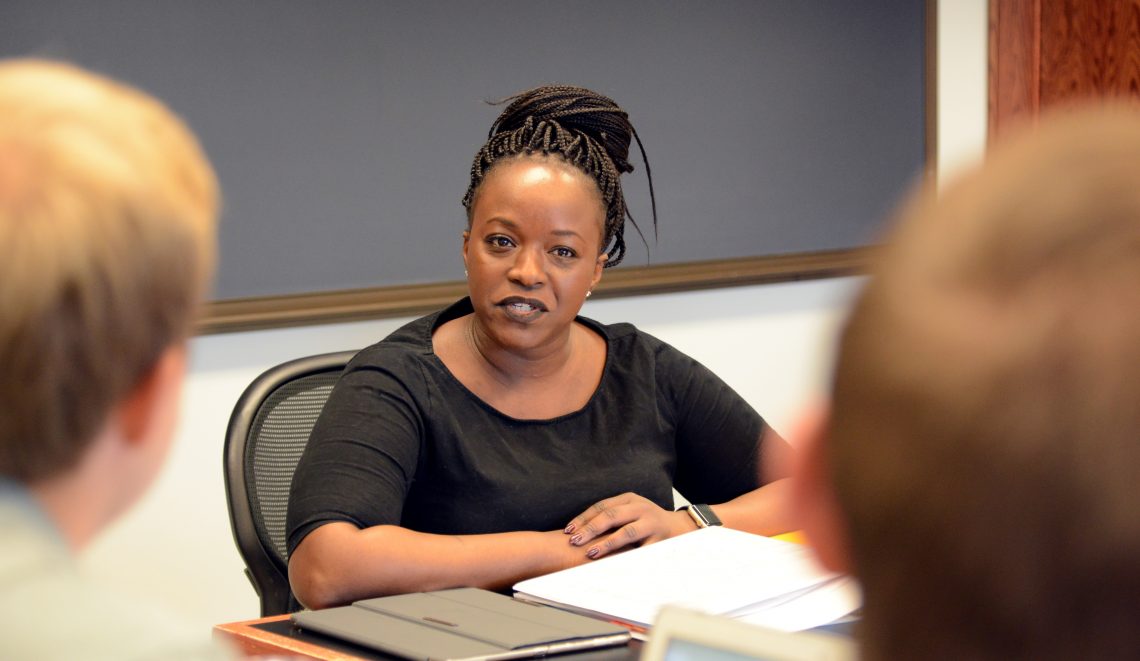 Professor Carliss Chatman Receives Derrick Bell Award from AALS Section on Minority Groups
Carliss Chatman, Associate Professor of Law at Washington and Lee University School of Law, has been selected by the Association of American Law Schools Section on Minority Groups as the winner of the 2021 Derrick A. Bell, Jr. Award.
The annual award is named in honor of the late Derrick A. Bell Jr., the first African-American tenured professor at Harvard Law School. The award "honors a junior faculty member who, through activism, mentoring, colleagueship, teaching and scholarship, has made an extraordinary contribution to legal education, the legal system or social justice."
"Carliss has been a driving force in promoting wider access to positions in legal academia, and she has been remarkably generous in mentoring junior faculty in the hiring process in particular," said Brant Hellwig, Dean of W&L Law.  "But it doesn't stop there.  She has a passion for bringing people together to foster scholarly productivity and innovation in teaching approaches. We are both proud and fortunate to have her as a colleague at W&L Law."
Professor Chatman teaches an array of business law, commercial law, and ethics classes including: Contracts and Sales and Leases; Agency and Unincorporated Entities, Corporations, Business Associations, and Securities Regulation; Professional Responsibility; and a Transactional Skills Simulation course with a Mergers and Acquisitions focus that incorporates corporate law and UCC Article 9.
Her scholarship interests are in the fields of corporate law, ethics, and civil procedure. Her current research and writing projects are varied and include two business law casebooks, an article examining the use of slavery in commercial law simulations, a book chapter that reimagines the Citizens United opinion using the framework of critical race feminism, and a children's book titled "Companies are People Too."
"I am so honored to be selected by my colleagues and to join a list that includes so many mentors and friends," said Chatman. "This award is especially meaningful in this particular time when events have led the world to focus on issues of racial justice and equality. I aspire to use my scholarship, service, and teaching to ensure that Derrick Bell's vision for justice within and beyond the academy is realized during my lifetime."
Chatman's work is influenced largely by 11 years of legal practice in complex commercial litigation, mass tort litigation and the representation of small and start-up businesses in the United States and the Kingdom of Saudi Arabia. As a result, her scholarship is intersectional with a focus on issues at the heart of commercial litigation: the interplay of business entities, government and natural persons.
Professor Chatman's work is also influenced by over two decades of service on non-profit boards and involvement with community organizations. Through leadership positions, she has developed expertise in corporate governance and non-profit regulation. She has also been instrumental in strategic planning and fundraising efforts. Professor Chatman has actively advocated on behalf of non-profit organizations at state and federal legislatures.
Prior to law teaching, Professor Chatman was a commercial litigation attorney in Houston, Texas. In practice, she focused on trial law, appeals and arbitration in pharmaceutical, healthcare, mass torts, product liability, as well as oil, gas and mineral law. In addition to negotiating settlements and obtaining successful verdicts, Professor Chatman has also analyzed and drafted position statements regarding the constitutionality of statutes and the impact of statutory revisions for presentation to the Texas Legislature.
Professor Chatman is a 2004 graduate of the University of Texas School of Law, where she was a member of the Texas Journal of Women and the Law, and served on the Student Recruitment and Orientation Committee. She received her bachelor's degree in 2001 from Duke University with honors in English.
If you know a W&L faculty member who has done great, accolade-worthy things, tell us about them! Nominate them for an accolade.