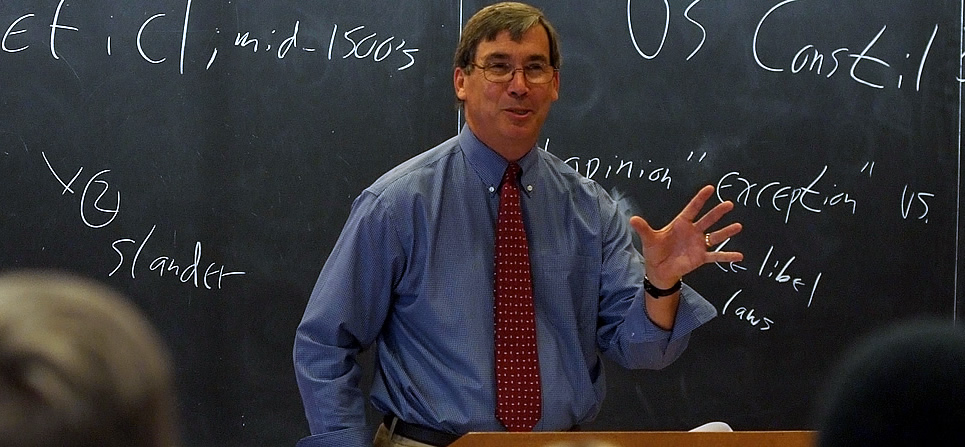 Sam Calhoun Named Robert O. Bentley Professor of Law
Brant Hellwig, Dean of Washington and Lee School of Law, has announced the appointment of law professor Sam Calhoun to the Robert O. Bentley Chair in Law.
"This appointment is a fitting recognition of the significant contributions Sam has made to W&L Law in all facets of faculty responsibility since joining our school over 40 years ago," said Hellwig. "His tenure has helped shape the character of our institution."
Calhoun will deliver a lecture marking his appointment on Oct. 16 at 4:00 pm in Classroom A, Sydney Lewis Hall. The title of his lecture is ""Neither American Founding was Intended to Separate Religion from Politics."
Calhoun joined the W&L Law faculty in 1978, following teaching stints at the University of Wyoming and the University of Puget Sound. A highly-regarded teacher, Calhoun has twice been awarded with fellowships recognizing excellence in the classroom. His main subjects have been contracts, commercial law, legal writing, and the abortion controversy.
Calhoun has long written about various aspects of the abortion debate. In 2016, he spearheaded the 2016 W&L Law Review Symposium commemorating the fortieth anniversary of Roe v. Wade. He also writes about law and religion. Recent topics have included the role religion played in the beliefs and actions of Abraham Lincoln and whether the separation of church and state doctrine bars faith-based values from informing public policy questions.
Calhoun was previously the holder of the Class of 1960 Professor of Ethics and Law, a three-year term professorship that recognizes a W&L faculty member whose teaching and scholarship include ethics, honor, integrity, honesty, and applications of ethical reasoning in addressing contemporary issues. As Class of 1960 Professor, he assumed a leading role in conceiving and organizing Institute for Honor symposia. He also assembled a panel discussion on lawyers and infamous clients, plus supported several additional programs on honor and ethics.
From 2013-16, Calhoun served as Associate Dean for Academic Affairs. During his tenure, he supervised the staffing and scheduling of all law classes, spearheaded curricular initiatives, oversaw major renovations to Lewis Hall, and coordinated preparation for the ABA's fall 2015 reaccreditation inspection of the law school.
Prior to entering the legal academy, Calhoun was an associate with King & Spalding in Atlanta. He received his J.D. from the University of Georgia School of Law and his B.A. from Harvard.
If you know any W&L faculty who would be great profile subjects, tell us about them! Nominate them for a web profile.