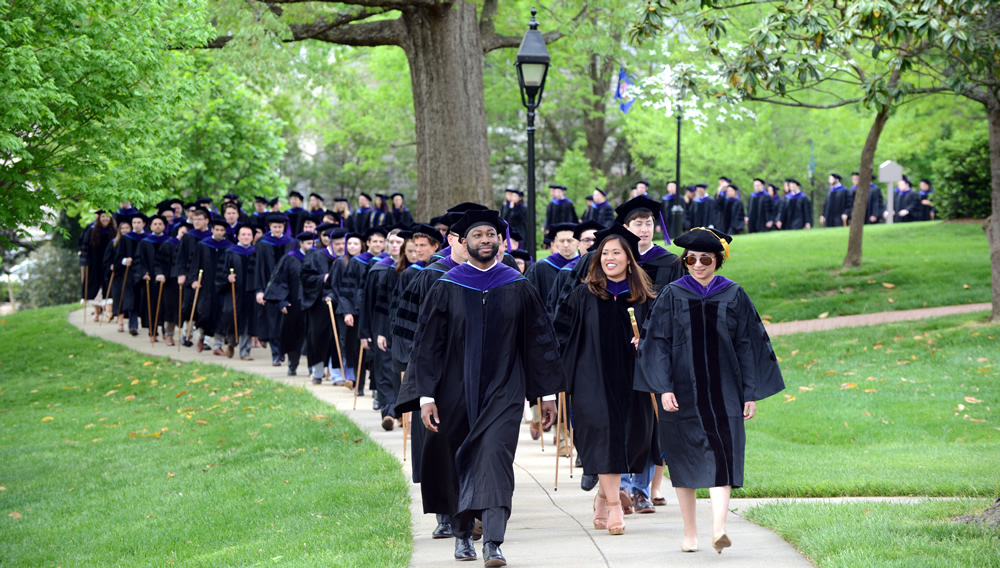 School of Law Honors Graduates at 2018 Commencement Ceremony
The Washington and Lee University School of Law celebrated its 163rd commencement on Saturday, May 5, awarding 114 juris doctor degrees.
Though storms pestered Lexington Friday evening and into the morning, the Colonnade lawn again played host to the ceremony, which began with an official welcome and remarks from President Will Dudley. He encouraged the graduating law students to savor their final moments on campus.
"Take Washington and Lee with you into the world and you and the world will be better for it,"  said Dudley. "You are well prepared to practice a noble profession successfully and with honor. "
Related: Event Video | Image Gallery
Prof. Brant Hellwig, Dean of the Law School, followed President Dudley to the podium. He congratulated the students on their achievement and also thanked them for their many contributions to the life of the school, both inside and outside the classroom. He expounded on the concept of what it means to be an honorable practitioner of law, a phrase that helps anchor the School's newly adopted mission statement.
"Honor certainly encompasses individual qualities such as integrity, honesty, and dependability," said Hellwig.  "These attributes are central to the legal profession you are on the cusp of entering, and these values simply cannot yield in the face of pressures to zealously advance the interests of your client or, perhaps at an even more practical level, pressures to satisfy the demands of your boss."
"Your professional identity – based in large part on your internal code of ethical and professional conduct – that is an asset that you create," he added.
The graduates were then awarded their degrees.
After the degrees were presented, David B. Wilkins, Lester Kissel Professor of Law at Harvard Law School, delivered this year's commencement address. Wilkins began his remarks by reminding students that as the name suggests, commencement truly is a beginning rather than an end.
"After you return your cap and gown and say your tearful goodbyes to the friends you have made here, promising to stay in touch – which I hope you do – it will indeed hit you that this is a beginning, it's the beginning of the rest of your so-called life and in particular, your career as a lawyer."
An expert on the legal profession, Professor Wilkins is Vice Dean for Global Initiatives on the Legal Profession and Faculty Director of the Center on the Legal Profession and the Center for Lawyers and the Professional Services Industry at Harvard Law School. In his talk, he spoke of the importance of lawyers in today's increasingly complicated and fast-changing society.
"There are whole new fields of law that basically didn't exist when I was a law student," said Wilkins. "And there are many other areas that are being remade by technology. All of this has created enormous opportunities and new careers, for you."
Wilkins then broadened his perspective, observing that the increasing polarization in society can only be solved by a willingness to reach across divisions to build bonds of community and trust with others, and he argued that lawyers have a special responsibility to engage in this work.
"As professionals, lawyers have been given special responsibility for the laws and institutions that our founding fathers believed would hold this country together," said Wilkins. "But lawyers are also citizens, who often assume important leadership roles throughout society, including, of course, as elected and appointed officials, often at the very highest levels of our government."
"Given these important positions of trust, it is especially critical that lawyers in their professional work, leadership roles, and even in their private lives work to preserve and extend the legal framework and fundamental rights that are so essential to our constitutional democracy."
Following Wilkins' remarks, third-year class officers Jonathan Murphy and Kelly Chrisman presented him with his very own walking stick, traditionally given to students at the awards ceremony preceding graduation. The walking stick, or cane, originated in the 1920's as a way to distinguish third-year law students on campus. At that time, only two years of law school were required, and the walking stick served as a way to reward and honor those students who stayed for a third year.
Graduation festivities began Friday afternoon in Evans Hall with the annual awards ceremony and presentation of walking sticks. The John W. Davis Prize for Law, awarded to the graduate with the highest cumulative grade point average, was awarded to Katheryn Paige Thomas.
Three students graduated summa cum laude, 12 graduated magna cum laude, and 19 graduated cum laude. 11 students were named to Order of the Coif, an honorary scholastic society that encourages excellence in legal education. A list of honors and awards appears below.
The Student Bar Association Teacher of the Year and Staff Member of the Year award were also presented at the awards ceremony. Prof. David Eggert was named Teacher of the Year, and Macy Coffey, long-time administrative assistance in the law library, won the staff award.
Special honors at Friday's awards ceremony went to the following students:
Katheryn Paige Thomas was awarded the John W. Davis Prize for Law, given to the student with the highest cumulative grade point average.
Jacquelin Noel Hacker was awarded the Academic Progress Award for the most satisfactory scholastic progress in the final year.
Christopher Clayton Brewer won the Virginia Trial Lawyers Association Award for effective trial advocacy.
Alexandra Shinsei Hakusui and Devin C. White shared in the Roy L. Steinheimer, Jr. Commercial Law Award for excellence in commercial law.
Craig Alan Carrillo and Melinda Katherine Sheild shared in the Calhoun Bond University Service Award for significant contributions to the University community.
Jean Marie Christy and Kendall P. Manning shared in the Frederic L. Kirgis, Jr., International Law Award for excellence in international law.
Jean Marie Christy and Hollie Nichole Webb shared in the National Association of Women Lawyers Award given to an outstanding woman law student.
Thomas W. Griffin III won the Charles V. Laughlin Award for outstanding contributions to the moot court program.
Ian Roberts won the Randall P. Bezanson Award for outstanding contributions to diversity in the life of the Law School community.
Meredith M. Toole won the Virginia Bar Family Law Section Award for excellence in the area of family law.
Ian Roberts won the American Bankruptcy Institute Medal for excellence in the study of bankruptcy law.
Katheryn Paige Thomas won the Barry Sullivan Constitutional Law Award for excellence in constitutional law.
Gregory Terrance Funk won the James W. H. Stewart Tax Law Award for excellence in tax law.
Corey Martin Lipschutz won the Thomas Carl Damewood Evidence Award for excellence in the area of evidence.
John Sterling Houser won the A. H. McLeod-Ross Malone Oral Advocacy Award for distinction in oral advocacy.
Catherine Elizabeth Woodcock won the Student Bar Association President Award for services as the President of the Student Bar Association.
Gabrielle Leina'ala Ongies won the Clinical Legal Education Association Award for excellence in clinical work.
Katheryn Paige Thomas won the Criminal Law Award for excellence in the study of criminal law
Martha Goodwin Vázquez won the Administrative Law Award for excellence in the study of administrative law.
Alix Myer Sirota and Mark X. Zhuang shared in the Business Law Award for excellence in the study of business law.
Summa Cum Laude
Nicholas Alexander Ramos
Alix Myer Sirota
Katheryn Paige Thomas
Magna Cum Laude
Peter S. Askin
Dioscoro Andres Blanco
Christopher Clayton Brewer
Gregory Terrance Funk
Alexandra Shinsei Hakusui
John Sterling Houser
Christopher Alan Hurley
Jonathan A. Murphy
Nicholas Andrew Schaffer
Peter Treutlen Thomas
Martha Goodwin Vazquez
Spencer Thomas Wiles
Cum Laude
Thomas Edward Arthur Bishop
Mark Paul Bonin II
Taylor Welch Davison
Mark John Dewyea
Matthew Christopher Donahue
Bennett T. W. Eastham
Elizabeth Branch Jenkins
Stephen C. Kindermann
Ross Lane LaFour
Corey Martin Lipschutz
Christopher Charles Losito
Kendall P. Manning
Morris E. McCrary IV
Aubrey J. Morin
Emily Marie Springer
Jonathon Craig Stanley
Devin C. White
Catherine Elizabeth Woodcock
Mark X. Zhuang
Order of the Coif
Peter S. Askin
Dioscoro Andres Blanco
Gregory Terrance Funk
John Sterling Houser
Christopher Alan Hurley
Nicholas Alexander Ramos
Alix Myer Sirota
Katheryn Paige Thomas
Peter Treutlen Thomas
Martha Goodwin Vazquez
Spencer Thomas Wiles