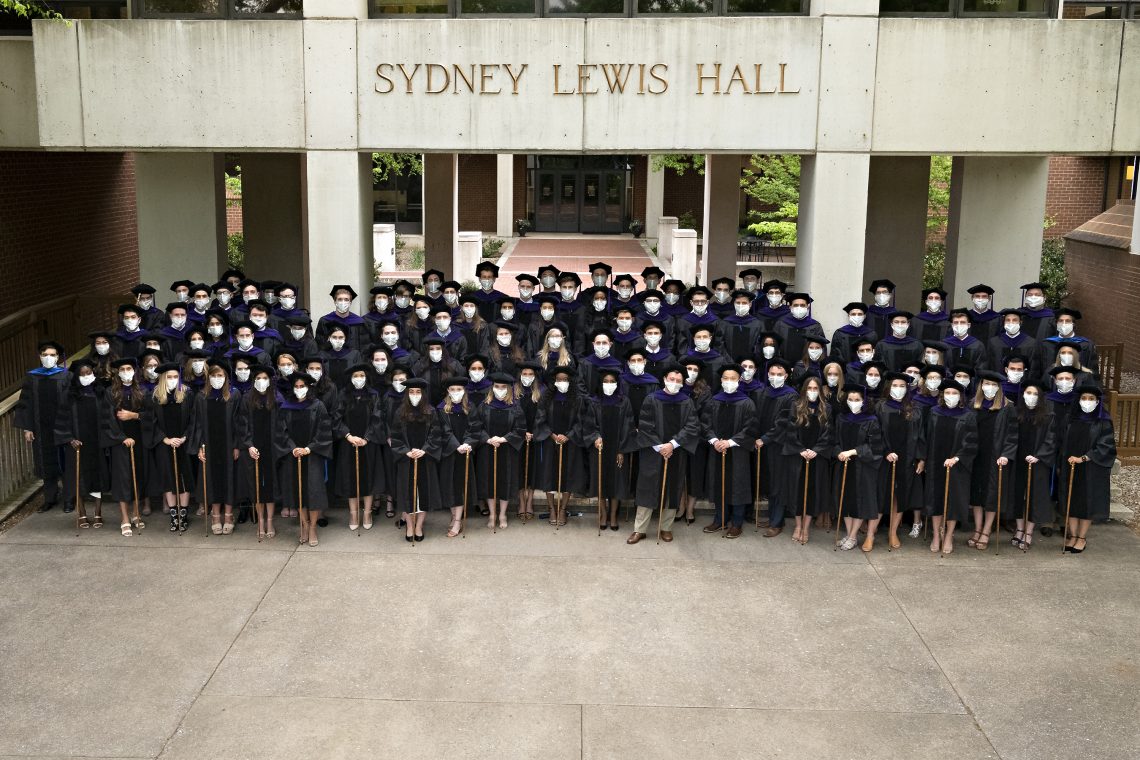 School of Law Honors Graduates at 2021 Commencement Ceremony The Washington and Lee University School of Law celebrated its 166th commencement on Friday, May 7, awarding 119 juris doctor degrees.
The Washington and Lee University School of Law celebrated its 166th commencement on Friday, May 7, awarding 119 juris doctor degrees.
The event, held on a cool day and marked by a few rain showers, was the first time since the onset of the COVID-19 pandemic that the Law School community was able to gather in person, although masks and social distancing were still in place for the ticketed event. In order to provide the graduates and guests with adequate space, the graduation ceremony was held on Wilson Field, a first for the University as noted by President Will Dudley.
"The experience of the class of '21 has been historic," said Dudley.  "Your 3L year has been like none before it.  Yet, at the same time, you share much with the law graduates who have preceded you.  Your time at W&L has shaped you, as individuals and as a class.  Together you have studied, argued, and developed the habits of mind that characterize good lawyers.  You have made lasting friendships that will give you pleasure and support wherever you may go."
Related: Event Video | Photo Gallery
Brant Hellwig, Dean of the Law School, followed President Dudley to the podium. He congratulated the students on their achievement and also thanked them for their many contributions to the life of the school, both inside and outside the classroom.
"Thank you for the privilege of being a part of your development and growth over the past three years," he said.  "Thank you for being a part of our continuing education and growth as well.  We have learned so much from our conversations and interactions with you – both in class and beyond."
After the graduates were awarded their degrees, President Dudley introduced Dean Hellwig as this year's commencement speaker. Hellwig has served as Dean of the Law School since 2015 and will conclude his tenure in office this summer.
Hellwig took the reins during a turbulent time for legal education and led the school as it achieved record highs in employment outcomes for our graduates, beat annual fundraising targets, and improved its competitive position in the national market. He was also instrumental to recruiting a distinguished and diverse group of faculty members, and in creating a dedicated legal writing program.
Hellwig organized his address around a song playlist, drawing out the themes of the songs and interweaving them with inspiring stories of some of the School's alumni and with advice for students. For example, the Bill Withers classic "Lean on Me" served as an opportunity to highlight the role of a lawyer in society.
"When you examine the role of a counselor and advocate with an eye toward the humanity of the position, a law license offers the potential to bring to others a sense of calm, comfort, and even hope. To be the person your clients lean on.  The ability to serve that role is an incredible privilege and a tremendous responsibility."
During his talk, Hellwig also shared the inspirational story of alumnus Edmund D. Campbell, who graduated from the College in 1918 and the Law School in 2022. In 1958, Campbell successfully represented plaintiffs before a Federal panel of three judges in the Eastern District of Virginia in James v. Almond, a decision which overthrew Virginia's program of "Massive Resistance" and resulted in the racial integration of Virginia's public schools.
Campbell took the case even though he knew it was politically unpopular in his home state and might negatively impact his law practice. Combined with the lyrics of Curtis Mayfield's "Keep On Keeping On," Campbell's story served as an opportunity for Hellwig to urge students to fight for justice.
"Both now and in the years ahead, you undoubtedly will have an opportunity to stand up for what you believe is right, and you will have the benefit of a law degree to enhance your ability to obtain those results for your clients and for society more broadly," said Hellwig. "I hope you claim those opportunities and, that when you do so, that you just keep on keeping on."
Following Hellwig's remarks, third-year class officers Will Mallery and Aaron Hardy presented Hellwig with his very own walking stick, traditionally given to students at the awards ceremony preceding graduation. The walking stick, or cane, originated in the 1920's as a way to distinguish third-year law students on campus. At that time, only two years of law school were required, and the walking stick served as a way to reward and honor those students who stayed for a third year.
This slideshow requires JavaScript.
Graduation festivities began Thursday with the annual awards ceremony, which was held in a virtual format. Three student graduated summa cum laude, 18 graduated magna cum laude, and 18 graduated cum laude. 12 students were named to Order of the Coif, an honorary scholastic society that encourages excellence in legal education. A list of honors and awards appears below.
The Student Bar Association Teacher of the Year and Staff Member of the Year award were also presented at the awards ceremony. Franklin Runge was named Teacher of the Year, and Dori Hamilton won the staff award.
Special honors at Friday's awards ceremony went to the following students:
Lee S. Brett – John W. Davis Prize for Law (highest cumulative grade point average)
Hector Quesada – American Bankruptcy Institute Medal (excellence in study of bankruptcy law)
Danielle Melissa Potter and Patrick L. Wright – Roy L. Steinheimer Jr. Commercial Law Award (excellence in Commercial Law)
Haley Christina Doss Santos – Virginia Trial Lawyers Association Award (effective trial advocacy)
Noriya Shahadat – A. H. McLeod-Ross Malone Oral Advocacy Award (distinction in oral advocacy)
Rebecca Taylor Mitchell – Frederic L. Kirgis Jr. International Law Award (excellence in international law)
Oluwatitomi Akinmola – Virginia Bar Family Law Section Award (excellence in the area of family law)
Charles Louis Bonani – Barry Sullivan Constitutional Law Award (excellence in constitutional law)
Molly Payne Pugh and Matthew Trent Wyatt – James W. H. Stewart Tax Law Award (excellence in tax law)
Warren Michael Buff, Michael Hunter Rush, and Brooke Elizabeth Wilson – Thomas Carl Damewood Evidence Award (excellence in the area of evidence)
Lee S. Brett and Eshala Chandelia Unique Bunch – Criminal Law Award (excellence in courses of criminal law)
Lucy Geneva Dempsey and Morgan Lee Sexton – Business Law Award (excellence in courses of business law)
Rami Abdallah Elias Rashmawi – Administrative Law Award (excellence in courses of administrative law)
Jack James Andrade – Clinical Legal Education Association Award (outstanding clinic student)
Eduardo Enrique Garza III – Clinical Legal Education Association Outstanding Externship Award (outstanding externship student)
Julia Mary Kerr – Charles V. Laughlin Award (outstanding contribution to moot court program)
Anna-Marie Chiwanga – Student Bar Association President Award (recognition for services as President of the Student Bar Association)
Llewellyn Kittredge Shamamian and Rebecca Taylor Mitchell – The Washington and Lee School of Law Women's Law Award (outstanding contribution to women in the law)
Chandler Hope Gray, Aaron Russell Hardy, and Adenike Oluwatosin Renee Miles-Sorinmade – Calhoun Bond University Service Award (significant contribution to the University community)
Oluwatitomi Akinmola, Adenike Oluwatosin Renee Miles-Sorinmade, and Noriya Shahadat – Randall P. Bezanson Award (outstanding contribution to diversity in the life of the Law School community)
Autumn Nicole Dickerson and Noriya Shahadat – Professionalism and Service Award (significant contribution of public service in the community)
Summa Cum Laude
Jack James Andrade
Lee S. Brett
Lauren Nicole Hancock
Magna Cum Laude
Warren Michael Buff
Alexandra Preston Clark
Emily Kuller Dalessio
Lucy Geneva Dempsey
Colin Erickson Emrich
Mary Kathryn Field
Virginia Elizabeth Gordon
Chandler Hope Gray
Yi Guo
Corey J. Hauser
Mitchell E. McCloy
Rebecca Taylor Mitchell
Danielle Melissa Potter
Rami Abdallah Elias Rashmawi
Michael Hunter Rush
Morgan Lee Sexton
Llewellyn Kittredge Shamamian
Patrick L. Wright
Cum Laude
Daniel Scott Barrow
Charles Louis Bonani
Christopher Topp Deen
William Steven Fussy
Karlo Goronja
Charles Hallinan
Stephanie Marie Kley
Jacob Richard Lubenow
William Hall Mallery
Scott Morris Miller, Jr.
Molly Payne Pugh
Rebecca Jane Richardson
Sophie Reine Rogers Churchill
Haley Christina Doss Santos
Noriya Shahadat
Brooke Elizabeth Wilson
Matthew Trent Wyatt
Emily Claire Zagorski
Order of the Coif
Jack James Andrade
Lee Samuel Brett
Alexandra P. Clark
Emily Kuller Dalessio
Lucy Geneva Dempsey
Mary Kathryn Field
Virginia Elizabeth Gordon
Lauren N. Hancock
Corey J. Hauser
Rebecca Taylor Mitchell
Rami Abdallah Elias Rashmawi
Patrick L. Wright