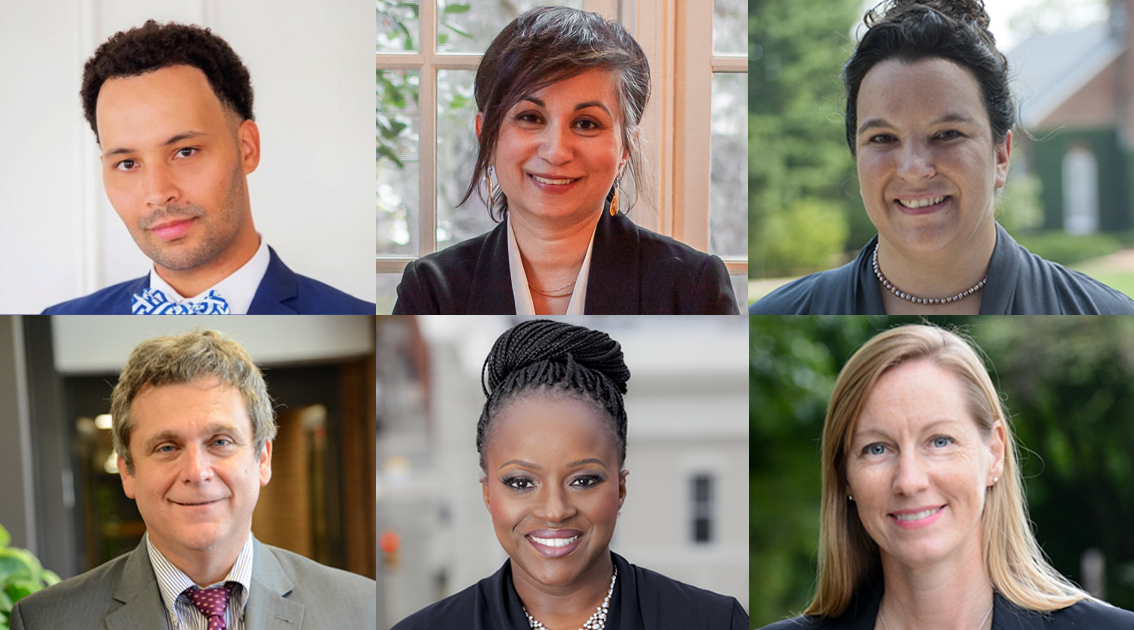 Six Law Faculty Members Recognized for Scholarship and Teaching
W&L Law Interim Dean Michelle Drumbl has announced the annual awards that recognize faculty members for their accomplishments as teachers and scholars.
Scholarship Awards
Brandon Hasbrouck and Kish Parella received the Ethan Allen Faculty Fellowship for scholarship.
Hasbrouck has established himself as a national scholar writing on a variety of themes. His most recent publications and placements include "Democratizing Abolition" (forthcoming, UCLA Law Review), "On Lenity" (forthcoming, Virginia Law Review), "Reimagining Public Safety" (forthcoming, Northwestern Law Review), "Allow Me to Transform: A Black Guy's Guide to the Constitution" (forthcoming, Michigan Law Review, book review of Elie Mystal, "Allow Me To Retort: A Black Guy's Guide to the Constitution" (2022)), "Movement Judges" (NYU Law Review, 2022), "The Antiracist Constitution" (Boston University Law Review, 2022), "The Unconstitutional Police" (Harvard Civil Rights-Civil Liberties Law Review, 2021), "Antiracism in Action" (with Daniel Harawa), (Washington and Lee University Law Review, 2021), and "Who Can Protect Black Protest?" (University of Pennsylvania Law Review Online, 2021).
Parella writes on corporate governance and international law and also has expanded her research in a new direction exploring negligent contracts. Her most recent placements include "International Law in the Boardroom" (forthcoming, Cornell Law Review), "Investors as International Law Intermediaries: Using Shareholder Proposals to Enforce Human Rights" (forthcoming, Seattle University Law Review), "Contractual Stakeholderism" (Boston University Law Review, 2022), and two peer-review publications, "Protecting Third Parties in Contracts" (American Business Law Journal, 2021) and "Leveling the Field through Transnational Regulation" (Journal of International Economic Law, 2021). The American Business Law Journal's faculty board of reviewers and advisors chose "Protecting Third Parties in Contracts" for its prestigious 2021 Ralph C. Hoeber Award for Excellence in Research.
Teaching Awards
Professors David Eggert and Jill Fraley received the John W. Elrod Law Alumni Fellowship for teaching.
Eggert teaches a number of courses in the curriculum including Antitrust, Legal Method, Conflict of Laws, and Remedies. He also heads the law school's academic success seminars. In addition, Eggert regularly supervises law review notes, advises students in moot court competitions, and serves as faculty advisor for multiple organizations. He continues to develop student assessment tests for Property and on-line material for the Academic Success program and the Legal Method class.
Fraley is well known for her dedication to her students and her classroom pedagogy. In the 2021-2022 year, she taught Environmental Law, Property, and Constitutional Law. Always mindful of ways to improve and update her course design, she aligned old redlining maps with new maps to visually illustrate to students how police violence and water quality issues align with historic redlining. This year Fraley organized a panel on pedagogy at the AALS Annual Meeting, "Stuff You'll Want to Steal: Ideas for Teaching about Race, Class, and Indigenous Peoples in Property Law." She also published her own Property supplement, which has been adopted in Property courses and academic success classes at other schools.
Experiential Education Fellowships
In 2009, Jessine Monaghan '79L, established an endowed fund to support the experiential curriculum of the Law School. The primary objective of the fund is to provide grant support for the development of new experiential courses.  More broadly, the fellowship supports innovation and excellence in our experiential curriculum.
Carliss Chatman and Karen Woody received the Jessine A. Monaghan Fellowship for experiential education.
Chatman is known for her innovation in the classroom, and this year was no exception. Working with the local Walker Program in its efforts to launch businesses owned by people of color, Chatman combined community service, practice experience, and classroom expertise to redesign her Mergers and Acquisitions into an actual practice offering for students who worked in teams to assist Walker Program businesses at various stages of development. Students helped draft foundation documents, researched questions about liability and zoning issues, and advised on other issues to provide legal support in partnership with Vinson & Elkins attorneys to advance the Walker Program's mission.
Woody added new experiential components to two of her courses this academic year. First, she designed a new one-credit experiential skills extension to complement her three-credit doctrinal Securities Regulation class. This optional component exposed students to the realities of a securities offering, including a simulated application of a public offering and a private offering. In conjunction with her fall Insider Trading seminar, she launched a podcast in which students explored topics in insider trading law. The podcast, which is geared towards laypeople but also as a potential teaching tool of use to other law professors, allowed students to showcase what they learned on the topic. At the same time, the format provided students a new pedagogical avenue for learning the material. The podcast was honored by the Academy of Interactive and Visual Arts with a 2022 Communicator Award in the category of Individual Episodes-Crime and Justice.
If you know a W&L faculty member who has done great, accolade-worthy things, tell us about them! Nominate them for an accolade.