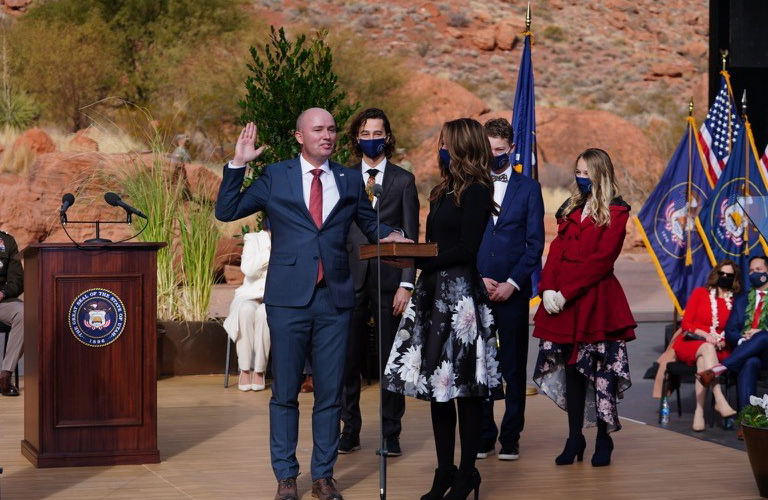 Spencer Cox '01L Sworn In as 18th Governor of Utah
Spencer Cox, a 2001 graduate of Washington and Lee University School of Law, was sworn in Jan. 4 as governor of Utah following his victory in the general election held in November. He is the state's 18th governor.
Cox has served the state as lieutenant governor since 2013. He was previously a member of the Utah House of Representatives, as well as city counselor and mayor of his hometown, Fairview. As lieutenant governor, Cox has been placed in charge of some of the state's biggest challenges, including overseeing elections and leading the state's response to the COVID-19 outbreak.
Cox defeated former governor and presidential candidate John Huntsman in a GOP primary challenge and went on to win the general election, earning 63.9 percent of the vote.  His chief opponent in the general election was Chris Peterson, a law professor at the University of Utah S.J. Quinney College of Law.
Cox and Peterson made news worldwide when just two weeks before the election they appeared together in an ad promoting civility and unity in the political process. The video ad has since been viewed nearly four million times.
Cox echoed the video's sentiment in his address during the inauguration ceremony, which was held against the backdrop of the famous red rock cliffs of southwest Utah.
"Conflict and passionate debate around ideas can be healthy, but contempt and contention will rot the souls of our nation and her people. And this division isn't just ugly or unfortunate. It's dangerous," said Cox.
If you know any W&L alumni who would be great profile subjects, tell us about them! Nominate them for a web profile.