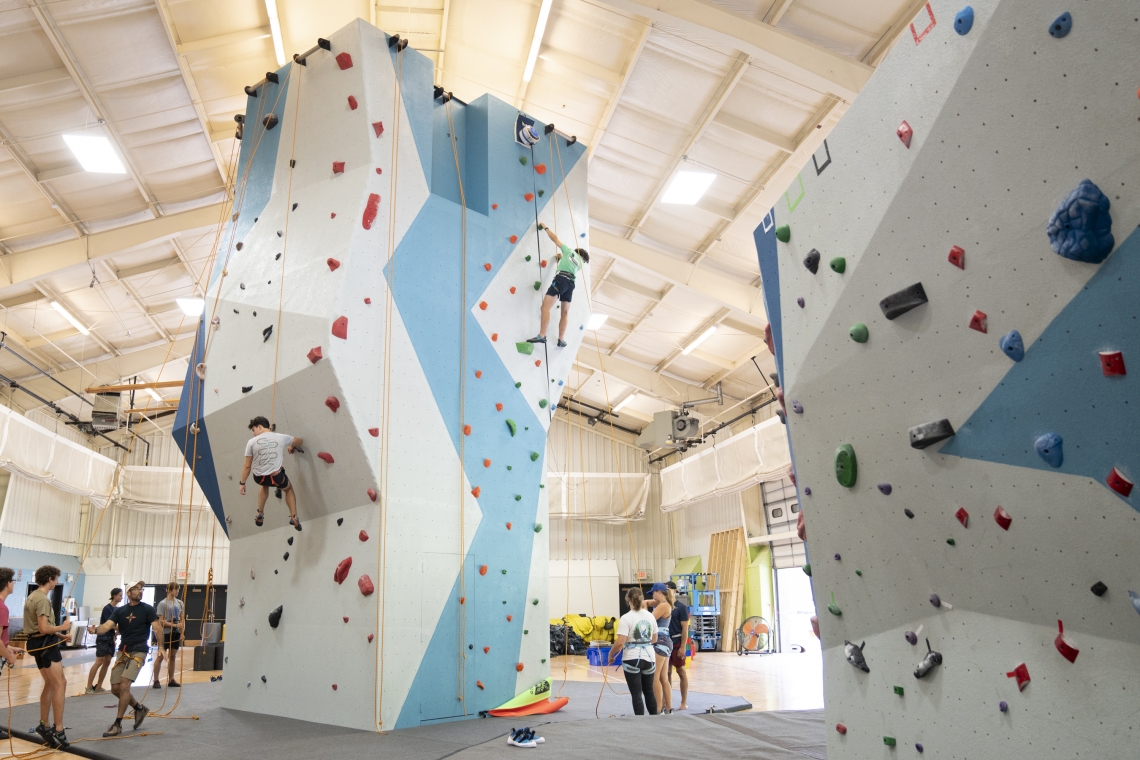 'Welcome to the Rock Wall' The Outing Club debuts two new climbing structures on campus.
It's time to climb! In September, the Outing Club at Washington and Lee debuted a new amenity: the Rock Wall. Two large structures — one for traditional climbing, and the other for bouldering — are located in the Outing Club Pavilion on the back campus.
The structures replace two previous man-made bouldering installations at W&L: one located in the Outing Club barn, and three temporary walls built in the pavilion during the Covid-19 pandemic. While those walls were constructed by the Outing Club's director James Dick, with the help of W&L students, outside vendors were brought in for this large-scale project.
The plywood and steel structures were built by Leading Edge Climbing Walls, a three-person team from Vermont. They have 27 years of experience under their belt and have constructed climbing walls all over the country, including at other colleges like Duke University and the University of North Carolina at Chapel Hill.
Fun fact: the builders did not use blueprints for the design. Instead, they created 3D scale models, measured and multiplied the dimensions, then transferred those numbers to the actual structures. The entire building process took just under three weeks to complete.
In total, there are 2,400 square feet of rock climbing. The 12-foot bouldering wall, which is for free climbs, can accommodate eight climbers at once. Approximately 12 people can fit on the 32-foot climbing wall, used for both top rope and lead climbing.
Both structures have a variety of plastic holds that climbers use to make their way up the wall. The size and shape of holds vary. Each hold is secured into the wall with T-nuts, and can be installed or replaced on the other side of the plywood.
In total, the Outing Club has 2,000 holds available for use. These holds are strategically placed in routes — also called "problems" — that range in difficulty. The holds for each route are color coordinated; holds for the climbing wall routes are the same color, while the bouldering wall routes have colored tape next to the holds.
While the smaller, freestanding bouldering wall does not require safety equipment, the climbing wall supports users with harnesses, carabiners and ropes. Trained belayers assist climbers as they scale the wall. Depending on skill level, climbers can either top rope or lead climb on this structure.
Along with ropes, there will be two auto belays for single-person climbs. These machines make it possible to climb without a belayer; when a climber lets go, the auto belay catches them. Climbers must be certified to auto belay before using these units.
Before hitting the walls, climbers must fill out electronic waivers created by Taha Khan, assistant professor of computer science at W&L. All climbers will also complete a facility tour, participate in a safety training, check out rental shoes, and be fitted for harnesses.
To determine what the climber is cleared to do, a color-coded band will be strapped to each harness. Green bands indicate the individuals are allowed to top rope, blue means they are certified to auto belay and top rope belay, and red means they are authorized to lead climb and lead belay.
Most importantly: Everyone is welcome on the walls! There will be climbers from all skill levels participating during designated open hours. In addition to these open hours, there will also be reserved hours available for groups of different skill sets, from newbies to experts, including members of W&L's CRUX Climbing team.
Additionally, special programming by the Outing Club is on the horizon, with anticipated activities and events for specific groups such as student clubs, departments, faculty and staff, and community members.
Tentative about climbing? For those who want to check out the space before strapping on a harness — or who just want to watch friends climb — there is also a lounge set up at the Student Activities Pavilion. It is located next to the walls, in front of the equipment rental booth and bike shop.
For an updated schedule for the Rock Wall and directions to the Outing Club Pavilion, visit my.wlu.edu/outing-club.