W&L After Class Podcast Begins Its Fourth Season The monthly podcast explores Washington and Lee faculty's research, teaching and passion projects.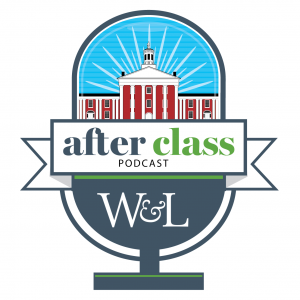 "W&L After Class," a podcast series managed by Lifelong Learning, Alumni Engagement, and the Office of Communications and Public Affairs, enters its fourth season on Feb. 14.
The first episode of the season features James Dick, director of outdoor education and recreation at Washington and Lee. In this conversation, Dick discusses his experiential education and leadership development work on W&L's campus.
The "After Class" podcast series began in the spring of 2020. Each episode invites listeners to experience conversations with W&L's expert faculty, giving listeners worldwide a chance to stroll the Colonnade in the comfort of their homes. W&L faculty members discuss their teaching, research and special interests. Previous topics include poetry, witches, cybersecurity, theater and free speech. The podcast is hosted by Ruth Candler, assistant director of Lifelong Learning.
"Every time we sit down and start recording, I am so impressed by the knowledge of our faculty and their passion for teaching," Candler said. "With each interview, I gain a deeper understanding of, and a greater appreciation for, the liberal arts education our students receive here at Washington and Lee."
Recent episodes from the podcast's third season include:
"Making the Strange Familiar and the Familiar Strange": Sascha Goluboff, professor of cultural anthropology and director of Community-Based Learning at W&L, recounts her experiences of stepping into the unknown through ethnography research, working in local prisons and even improv.
"Walks With A Noise": In this episode with Harvey Markowitz, emeritus professor of anthropology, we talk about how Harvey first arrived on the Rosebud Indian reservation, his relationship with the Lakota people, and conversations about identity and acknowledgement in tribal communities.
"Studied Carelessness": In this conversation with Caleb Dance, associate professor of classics, we explore the impact of humor, improvisation and "sprezzatura" (studied carelessness) on his research and teaching. He also shares the story of his journey into classics, the importance of studying abroad and his musical endeavors, including his work with the nonprofit MIMA.
Listeners in the W&L community and beyond are invited to listen to past episodes and seasons here or wherever they listen to podcasts.