W&L Celebrates Earth Month The campus community will promote sustainability and environmental advocacy with various events throughout the month of April.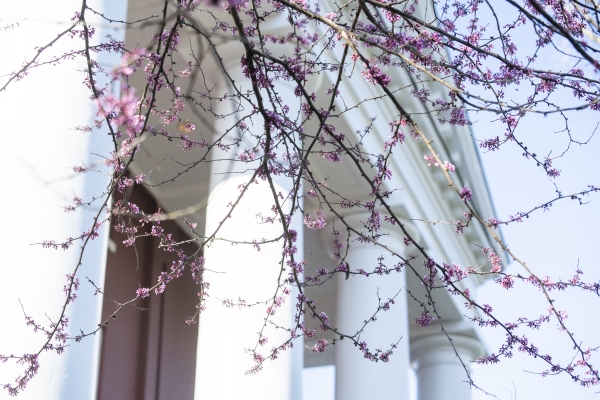 Washington and Lee University is celebrating Earth Month with campus-wide programs and events throughout April to promote sustainable living and environmental advocacy.
Join the Student Environmental Action League (SEAL) and the Pan-Asian Association for Cultural Exchange (PAACE) for "A Taste of Lexington" on April 2 from 5-7:30 p.m. in the Science Center Great Hall, and enjoy sustainable foods catered by local businesses and restaurants. This event is free and open to W&L students, faculty and staff, but seating is limited so reserve your spot. For more information, contact Alicia Nguyen.
The Office of Sustainability and Energy Education (OSEE), which includes the Campus Garden, invites you to take part in several exciting events they have planned throughout the month of April:
Spring Stroll & Sow | April 3, 1:30-3 p.m., Outing Club Pavilion
Join OSEE and the W&L Outing Club to hike through the back trails of campus and enjoy the signs of spring popping up. The hike will begin at the Outing Club Pavilion and end at the Campus Garden, where the group will plant spring seedlings while enjoying iced tea made with fresh herbs from the garden.
Students who need transportation to the Outing Club Pavilion can sign up here.
Food and Clothing Drive | April 3
The Office of Inclusion and Engagement (OIE) is partnering with OSEE for a clothing and food drive to promote environmental and social sustainability. Donations of nonperishable food items and professional clothing, which will be accepted April 3-May 29, can be dropped in collection boxes located in Gaines rotunda, Civic A living room, 121 Early Fielding and the first floor of Graham-Lees.
"We Have a Choice" | April 7, Leyburn Library
Visit the "We Have a Choice" display on the main floor of Leyburn Library to learn more about W&L's carbon reduction efforts and to add your own environmental action plans and suggestions. The display opens April 7 and will be up through Spring Term.
"State of Sustainability" | April 25, 1:30-2:30 p.m., Harte Center 119
Curious about our progress toward campus carbon neutrality? Wondering how much campus food waste gets composted? The "State of Sustainability," presented by Jane Stewart, director of sustainability, will address W&L's sustainability progress and plans.
The W&L Sustainability Sampler | April 26, 11 a.m.-2 p.m., Science Center Great Hall
Sustainability is a group effort, and this inaugural event is the perfect way to see all the different people on campus who are working to promote environmental and social sustainability. Drop in any time during the event to sample sustainable snacks, win prizes in a recycling-sort competition, tour the science center mechanical spaces with University Engineer Brendan Perry, drop off techno-trash or donate to the OIE clothing and food drive, and watch a short film about where W&L's recycling goes. The event is also a great place to meet with dozens of representatives from W&L departments and organizations, including University Facilities, University Dining, the University Sustainability Committee, SEAL, Compost Crew, and the Departments of Accounting and Finance, Environmental Studies, and Earth and Environmental Geoscience.
If you are interested in your office or organization hosting a table at this event, fill out the Sustainability Sampler Sign-Up by April 12.
"The Low-Carbon Life: Our Transition from Fossil Fuel at Home and on the Road" | April 27, Noon-1 p.m., Harte Center 119
Since his retirement in 2021, W&L energy specialist Morris Trimmer has worked diligently to remove fossil fuels in his daily life. In "The Low-Carbon Life," Trimmer will share highlights and insights from his personal journey toward a low-carbon lifestyle. A light buffet lunch will be provided. Register here.
"We Dig Student Garden Plots!" | April 27, 3-4 p.m., Campus Garden
The Campus Garden is excited to announce a new program offering garden plots to student organizations and theme houses on a rotating basis, starting with the Native American Student Organization. Volunteers at the April 26 event will help create the plot using sustainable permaculture techniques and planting traditional native seeds. Participants will also discuss the impact that Native American practices have had on sustainable agriculture and composting.
Learn more about OSEE here, and stay tuned for more sustainability programs and events, including the Less Paper, More Trees! initiative, new recycling signage and updates on environmental progress on campus.