W&L Contact Committee Presents "An Evening with Ben and Jerry" The ice cream entrepreneurs will speak on March 9 at 7 p.m. in the University Chapel. The event is open to the W&L community and tickets are required.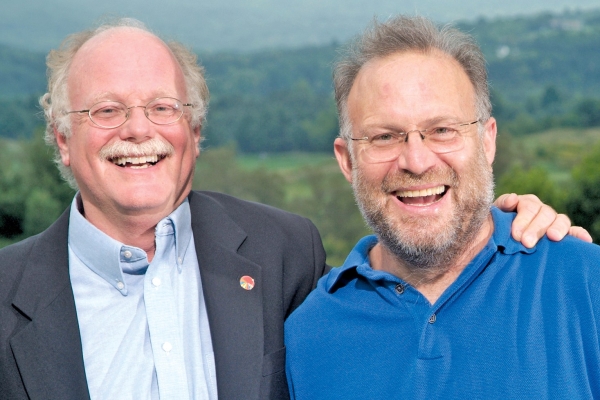 Washington and Lee University's Contact Committee presents "An Evening with Ben and Jerry," featuring the founders of Ben and Jerry's Homemade Holdings Inc. and world-famous ice cream entrepreneurs Ben Cohen and Jerry Greenfield on March 9 at 7 p.m. in the University Chapel.
The event is free and open to the W&L community, and there will be free servings of Ben & Jerry's ice cream for those in attendance. Tickets are required, so reserve your spot here.
In an inspiring tribute to the American entrepreneurial spirit, Ben and Jerry will discuss how a commitment to social responsibility and creative management allowed them to build their store-front venture into a global phenomenon. Their company is widely seen as a model for modern corporate responsibility and business success, and their best-selling book "Ben & Jerry's Double-Dip: How to Run a Values-Led Business and Make Money, Too" is a useful guide for establishing and maintaining a mission-driven corporate model that is not only financially successful but socially and environmentally conscious.
"With the strength of entrepreneurship, business and environmental studies at W&L, this event will connect with so many students," said Anna Bosking '24, member of the Contact Committee. "Plus, who doesn't love ice cream?"
Ben and Jerry met in junior high school and reunited after college and various odd jobs to open an ice cream parlor in Burlington, VT in 1978. As their business venture expanded and the company grew, Ben and Jerry remained committed to a community-oriented business approach and they continue to set the standard for responsible business practices. Ben & Jerry's is a leader in researching and implementing sustainable dairy farming practices, using alternate energy sources and reducing greenhouse gas emissions, and the duo has been recognized as James Beard Humanitarians of the Year and the Peace Museum's Community Peacemakers of the Year.