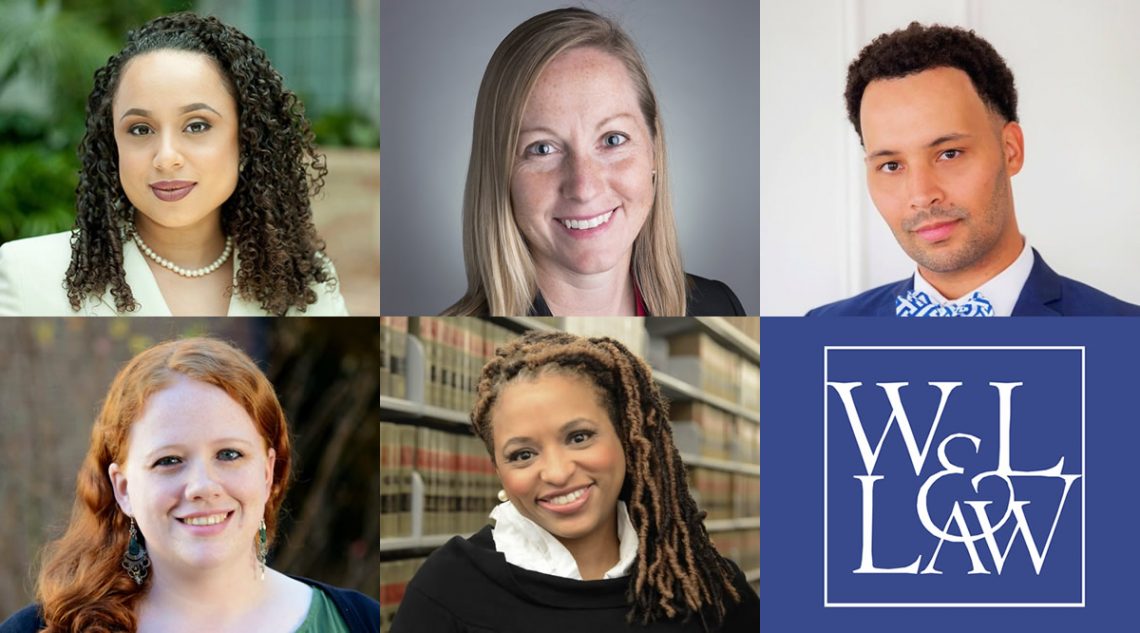 W&L Law Announces New Faculty for Upcoming Academic Year
Washington and Lee University School of Law will welcome several new teachers to the faculty next academic year.
Cary Martin Shelby will join W&L from DePaul University College of Law, where she teaches a variety of business law courses such as Business Organizations, Securities Regulation and a seminar on Investment Funds. Shelby received the DePaul College of Law Excellence in Teaching Award in May 2016 and the DePaul University Excellence in Teaching Award in September 2018.
Her research generally encompasses regulatory issues related to hedge funds and other pooled investment vehicles, and it has been cited by Forbes, The Brookings Institution, and an array of other publications. She has published articles in The Business Lawyer (forthcoming), Boston College Law Review, Washington and Lee Law Review (co-authored with Steven Ramirez and Kristin Johnson), SMU Law Review, The Delaware Journal of Corporate Law, among other journals and periodicals.
Shelby received her B.S. in Finance from the University of Illinois at Urbana-Champaign, and her J.D. from Northwestern University School of Law. She then practiced law in the Investment Funds, Advisers and Derivatives Group with Sidley Austin LLP for close to four years. As an associate in this group, she represented clients in regulatory and corporate matters involving hedge funds, commodity pools and derivatives trading. After leaving Sidley, Shelby completed the William H. Hastie Fellowship at the University of Wisconsin Law School, which is a competitive two-year LL.M. program designed to prepare its candidates for a career in law academia.
Karen Woody will join the law school from the Indiana University Kelley School of Business, where she is an assistant professor in the business law and ethics department. Her scholarship focuses on securities law, financial regulation, and white collar crime. She has published her work in a number of journals including the Cardozo Law Review, Fordham Law Review, and the Journal of Corporation Law, among others. Her work on conflict minerals is widely cited, and she recently testified for the U.S. House of Representatives Financial Services Committee regarding federal conflict minerals regulation.
Prior to joining the Kelley School of Business faculty, she practiced law in Washington, D.C. at Cadwalader, Wickersham & Taft LLP, Bracewell LLP, and Skadden, Arps, Slate, Meagher & Flom LLP. In her practice, she advised corporate and individual clients on issues related to white collar crime and compliance issues, with a particular focus on international corruption, securities and accounting fraud, and internal corporate investigations. While practicing law, she also served as an adjunct professor and taught a variety of law courses at Georgetown University Law Center, George Washington Law School, and American University Washington College of Law.
Woody received her LL.M. with distinction in Securities and Financial Regulation from Georgetown University Law Center. She received her J.D. from American University Washington College of Law, where she served on the American University Law Review. She also has a graduate degree in theology from Regent College (Vancouver, B.C.), and a B.A. from the University of Virginia.
Brandon Hasbrouck, who has served as a visiting assistant professor this year at W&L Law, will join the full-time faculty as an assistant professor. Hasbrouck's current research and teaching interests focus on criminal law, criminal procedure, constitutional law, habeas corpus, identity, criminal justice policy, and federal courts. His article, "Saving Justice," is forthcoming in The Georgetown Law Journal.
Prior to joining the Washington and Lee University School of Law faculty, Hasbrouck worked as a litigator at McGuireWoods LLP in Richmond and Debevoise & Plimpton LLP in New York, where he drafted briefs and motions in federal and state appellate and trial courts regarding a wide range of issues including constitutional law and criminal law.  He also served as a judicial law clerk to the Honorable Roger L. Gregory of the United States Court of Appeals for the Fourth Circuit and the Honorable Emmet G. Sullivan of the United States District Court for the District of Columbia.  Hasbrouck is admitted to the bar of New York State, to the United States Court of Appeals for the Fourth Circuit, and to the United States Court of Appeals for the Ninth Circuit.
Hasbrouck received his J.D. degree, magna cum laude, from Washington and Lee University School of Law, where he served as Editor-in-Chief of the Washington and Lee Law Review, was the recipient of the Frederic L. Kirgis, Jr. International Law Award for Excellence in International Law, graduated Order of Coif, was a member of the Black Law Students Association, and was inducted into Omicron Delta Kappa.  He received his B.A. degree, magna cum laude, from Dominican College.
Wendy Greene will serve as the Frances Lewis Law Center Scholar-in-Residence this fall. She is currently a visiting professor at W&L Law in between full-time appointments to the law faculties at Samford University and Drexel University. The daughter of American civil rights activists, Greene is a leading U.S. anti-discrimination law scholar, teacher and advocate. Her award-winning legal scholarship examines the ways socio-legal constructions of identity inform and constrain civil rights protections against inequality. Through her breakthrough legal analyses of emerging forms of workplace discrimination at the intersection of race, color, gender, religion, and national origin, Greene has coined two recognized terms in the field of labor and employment law – "misperception discrimination" and "grooming codes discrimination" – while steadily influencing civil rights jurisprudence, litigation, legislation, and discourse.
One of the foremost experts on grooming codes discrimination, Greene is currently developing her first book, "#FreeTheHair: Locking Black Hair to Civil Rights Movements," which will be the first to examine what she calls the "hyper-regulation of Black women's and girls' bodies via their hair" in public and private spaces alongside natural hair movements through a global lens. Her scholarship and advocacy in this area has led to bans on natural hair discrimination in New York City and California.
Greene received her B.A. with honors in English and a double minor in African American studies and Spanish from Xavier University, a J.D. from Tulane University Law School and an LL.M. from The George Washington University School of Law, where she specialized in comparative slavery and race relations law in the Americas and Caribbean and employment discrimination law. Prior to law teaching, Greene was employed with a Washington, D.C. lobbying firm and a Houston, Texas boutique labor and employment law firm.
Alex Klein will join W&L Law as a visiting assistant professor of law. Klein served as a judicial law clerk to the Honorable Sally D. Adkins of the Maryland Court of Appeals and the Honorable Danny J. Boggs of the United States Court of Appeals for the Sixth Circuit.  She is admitted to the Bar of the Commonwealth of Virginia. Her research and teaching interests include criminal law, criminal procedure, the death penalty, and constitutional law.
Klein received her J.D., summa cum laude, from Washington and Lee University School of Law.  She served as a Senior Articles Editor on the Washington and Lee Law Review and received the Washington and Lee Law Council Law Review Award, the Clinical Legal Education Association Award, the Barry W. Sullivan Constitutional Law Award, and the John W. Davis Prize for Law.  Professor Klein graduated Order of the Coif and was inducted into Phi Delta Phi and Omnicron Delta Kappa.
Klein served in the United States Peace Corps in the Republic of Moldova from 2008 to 2010 and received her B.F.A., cum laude, from Virginia Commonwealth University.
Matthew Boaz joins W&L Law as the Visiting Assistant Clinical Director of the Immigrant Rights Clinic. Formerly, Boaz was a Senior Detention Attorney with the Immigrant Rights Project of the American Friends Service Committee (AFSC) in Newark, NJ. During his career with AFSC, he represented hundreds of individuals detained in immigration detention facilities throughout New Jersey as part of a pilot program advocating universal representation of detained individuals in removal proceedings. The success of this program has resulted in state funding to expand this public-defender style program for immigrant detainees. Boaz began his career as an Immigrant Justice Corps fellow in the New York City metro area. His interests include immigration detention, the interactions between the criminal justice system and immigration law, and the treatment of immigrant detainees with mental illness.
Prior to his career in law, Boaz taught middle-school Spanish in Charlotte, NC. Boaz is a graduate of Georgetown University Law Center (J.D., with a certificate in Refugees and Humanitarian Emergencies) and Texas Christian University (summa cum laude, B.A. in Political Science with an emphasis in International Relations).
If you know any W&L faculty who would be great profile subjects, tell us about them! Nominate them for a web profile.