W&L Outcomes: Blake Sanchez '23 Blake Sanchez '23 is working as a management consultant in the Public Health Segment at Guidehouse in Washington, D.C.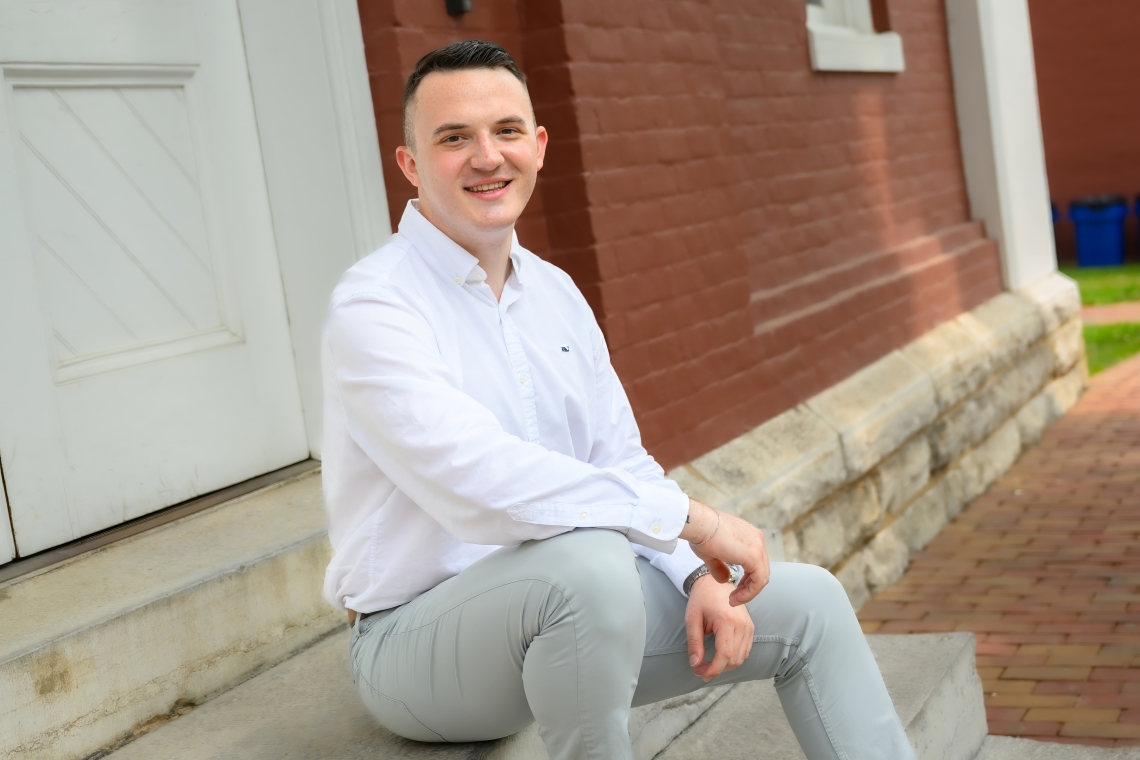 Post-Grad Plans: Management consultant at Guidehouse
Industry: Public Health
Areas of Study: Neuroscience; poverty and human capability studies
What will you be doing after graduation?
Following graduation, I will begin my professional career as a management consultant in the Public Health Segment at Guidehouse in Washington, D.C. Within the federal sector, my primary focus will be assisting government clients in tackling diverse health-related challenges, with a specialization in devising public health strategies and healthcare transformation programs.
How did your career plans evolve over the course of your time at W&L?
Coming into Washington and Lee, I knew I was always interested in medicine and the life sciences. Initially, I entered college with the intention of pursuing a career in clinical medicine. However, as I immersed myself in the liberal arts academics at Washington and Lee, my interests began to evolve. Not only was I being captivated by my neuroscience coursework, but also data science, sociology and anthropology, and poverty and human capability studies. Because of the liberal arts education at W&L, I found that my interest in healthcare exceeded beyond the clinical scope of practice and extended to the realm of public health.
What internships or other summer experiences did you partake in, and how did those experiences shape you and your career plans?
When the COVID-19 pandemic disrupted my original plans for a clinical internship and shadowing experience in 2020, the CPD office and the Shepherd Program stepped in to support me. Through their guidance, I was connected with the Virginia Department of Health, where I had the chance to immerse myself in the public health sector. This eye-opening summer experience allowed me to contribute to healthcare policy and legislation, collaborate with state officials, and gain a deeper understanding of the U.S. healthcare system.
How did the Office of Career and Professional Development (CPD) support you and which resources did you find most helpful?
I would not be here without the mentorship and support from the CPD office, the faculty of W&L's Shepherd and Neuroscience programs, W&L alumni, and my classmates. The guidance I received from Director Steele, Brooke Peecie, Lauren Vance and the rest of the CPD office were instrumental in my internship and job search, networking, and interview preparation. They provided me with invaluable resources, advice and connections that ultimately led to securing my dream first career.
What career-related advice would you give to next year's graduating class?
To the W&L students unsure of what to study or what career to pursue, embrace the opportunities offered by a liberal arts education. Don't be afraid to step out of your comfort zone and try new things, as this can lead to unexpected passions and career paths. As Mark Twain once said, "Twenty years from now you will be more disappointed by the things you didn't do than by the ones you did do. So throw off the bowlines, sail away from the safe harbor. Catch the trade winds in your sails. Explore. Dream. Discover."
If you know any W&L alumni who would be great profile subjects, tell us about them! Nominate them for a web profile.