W&L Presents Holiday Pops Concert 2023 Tickets to the Dec. 4-5 performances can be obtained with a non-perishable food donation to benefit Campus Kitchen at W&L.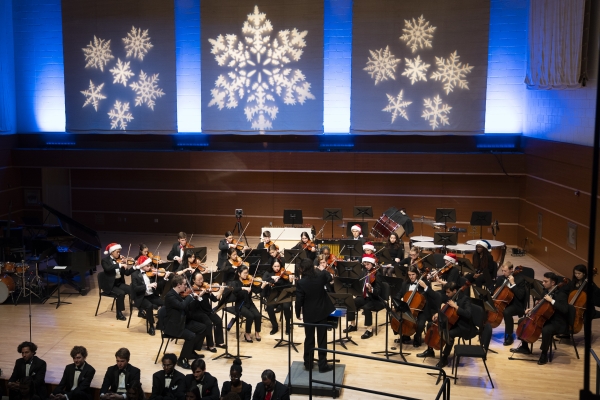 Washington and Lee University presents its annual Holiday Pops Concert on Dec. 4 and 5 at 7 p.m. in Wilson Concert Hall in the Lenfest Center for the Arts.
Tickets are required and available online or in person at the Lenfest Box Office. The Dec. 4 performance will also be streamed online at livestream.com/wlu.
Kick off the holiday season with the music ensembles of W&L in a festive, family-friendly concert of new works and traditional favorites. The performances will feature several ensembles from the W&L Department of Music, including the Jazz Ensemble, Wind Ensemble and Orchestra, the choral groups Cantatrici and Glee Club, and student members of the Choral Conducting Mentorship Program.
To encourage the spirit of giving, the Holiday Pops Concert traditionally serves as a fundraising event, with tickets available to "purchase" with a non-perishable food or monetary donation to Campus Kitchen at W&L, an organization that addresses issues of food waste and food insecurity in Lexington and Rockbridge County. Monetary donations may be made online, but food donations are required in person at the Lenfest Box Office during open hours.
Reserve your tickets online beginning Nov. 13 or call the Lenfest Center box office at 540-458-8000 for ticket purchase information. Box office hours are Monday-Friday, 9 a.m.-4 p.m. The box office will be closed during W&L's Thanksgiving break, Nov. 20-24.
The Lenfest Center for the Arts, home of the Department of Theater, Dance, and Film Studies and the Department of Music and Department of Art and Art History is a multi-use facility designed and equipped to accommodate a broad spectrum of the performing arts, including theater, musical theater, opera and operetta, choral and band music, dance and performance art in one energizing complex.