W&L Presents Kimono Demonstration and Lecture W&L will host a public demonstration and lecture on the art of the kimono on March 12 at 2 p.m. in the Northen Auditorium.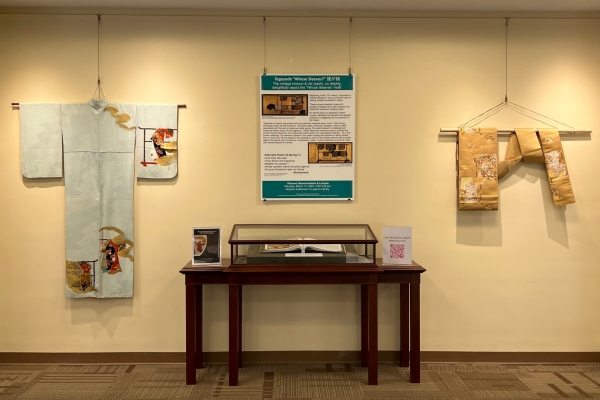 Washington and Lee University presents a public demonstration and lecture on the Japanese kimono with Sachiko Houck and Terry Sherwin, members of the Chado Urasenke Tankokai association in Philadelphia, on March 12 at 2 p.m. in the Northen Auditorium of the Leyburn Library at W&L.
This lecture is free and open to the public. A kimono and obi (sash) will be displayed on the first floor of Leyburn Library from March 1 through April 8.
The kimono is part of traditional Japanese attire often worn during special occasions. Depending on how the garment is worn, it can reflect details about the wearer, such as age and marital status. During their lecture, Houck and Sherwin will discuss the versatility of the kimono and how to "read" some of its language. They will demonstrate the wearing of a woman's kimono and obi (sash) and show a variety of kimono-related apparel.
Houck, a Penn Medicine Lancaster General Health nurse practitioner, earned her nursing degree at Walden University. She grew up in Fukuoka, Japan, where her mother taught the Japanese tea ceremony (or Chado). Houck keeps an extensive personal collection of kimonos and has taught many people how to wear one for various activities. She owns a tearoom outside of Philadelphia where she offers weekly lessons, and her students often wear kimonos.
Sherwin, a former art teacher, has demonstrated kimono dressing at Shofuso, the Japanese House and Garden in Philadelphia, for Children's Day, the Morris Arboretum during Cherry Blossom Festival, and the Penn Museum. She has also helped organize kimono displays at Shofuso. While studying the tea ceremony, she developed a love for the kimono and learned to wear this fascinating garment. Sherwin and her husband Bill Sherwin are the proud parents of W&L alumnus Christopher Sherwin '09.
W&L's campus is home to an authentic Japanese Tea Room in Watson Pavilion. The tea room was given the name Senshin'an, meaning "Clearing-the-Mind Abode," by Sen Genshitsu, 15th-generation Grand Master of the Urasenke Tradition of Tea. This piece of art and cultural lab is used as a classroom as well as an outreach tool to show a small piece of Japanese culture to the campus, city and surrounding community. In addition to class, thematic ceremonies, and public tea demonstrations throughout the year, the tea room can also be reserved for private ceremonies.