W&L Presents Senior Recital with Sam Boyd '23 Boyd's piano recital will be held in person and via Livestream on May 17 at 7 p.m.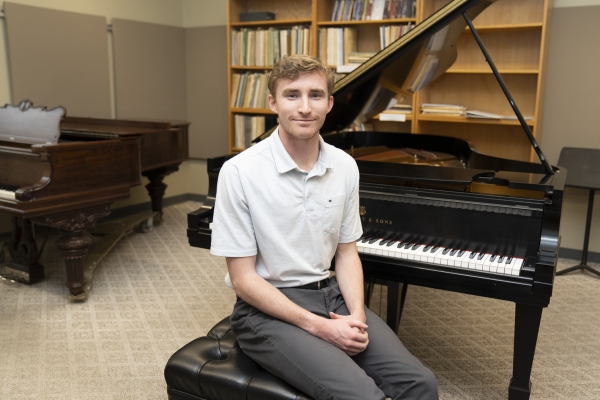 Sam Boyd '23 will perform his senior piano recital on May 17 at 7 p.m. in Wilson Concert Hall in the Lenfest Center for the Performing Arts. Boyd is a biology major from Newbury Park, California.
The performance is free and open to the public and will also be streamed online at livestream.com/wlu.
Boyd will perform a range of works by Romantic composers Frédéric Chopin, Johannes Brahms, Gabriel Fauré, and the modern neoclassical composer Maurice Ravel. During the recital, Boyd will be joined by guest pianists Juyoung Kim '26 and Nicholas Rizzo '26.
Musical studies have played an important role in Boyd's time at W&L. He has studied under the direction of William McCorkle, W&L lecturer in music, since his first year on campus, and was a member of the University Jazz Band during his junior and senior years. Boyd also appreciates the way studying music has allowed him to give back to the local community.
"I have spent time playing at local nursing homes and for hospice care patients," Boyd said. "My religious beliefs really resonate with my musical studies. This senior recital is an exciting opportunity to honor my faith with my hard work and abilities, while also giving back to my parents, who invested in my musical journey since I began playing as a child."
After graduation, Boyd will participate in the Trinity Fellows Program in Charlottesville, Virginia, a nine-month Christian leadership development and training program. He will also be working as a scribe for a family medicine physician in Raphine, Virginia, and applying to medical school.