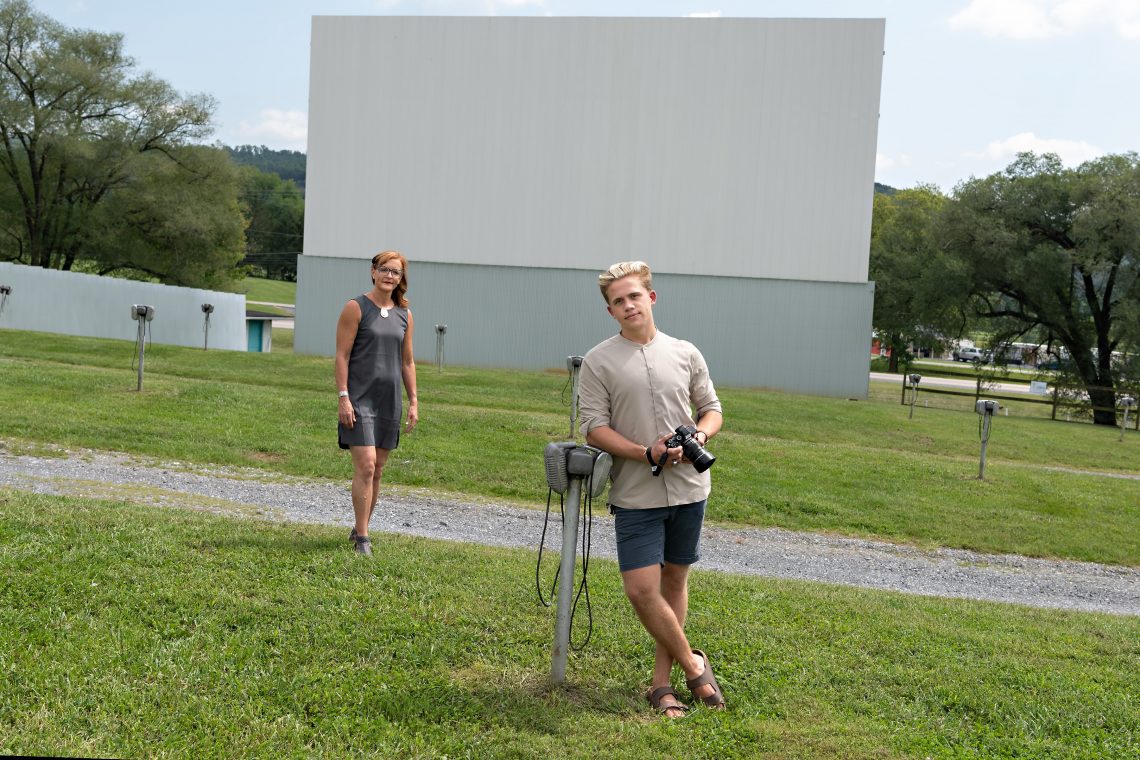 W&L Professor, Student Co-Direct Domestic Violence Documentary Professor Stephanie Sandberg and Nolan Zunk '22 co-directed "Intimate Violence," which will be screened at Hull's Drive-in to raise money for Project Horizon.
"I've learned so much about documentary filmmaking, feminist care ethics and how to ethically interact with survivors of trauma, so it's been an incredibly fruitful process."

~ Nolan Zunk '22
When Nolan Zunk '22 first approached Professor Stephanie Sandberg near the end of his freshman year at Washington and Lee University, he was hoping for a summer opportunity that would provide him with a little filmmaking experience.
He got that — and a whole lot more.
A year-and-a-half later, Zunk and Sandberg are co-directors putting the finishing touches on a domestic violence documentary, "Intimate Violence," that will be screened at Hull's Drive-in on Oct. 25 to raise money for Lexington's nonprofit Project Horizon. Along the way, Zunk gained invaluable hands-on experience, collaborated closely with a faculty member on a professional project and received a job offer from Project Horizon only halfway through his college career.
"I've learned so much about documentary filmmaking, feminist care ethics and how to ethically interact with survivors of trauma, so it's been an incredibly fruitful process," Zunk said. "I've made many connections that I will use my whole life."
Sandberg, an assistant professor in the Department of Theater, Dance, and Film Studies at W&L, is no stranger to producing work about heavy topics. She's written plays about racism, faith, sexuality, human trafficking and the plight of refugees. When she was ready for a new project, she wanted to partner with a local organization.
"I was looking for something to do that would be significant to the community," she said, "but could be of national interest, as well."
She approached Judy Casteele, executive director of Project Horizon, to discuss the idea. Founded in 1982, Project Horizon provides 24-hour crisis response to victims of domestic violence and sexual assault. The nonprofit operates a 24-hour crisis hotline, a 16-bed shelter and a number of programs that include legal advocacy and counseling, all free of charge to clients. The organization also offers community violence prevention education to students in pre-K through college, as well as to civic groups.
Casteele said she had no reservations to Sandberg's proposal. "We are interested in anything we can do to help increase understanding of the issues," she said, "and to get out the message that anyone can be a part of the solution."
From the beginning, Sandberg wanted to involve students. She and Professor Shawn Paul Evans, who also teaches in the Theater, Dance and Film Department, worked with first-year students in the summer 2019 Advanced Immersion and Mentoring (AIM) program to do research and conduct test interviews. One of those students, Lauren Hayes '23, remained involved for the long haul. Over the summer, she worked remotely with Sandberg to write a related play featuring domestic violence survivor stories.
"It was really cool," Hayes said of the AIM experience, "especially for an incoming first-year student who is already nervous about being in a whole new environment. It gave me an opportunity to know my advisor way before anyone else, and it helped me make a lot of connections I would not have known about."
Zunk and Logan Brand '20, also joined the project early on as summer research students. Brand graduated in May 2020, but Zunk stayed involved. Prior joining the project, Zunk had only made two eight-minute documentaries, one about 9/11 and one about the plight of honeybees.
With help from Project Horizon, Sandberg and Zunk identified four survivors of domestic violence — three female, one male — to interview. Using Lenfest grant money, they also traveled around the country to interview national experts, including Jacqueline Campbell at Johns Hopkins University, who created the Danger Risk Assessment tool used to calculate victims' risk of being killed by their abuser. Also featured in the film are a trauma-sensitive judge, a director of counseling services, and experts in gun violence and violent male culture. Many others were interviewed on background, including a Rockbridge County police special investigator who works on domestic violence cases.
The end result is a 102-minute documentary that weaves together survivor stories with expert interviews to take a close look at the current state of domestic violence in America. The documentary covers not only traditional domestic situations, but also violence between same-sex couples and family violence.
"One of the huge issues is the silence that surrounds this topic," Sandberg said. "It's happening everywhere, and it crosses race lines, class lines and geographic lines. Every single part of human life is touched by this issue, and we haven't really found adequate ways to address the violence."
The survivors interviewed for the film were willing to be on record in part because they are no longer in abusive relationships. Sandberg and Zunk worked closely with Project Horizon, counselors and the judicial system to ensure that they didn't put anyone at risk. Everyone involved in the project went through volunteer training at Project Horizon and studied feminist care ethics to ensure that they approached survivors with care and limited the risk of re-traumatizing them during the interview process.
In the course of working on the film, both Sandberg and Zunk learned a great deal about the realities of domestic violence. For example, they learned that when victims of domestic violence are killed by their abusers, it most often happens when they're trying to leave, which is one reason it can be so difficult to disentangle oneself from a dangerous situation.
"Another thing is that society so often labels intimate violence and domestic violence as women's issues," Zunk said, "and certainly these issues do affect women disproportionately, but by calling it a women's issue, in some ways that is a form of victim-blaming. Rather than calling it a men's issue, since men most often are the ones perpetrating these acts of violence."
As the premiere date draws nearer, the film is being scored by a Chicago graduate student composer that Zunk and Sandberg met through the Virginia Film Festival's Adrenaline Film Project. Zunk is in the process of creating animations for the documentary, work that has counted toward an independent study course in animation. He also completed an independent study in film editing, and some of the work became part of his Introduction to Documentary Filmmaking course. Other students in that class did projects related to domestic violence that will be used on the film's website.
"Overall, more than 20 students were involved in this project," Sandberg said. "It's so great because it was totally hands-on, they learned so much, and their names are on the film."
Casteele said she has been impressed by the professionalism of the students.
"I have watched them interview other professionals, and they have been well prepared and inquisitive, really wanting to understand the issue, not just put something out there that is sensational or fluff," she said. "We were so impressed with Nolan that we hired him." Zunk now works part-time as a community outreach specialist for Project Horizon, and he answers calls on the hotline on weekends.
Most of Project Horizon's funding comes from state and federal grants, but the organization has to raise $200,000-$300,000 each year through fundraisers and donations. In a normal year, some of those funds would come from Deck the Halls, an annual black-tie gala held in Marshall Hall at VMI. Because of COVID-19, the organization won't be able to host the gala this year.
Instead, Sandberg came up with the idea to screen the documentary at Hull's Drive-in theater in Lexington. It will be screened there on Oct. 25 at 6:30 p.m. Gates open at 5 p.m. Tickets, which are $100 per car, can be purchased on the Hull's Drive-in website. Sponsorship opportunities of $500 to $5,000 are also available. Interested parties should contact Project Horizon at 540-463-7861.
"Violence in the home is not something that Project Horizon is going to solve alone," Casteele said. "It's going to take addressing what the community culture is like and what is accepted. It's going to take good people standing up and saying 'This is wrong. There is a part for me in changing this trend of violence in the home and in the community.'"
If you know a W&L faculty member who has done great, accolade-worthy things, tell us about them! Nominate them for an accolade.
'Intimate Violence' Screening
Did you miss the screening? "Intimate Violence" can now be watched online here.
When: Oct. 25, 2020, 6:30 p.m. Gates open at 5 p.m.
Where: Hull's Drive-in, 2367 Lee Hwy, Lexington
Cost: $100 per car (proceeds benefit Project Horizon)
Tickets: Purchase on the Hull's Drive-in website. Sponsorship opportunities of $500 to $5,000 are also available. Interested parties should contact Project Horizon at 540-463-7861.