W&L Uncovers James Madison's Handwritten Manuscript How a handwritten draft of one of the most significant defenses of religious freedom in American history was rediscovered in Lexington, Virginia.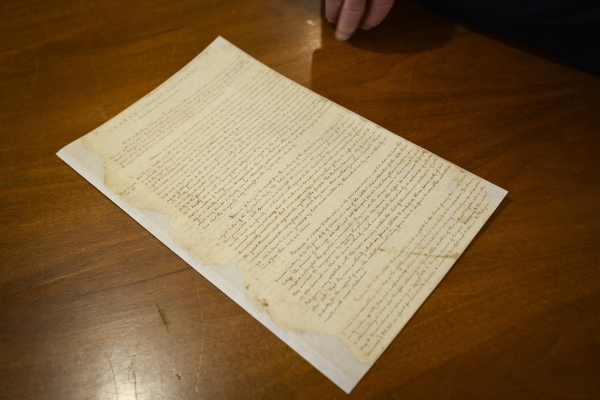 The Washington and Lee University Special Collections and Archives Department is an impressive landscape of rare books, manuscripts, photographs and personal paper collections, something Tom Camden, associate university librarian for special collections and archives, takes great pride in.
"I think very few people would assume or even know that a small liberal arts college like this one would have treasures that rival some of the major universities," he said.
One of those treasures is a handwritten draft of James Madison's 1785 "Memorial and Remonstrance Against Religious Assessments," recently uncovered among the papers of Zachariah Johnston. Byron Faidley, the special collections assistant, made the discovery while sorting through Johnston's papers as part of an ongoing audit of the library's entire collection. The "Religious Freedom" heading on the acid-free folder in which the document was kept caught Faidley's eye, and upon further inspection he realized the handwriting did not match the other pieces in the collection.
Faidley researched the title written across the top of the document and determined he was holding an unsigned copy of Madison's "Memorial," likely handwritten by Madison himself. Fortunately, the special collections staff knew they had their very own "Madison acolyte" on campus and quickly contacted Lynn Uzzell, visiting assistant professor of politics, about what they had found.
"I mean, if this was his laundry list, I would be interested in it, but this is a really important document," Uzzell said. Uzzell reached out to her contacts at the Papers of James Madison project, who analyzed the document and confirmed it to be Madison's handwriting.
"Their response was immediate, that this was a major find," Camden said. "People at various institutions make it their work to track down every draft, everything ever handwritten by these individuals, and according to them, this one has not ever been recorded."
A Community Connection
How this copy of one of Madison's most profound writings on the source and defense of religious freedom came to be in W&L's library is as much a local history as it is a national one.
Zachariah Johnston and his family are deeply woven into the history of Lexington and Rockbridge County. Born in 1742 in Augusta County, Virginia, Johnston attended Liberty Hall Academy and was later a trustee of Washington College (both previous iterations of what is now Washington and Lee University). He represented Augusta County in the Virginia House of Delegates from 1778-1791, then moved to Rockbridge County in 1792 and represented that county in 1792 and 1797-1798.
While residing in Rockbridge County, Johnston and his family lived at Stone House in Lexington, which remained occupied by his descendants, the Paxton family, until 2008. The Paxtons continue to be a pillar of Rockbridge County, as four generations of Paxtons have owned the Lexington News-Gazette — dating back to 1887 — and several family members are W&L alumni. When Matthew Paxton, class of 1918 and 1920L, gave Johnston's family papers to W&L in 1977, it underscored the tightly intertwined relationship between his family, the city of Lexington and W&L.
"It made very good sense for Paxton to give this material to the school because it had a direct connection to the community as well as to the institution," Camden said. "Here you have this family history represented in this collection — and a family that's still very active and very entrenched in this community right now."
A Rediscovery with National Implications
It is difficult to overstate the historical significance of this manuscript. It is a central document to understanding the issue of freedom of religion and the role it played in the creation of the American republic; furthermore, having an early draft of the document provides unique insight into Madison's understanding of this freedom as a natural right of the American people to be explicitly protected in the Bill of Rights.
"Madison is important in a lot of ways, most commonly for being known as the Father of the Constitution and the architect of the Bill of Rights. But he's also important because he had groundbreaking things to say about religious freedom," Uzzell said. "And the most important document he wrote on that subject was the 'Memorial.'"
Madison wrote the "Memorial" when he was a member of the General Assembly of Virginia in response to a bill proposed by fellow assembly member Patrick Henry to establish religious assessments, which would collect money to fund religious instruction within the state. Madison penned the document anonymously, and the printed broadsides were distributed across the state to garner enough support to defeat the assessment bill.
While most Virginians would have seen the "Memorial" in its printed form, Zachariah Johnston was given a handwritten draft from Madison himself — a clear indication that Johnston, a zealous advocate for religious freedom serving as chair of the committee on religion in the Virginia General Assembly, was a natural ally for Madison.
"I don't think there's any correspondence between them, but the fact that Johnston had a copy of the 'Memorial' in Madison's handwriting shows that they were working together closely," Uzzell said. "Madison handed him his own copy so that he could take it back with him, and this shows what Madison's political networks were and how he communicated with them."
This specific draft is what scholars call a "fair hand" copy, which means Madison took care to make his handwriting legible because he was close to a finished draft, but there were still revisions to make before it would be printed and distributed. Those annotations are present in the Johnston copy.
"We can tell it's an earlier copy because you can see revisions on it which were integrated into the copy that the Library of Congress has. So you can see a little something about the thought processes that went into the composition. That's one of the reasons why this discovery can break new ground."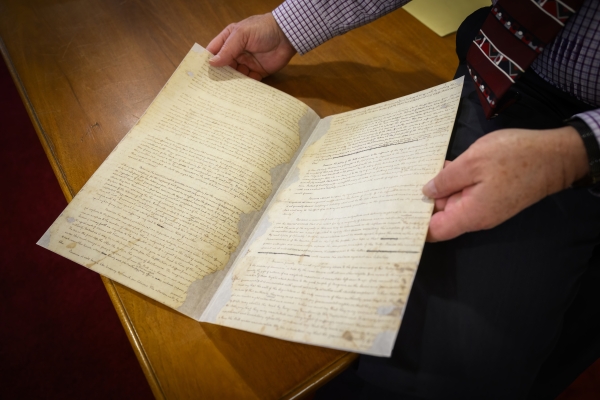 Stewards of History, Not Unmindful of the Future
The manuscript is a great tool for understanding the discourse guiding the creation of the American republic and the shape and scope of its government. Uzzell, who has assigned the "Memorial" in several of her classes, looks forward to bringing her students to special collections to examine the draft itself and spark conversations about the Virginian roots of religious freedom in the United States.
"We're living through a very partisan age, and that is unfortunate. But at the same time, we can celebrate the things that unite us," Uzzell said. "This Madisonian principle of religious freedom is something that makes us uniquely American and, even though we still disagree about the extent of religious freedom, as we always have from the beginning, we also have this fundamental agreement about the value of religious freedom. And that is what makes this document so important."
For Camden and Faidley, the rediscovery of Madison's "Memorial" in Johnston's papers confirms not only the importance of W&L's special collection to campus and the Lexington-Rockbridge community, but the collection's capacity to facilitate wide-reaching discussions about our national history and the legacy of the founders.
"This university is small, but its roots are deep — both in Rockbridge County and in the national fabric — and this document shows that connection directly," Faidley said.
The legacy of the "Memorial" continues to shape American understandings of rights and freedoms, and to find a handwritten draft of such a significant document in the archives of W&L speaks to the town and university's long history of civic and political engagement.
"It's a Lexington story, but this collection has national and international ramifications," Camden said.
And rediscovering treasures like the "Memorial" only further solidifies W&L's role in leading influential conversations about our nation's history and future.